Cellulosic Ethanol Push Stalls In The Midwest Amid Financial, Technical Challenges
Source: By High Plains Public Radio • Posted: Thursday, December 21, 2017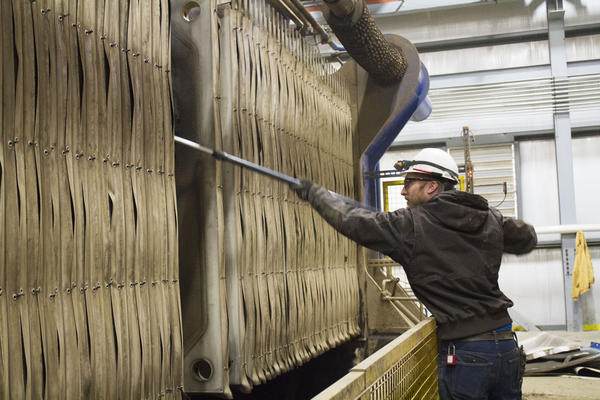 Advanced biofuels have been touted as the next step beyond the corn-based ethanol that's the bulk of the country's renewable fuel for cars and trucks. These next-generation options were supposed to bring jobs to rural communities and provide farmers with fresh revenue sources, in addition to reducing the carbon footprint of vehicles.
Nearly a decade of federal incentives encouraged companies to invest in cellulosic technology, which produces ethanol from crop waste such as stalks, cobs and leaves left on fields after harvest, and at least three plants were built in the Midwest since 2014.
But cellulosic ethanol is harder to make than grain ethanol because it uses the inedible and irregular parts of the plants, meaning it was tough for machines to chew up the wet, heavy material. And companies faced other challenges, such as a steady supply, fluctuating markets and stalled policy decisions.
Of the three commercial-scale plants, one in Hugoton, Kansas, went on the sale block in 2016 and in November, DuPont announced it is looking for a buyer for its Nevada, Iowa, plant.
Harvest Public Media's Amy Mayer examines why cellulosic ethanol hasn't gotten off the ground as expected.
That just leaves Project Liberty in Emmetsburg, Iowa, built and run by POET-DSM. It's adjacent to a POET grain ethanol facility, but the cellulosic plant is readily identified by large stacks of bales of what the industry calls corn stover.
When the plant reaches full capacity, it'll process 770 tons of biomass, POET-DSM spokesman Matt Merritt says. It's not there yet.
"Really, 2017 has been the year where we finally cleared some of the hurdles," he says, "that have been holding not just us but all the players in the industry back."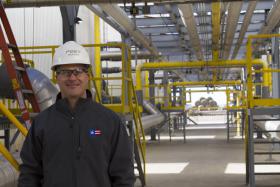 Here's how the process works:
1. Farmers pull a baler over their harvested fields and collect no more than 20 percent of the leaves, cobs, stalks and other matter left from the season's corn — aiming to keep enough organic matter on the fields to sustain soil health.
2. The square or round bales of heavy, wet, biomass enter a huge warehouse-like space at the plant. The bales first pass through a machine that removes the netting or twine holding the material together. Then, giant metal fingers shred the material so nothing is bigger than 4 inches. What remains is shaken to wrest free rocks, bits of metal or other foreign pieces that won't break down during the chemical process.
Project Liberty general manager Jason Martin says cellulosic ethanol is a different world compared to the nearly uniform corn kernels that become grain ethanol.
"The plant material is really tough and abrasive," Martin says, "and so you just have to throw more steel and power at it until you figure it out." That means bigger, stronger machines, which cost time and money.
3. The biomass slurry travels through pipes and into a giant reactor, Martin says, though it's still hard to keep the material moving.
4. Eventually, enzymes get added and everything sits in a series of tanks and ferments into ethanol that performs in the fuel supply exactly the same way grain ethanol does. The entire process takes eight days.
"On the lab, at pilot scale, and at Liberty," Martin says, "the actual biochemical process has been solid."
What's less solid for the cellulosic industry is government support via mandated volumes of cellulosic ethanol.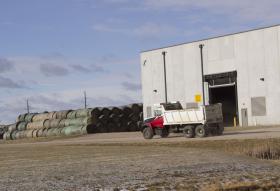 The Environmental Protection Agency lowered the 2018 cellulosic mandate under the Renewable Fuel Standard, but not by as much as it initially proposed. And some states, including California and Oregon, have their own requirements for low-carbon fuels, which increases the market for ethanol.
Business consultant Michele Rubino expects other coastal states will follow in enacting low-carbon fuel mandates. But when it comes to companies' interest in cellulosic, he says, oil prices are still a major factor.
POET-DSM looks to be in the business for the long haul, based on its investments in Emmetsburg, says Rubino, who's been following developments in biofuels for more than 20 years.
DuPont seemed committed when it opened a commercial cellulosic plant in Nevada, Iowa, but after a merger, the corporate outlook changed.
"It's not in that DowDuPont sweet spot," Rubino says.
Instead, DuPont spokeswoman Wendy Rosen tells Harvest Public Media, the company plans to leverage what it has developed and learned into licenses for the technology, which "are pending the final outcome of the sales process for the business." Licensing the technology, especially overseas, was a stated goal of the company when it opened the plant.
Merritt says POET-DSM shares that vision with Project Liberty.
"This is a demonstration plant," Merritt says. "This is a place where we can bring people and show them what this technology looks like, give them an indication of what it might look like for them. And then sell these licenses."
In the case of POET-DSM, it likely has an interested party in POET, the joint-venture partner that is a major global biofuels producer. And Rubino says he expects another wave of interest in cellulosic.
"It will happen again," Rubino says, "and this time, compared to the previous time, there's steel in the ground. So the way I put it, generally the guy that builds the hotel never makes money. It's the guy that buys the hotel out of bankruptcy that makes the money."
That guy, so to speak, in Kansas is Synata Bio, the company that purchased the Abengoa plant in Hugoton after Abengoa had financial problems independent of the plant. It's unclear when cellulosic ethanol production will resume there.
While large corporations can pick up and drop whole industries from their portfolios, farmers and rural communities aren't as nimble.
Nevada, Iowa, invested more than $600,000 to annex land and offered DuPont tax increment financing with hopes beyond the one plant.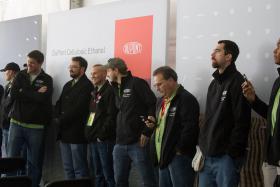 "The goal was to have DuPont get this thing up and running," city administrator Matt Mardesen says, "and then the byproducts from the production plant, there was another whole class of opportunity there that we could have had with some other companies using their byproducts."
Instead, about 65 people will lose their jobs before the start of the new year.
And area farmers, who made a little extra money selling the corn residue off their harvested fields, saw a new income stream disappear amid a four-year downturn in the farm economy. One farmer told the Ames Tribune his stover contract amounted to more than 10 percent of his revenue in 2015 and an area baling company paid part-time workers $5,000 each for three month's work collecting the biomass from local fields.