With questions about cleanup unsettled, Mead officials table decision on ethanol plant permit
Source: By Lincoln Journal Star • Posted: Wednesday, May 5, 2021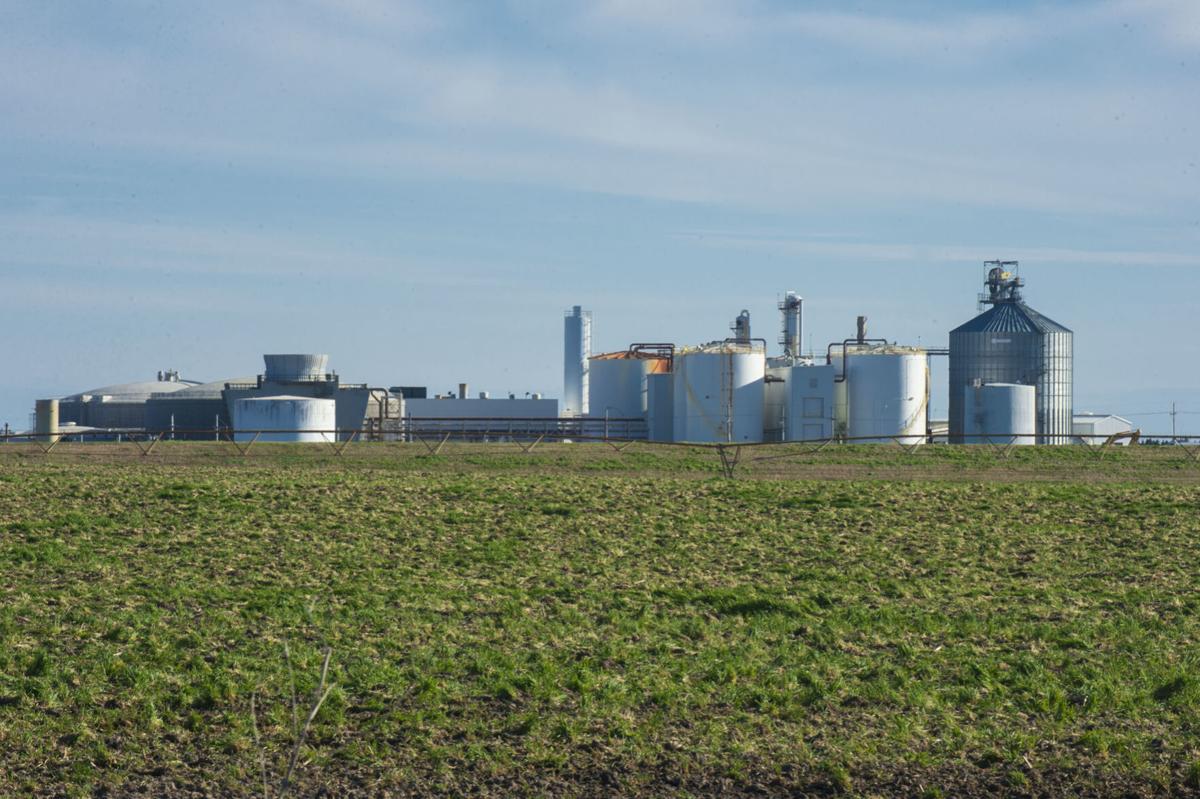 MEAD — At the end of a two-hour meeting Monday night, the Mead Planning Commission put off a decision on what to do about AltEn's conditional use permit.
Unlike most other ethanol plants in the state and across the country, AltEn used pesticide-treated seeds to produce fuel rather than harvested grain, leaving behind contaminated byproducts pointed to as being harmful to pollinators, animals and people.
Since February, the plant has been shut down after the Nebraska Department of Environment and Energy ordered AltEn to stop pumping wastewater into its overfilled lagoon system. The company recently laid off all but three of its employees.
After approving a conditional use permit for the ethanol plant in 2014, the Mead Planning Commission is now considering pulling that permit, citing a long history of noncompliance, a lack of transparency and what some commissioners said was an unwillingness to be a good partner with the Saunders County village.
The commission ultimately put off a decision, opting instead to take time to consider a proposal put forward by the plant. Through its attorney, Stephen Mossman of Lincoln, AltEn asked the commission to suspend the conditional use permit rather than revoking it outright.
That action would allow the AltEn — or a third party — to continue cleanup of the site, monitored by the Department of Environment and Energy and the Environmental Protection Agency.
Maureen Freeman-Caddy, Mead's attorney, said the Nebraska Attorney General's Office signed off on the plan, which would allow AltEn to continue participating in environmental remediation efforts.
The request made of the planning commission from AltEn also stipulated the facility would not produce any more ethanol unless given permission from Mead's Board of Trustees.
That request may be a moot point, however.
Days before the planning commission met to consider AltEn's future, the Legislature on a 48-0 vote sent a bill (LB507) to the desk of Gov. Pete Ricketts that would effectively outlaw the ethanol plant's business model.
The bill, from Sen. Bruce Bostelman of Brainard, prohibits ethanol producers from using treated seeds as a feedstock, if the byproduct cannot be fed to livestock or applied to land.
Ricketts will likely sign the bill this week. Because of an emergency clause attached to LB507, its provisions will immediately become state law.
Many of the nearly 40 people in attendance — including members of the commission — said they had little faith AltEn would follow through on its promises, however.
"We've got pages and pages that show they haven't complied with any of this stuff," said commission member Connie Schliffke.
Wyatt Swartz said he favored revocation, accusing AltEn's management of disregarding directives from state regulators and others.
"Part of our concern is the history of companies out there that they just don't care," Swartz said.
Paula Dyas, who was among those who filed complaints against AltEn after her dogs became sick from eating pesticide-laden distiller's grains from the plant, said she wasn't "thrilled" with the thought AltEn would still have agency over its operations.
"But I want them to clean up the mess they created," Dyas said. "I feel like they are responsible."
Questions about cleanup
Actions taken by regulatory agencies, local governments and state legislators have effectively closed AltEn, but the question of who is responsible for cleaning up the facility — and how — remains unanswered.
AltEn for years disposed of some of its wet distiller's grains in landfills owned by Waste Connections in Nebraska and Iowa, which is permissible under guidelines from the Environmental Protection Agency and Nebraska Department of Environment and Energy.
At its peak in late spring and early summer 2020, dozens of truckloads were leaving AltEn every day, bound primarily for the Butler County Landfill near David City, or making the 60-mile trip to either the G and P Landfill south of Milford, or the Loess Hills Sanitary Landfill near Malvern, Iowa.
Dave Meyer, who has lived in a housing subdivision about a mile north of the landfill in Mills County, Iowa, for a little more than a decade, said neighbors had never experienced any problems with the facility until the last two years or so.
That's when they started seeing more trucks headed toward the landfill with loads Meyer described as smelling like raw sewage: "It stunk to hog heaven," he said.
Residents living near the Butler County Landfill were hit with a similar stench last fall, according to records maintained by the Department of Environment and Energy, with evidence that it originated from AltEn.
"The garbage reeked so horribly outside it nearly made me gag," one woman wrote on Aug. 3, 2020. "Is there a limit that a person must tolerate?"
Responding to a complaint from another neighbor a few days later, Ryan Boyer, the facility's manager, told state regulators the landfill had accepted 33 tons of distiller's grains, although the email doesn't specify the origin of the waste product.
With the odor complaints mounting, Kelly Danielson, district manager for Waste Connections, said the Texas-based company recently stopped accepting the distiller's grains from AltEn.
The decision was made not because the byproducts are contaminated with neonicotinoid pesticides like clothianidin and thiamethoxam, found at concentrations of 427,000 parts-per billion and 85,000 parts-per billion, respectively.
Rather, Danielson said, the landfills were not receiving enough dry household trash to mix with the wet distiller's grains from AltEn.
"We could still do it if we wanted," Danielson said, noting the pesticides aren't considered hazardous waste under the Resource Conservation and Recovery Act, which governs the disposal of solid waste, "but we've got neighbors and we're trying to do the right thing."
AltEn continued to manufacture ethanol from discarded treated seeds even after area landfills began turning back trucks from the plant, leading to an estimated 84,000 tons of distiller's grains being stored in long rows on the site.
That amount on its campus was recently added to after AltEn recovered some of the approximately 37,000 tons of distillers grains sold to area farmers as a soil conditioner, before the Nebraska Department of Agriculture issued a stop-sale order in May 2019.
Mead residents have also been vocal about AltEn's use of a biochar unit, which heats the distiller's grains to high temperatures, creating a charcoal-like substance.
Many, like Ray Loftus, who lives directly north of the plant, said they were concerned about emissions coming from the unit, which testing by the environment department showed doesn't remove all pesticides from the byproduct.
"It leaves a bad taste in everybody's mouth — literally," Loftus said.
Seed companies helping with cleanup
Another concern of environmentalists is the millions of gallons of effluent wastewater contaminated with pesticides being held in lagoons and portable above-ground storage tanks at the ethanol plant.
In late March, AltEn put forward a plan to treat the wastewater by pumping it from the lagoons through a carbon filtration system and into holding tanks, where it would be tested for various contaminants before it could potentially be land applied or discharged elsewhere.
The Department of Environment and Energy signed off on the pilot program — which the company claims has been effective in closed-loop tests in removing pesticides from the wastewater — but with several caveats.
AltEn has been prohibited from discharging any wastewater without permission, and has been directed to pump the treated wastewater back into its lagoons or into above ground tanks, where it must be sampled for an expanded list of pesticides and other compounds.
Meanwhile, representatives from Bayer — one of the seed companies that sent millions of pounds of discarded pesticide-coated seed to AltEn — have been attempting to secure 35-40 acres of land near the facility that could be used to set up a "tank farm" to hold the treated wastewater.
A spokeswoman for Bayer's crop science division at its corporate office in St. Louis, Missouri, said the agricultural giant has been supporting the state's efforts to address the situation at AltEn since mid-February.
"As one of the company's former feedstock suppliers, we bear a responsibility to be part of the solution," Bayer said in a statement.
It's unclear if any other seed companies, which used AltEn as a "dumping ground" since the plant went into operation in 2015, according to one Mead village official, are working with the state on the cleanup.
To date, Bayer has not been successful in its effort to buy or lease land, and the Department of Environment and Energy said they have not received any permit application for a possible tank farm.
Despite an overwhelming majority of those who spoke at the public meeting favoring revocation, Mead's Planning Commission will sit on the decision for several weeks, electing to reconvene at the community center on May 19.
Bill Thorson, the chair of the Village Board of Trustees, which will need to ratify any decision the planning commission makes, said he wants the commission to suspend the permit.
He said the village of Mead doesn't have the expertise or the tax base to clean up AltEn by itself, and a suspended conditional use permit would be the right avenue to keep the ethanol plant operating "to clean itself up."