Why You're Paying Even More for Premium Gas
Source: By Laura Blewitt, Bloomberg • Posted: Thursday, October 5, 2017
"You void the warranty if you don't use it," said McTeague, senior petroleum analyst for data provider GasBuddy.com.
Relative to regular gasoline — the most common U.S. fuel grade — premium is the most costly at any time in memory for the millions of American motorists who buy it. The difference at the pump is more than 50 cents a gallon, according to the U.S. Department of Energy. That's anywhere from $8 to $13 more for every fill-up in most cars and trucks.
A couple factors have boosted demand for higher-octane fuel and led to tighter supplies. Sales of luxury cars, which typically take only premium, are up. And the smaller engines in other types of cars, such as the Escape, that automakers are selling to meet U.S. government rules known as Corporate Average Fuel Economy, or CAFE, require higher-octane fuel, too.
"Demand for premium has led to a supply imbalance," said Jeff Lenard, vice president of strategic industry initiatives for the National Association of Convenience Stores. "Because of that, there are some wider spreads than there traditionally were."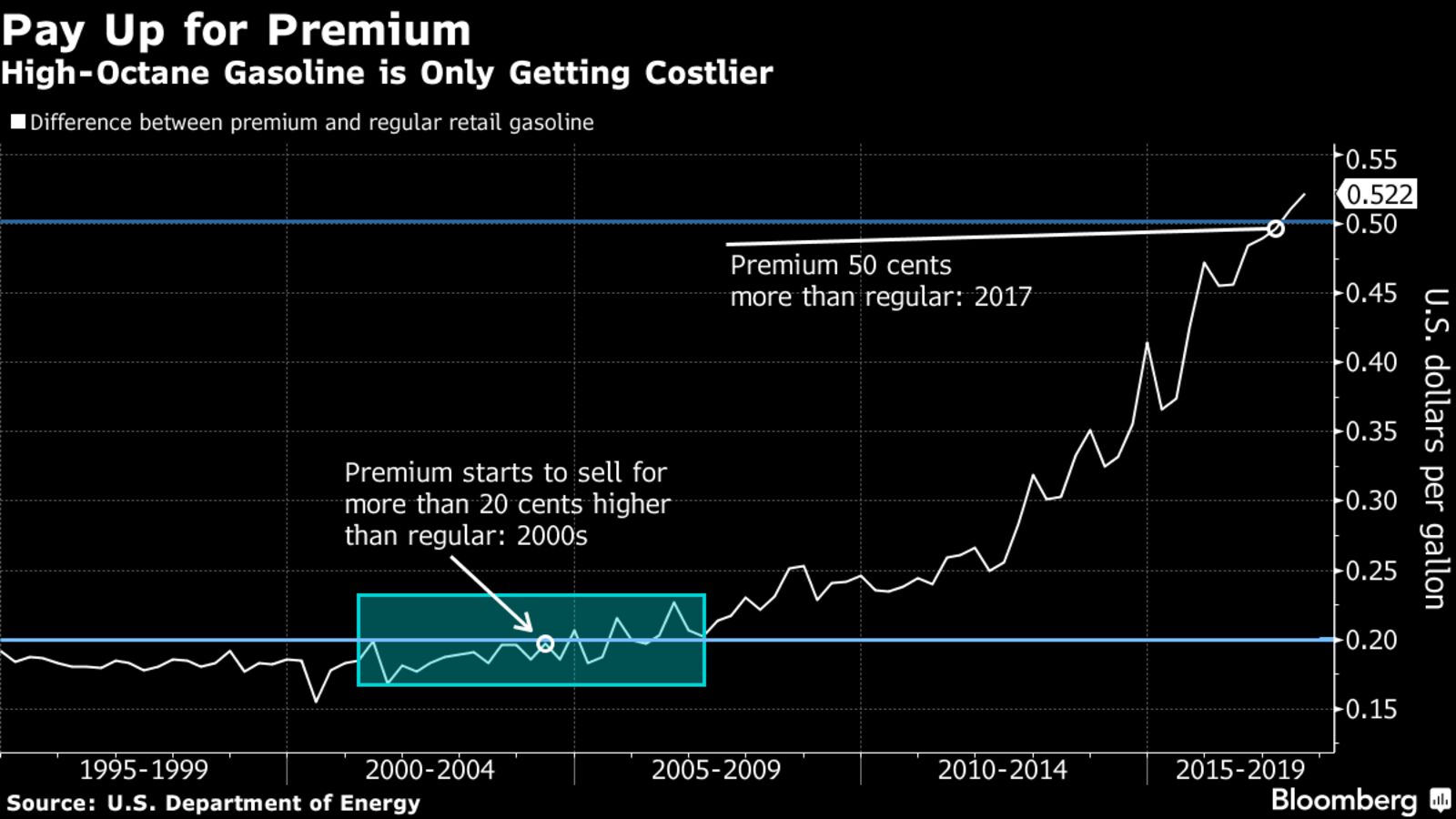 Sales of luxury cars rose more than 8 percent between 2006 and 2016, according to Edmunds, a car-shopping website.
Through August, the luxury market share stands at 11.9 percent of the U.S. fleet. But as government-mandated fuel-efficiency standards get more strict, 30 percent of vehicles in the U.S. will require premium gasoline, according to Tom Kloza, chief analyst at IHS Markit's Oil Price Information Service. More than 269 million cars and light trucks are registered in the U.S., according to research firm Hedges & Co., which cited government data.
Higher Octane
Without the higher octane, engines for European makes like Mercedes-Benz and BMW would start knocking and lose fuel efficiency. Filling up with regular once or twice won't cause long-term harm, but continued use will, said Christian Bokich, a spokesman for Mercedes-Benz.
"We've seen, in the last year, 15 percent growth," István Kapitány, Shell's executive vice president of retail, said in an interview. "It's very important for consumers to be absolutely sure that they buy the highest quality of fuel for their vehicles."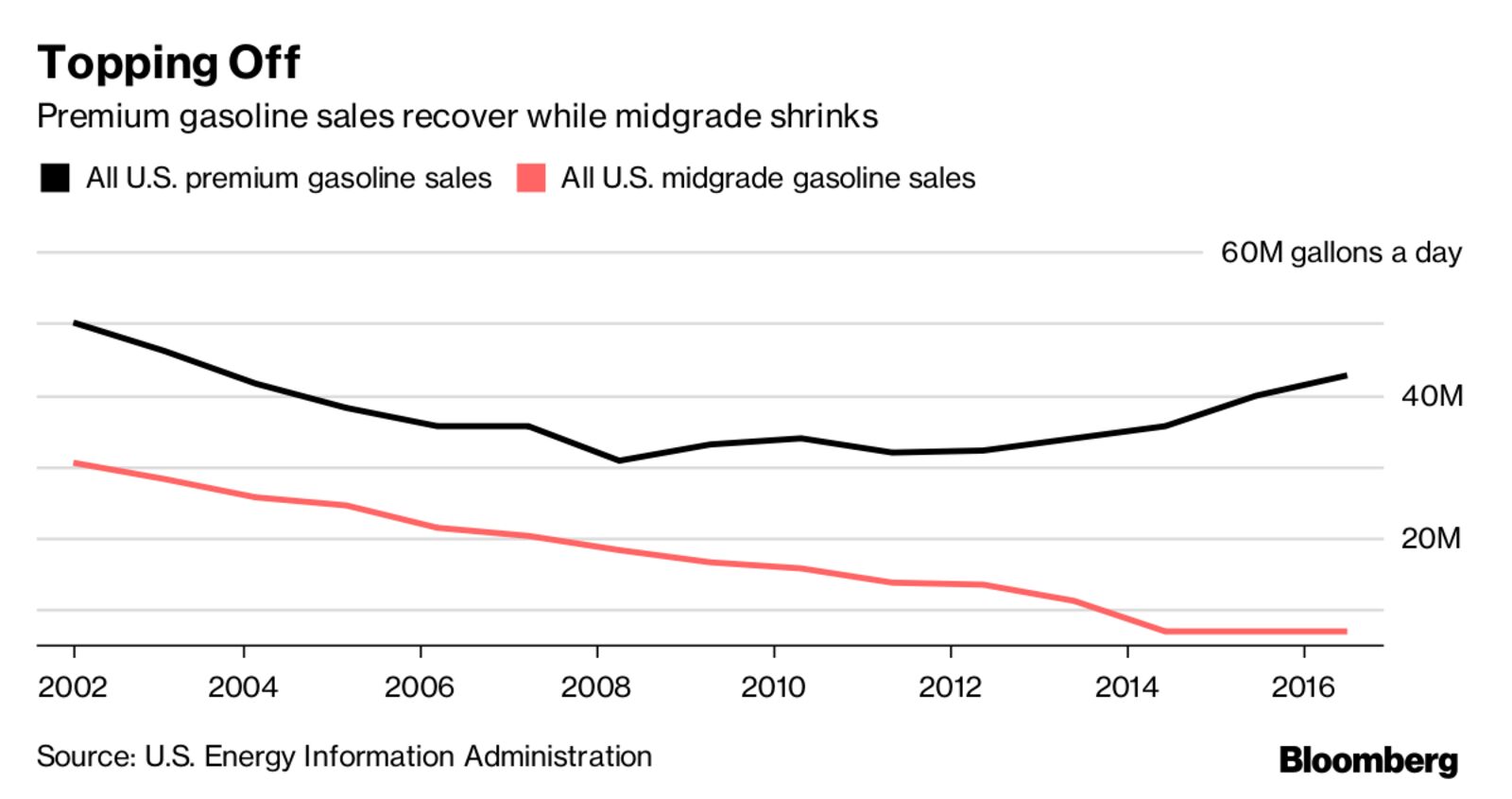 Many U.S. motorists are searching for that level of quality. A worldwide oil-price crash in the second half of 2014 pulled pump prices lower, but by 2016, sales of premium gasoline in the U.S. bounced back, rising 20 percent to almost 43 million gallons a day, according to the Energy Department. June sales rose to 45.8 million gallons, the highest level since December 2003, before falling slightly in July, the latest month of data.
Not all cars need the extra octane, according to a 2016 study by AAA. It found that U.S. drivers wasted more than $2.1 billion in 2015 using premium when regular would suffice.
CAFE Standards
CAFE standards were enacted in the 1970s to reduce Americans' consumption via fuel efficiency. By the early 2020s, the government will require the average passenger car to get 55 miles per gallon. As automakers dial up fuel economy, the engines require increasingly higher levels of octane, Kloza said.
"There's a bright future for higher-octane gasoline, but most of the consumption will come thanks to the requirements of high-compression engines as opposed to a natural move by consumers," he said.
About 11 percent of U.S. cars on the road are required to use premium fuel, according to government data. That means that some drivers who choose the higher cost of higher octane do so by choice, not mandate.
"There's an inclination to believe that it's a much better product," said McTeague of GasBuddy. "It won't do harm to your vehicle, but the outcome in performance wouldn't be appreciably different."