U.S. Renewable Credits Are Getting Pricier, Buoying Gasoline Costs
Source: By Chunzi Xu, Bloomberg • Posted: Thursday, March 3, 2022
Domestic gasoline, diesel prices are the costliest in years Renewable credits have risen with record high feedstock costs
The cost to comply with the U.S. biofuels blending mandate is going up, adding directly to pump prices that are already their most expensive in years.
The renewable credits, or RINs, that the federal government uses to track every gallon of biofuels that U.S. producers and importers blend into their transportation fuels are surging in price. An aggregate basket of RINs is up 10% since the start of the year, while the most expensive type of credit, a biomass-based diesel RIN, rose to $1.66 apiece on Tuesday, up more than 30% in 2022 so far.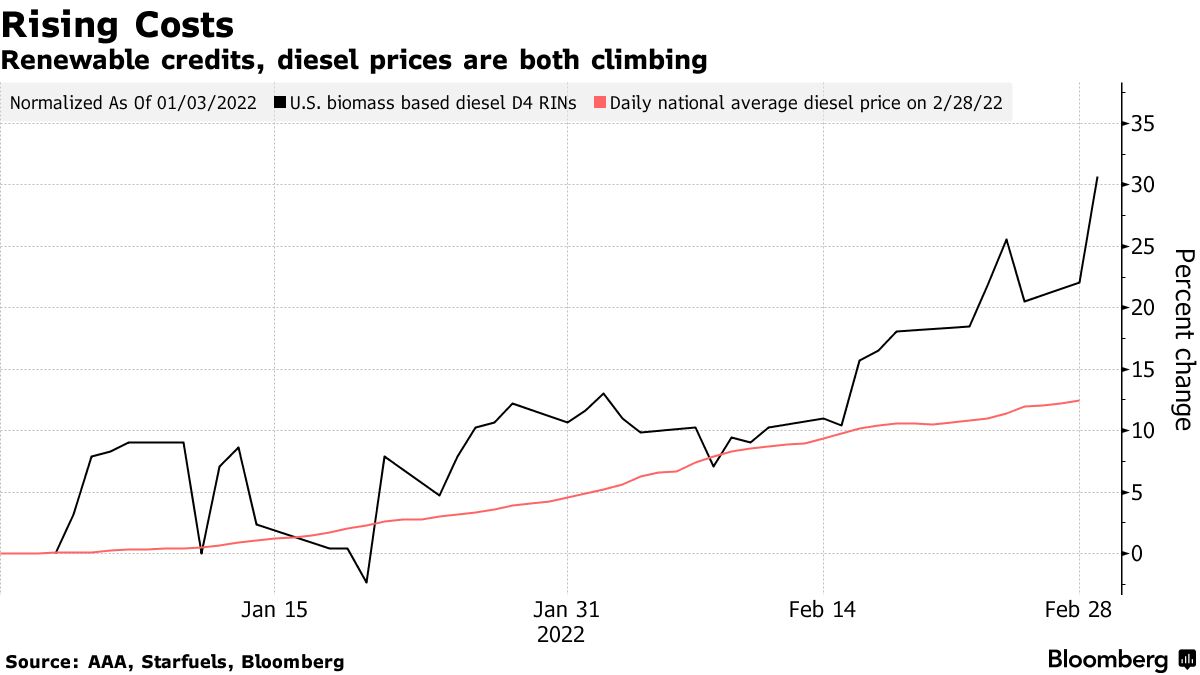 Those rising costs to comply with the federal renewable fuel standards — plus other factors including soaring crude prices and surging demand — are pushing up prices at the pump. Domestic gasoline prices are at their highest levels since 2014, while diesel is the costliest in nine years. Capping pump prices is a top priority for U.S. president Joe Biden, who spared Russia from direct energy sanctions in an attempt to protect U.S. drivers.
A key factor behind the soaring RIN prices is an unprecedented spike in the soybean oil futures market, which hit the highest level in more than 60 years of record keeping as sanctions against Russia increase worries over global shortages of commodities. A prolonged drought in Brazil, the No. 1 soybean shipper, has also driven up prices.
Soybean oil is the primary raw material to make biomass-based diesel, and higher feedstock prices typically lift the cost of the corresponding RIN. Refiners and importers can generate RINs by blending biofuels or can acquire the credits on the secondary RIN market.