U.S. refiner PES pins bankruptcy plan hopes on biofuel costs
Source: By Jarrett Renshaw, Reuters • Posted: Tuesday, January 23, 2018
The plan revives a debate between U.S. refiners and ethanol producers over the nation's renewables policy, and could spur actions from other struggling refiners should the U.S. Environmental Protection Administration allow PES to reduce its biofuel obligations.
The Trump Administration could also wade deeper into the fray should the Pennsylvania refinery, which has some 1,100 workers, face closure.
PES told its employees on Sunday it would file for Chapter 11 bankruptcy, pinning its financial difficulties on renewable fuel laws, Reuters reported. In its bankruptcy filing on Monday, the company said it does not have enough cash to comply with the laws for 2016 and 2017.
But PES has also seen its debt grow after its backers took out a $550 million loan used largely for dividend-style payouts to investors along with capital improvements to the plant. The company also invested in a new rail terminal to help take advantage of discounted crude out of the Bakken oil play in North Dakota.
PES said its biofuels obligation for 2016 and 2017 totals about $185 million. The company also plans to sell $150 million worth of credits to help emerge from bankruptcy.
Regulatory liabilities are hard to shed through bankruptcy. However, the government has provided relief in past cases, particularly when there is a political dimension, experts have said.
The U.S. Renewable Fuel Standard (RFS) is a Bush-era law that requires refiners to blend biofuels like ethanol into their fuels or buy credits from those who do. Those credits used to trade at a nominal price of just a few cents, but have soared in recent years.
Stephen Lubben, a professor at Seton Hall Law School, said other struggling refiners may also attempt to offload these obligations if the PES bankruptcy gives the refiner relief.
"The EPA will look closely to make sure this is not a sham to leave them holding the bag," said Lubben. He said a debtor that cannot comply with such rules usually has to liquidate. "If you want to restructure, the business coming out the other side has to comply."
The plan would be in jeopardy if the bankruptcy court forces the company to comply with its existing RFS obligations, PES warned.
Critics of renewable fuel laws have argued the company's woes are due to a flawed RFS program, while supporters have said the refiner's troubles stem largely from a lack of access to relatively cheap crude supplies.
"PES could have made investments in blending more renewable fuels. It chose a different course, slavishly pursuing a change in the law that fit its flawed business model," said Renewable Fuels Association President and Chief Executive Bob Dinneen.
VLO.NNew York Stock Exchange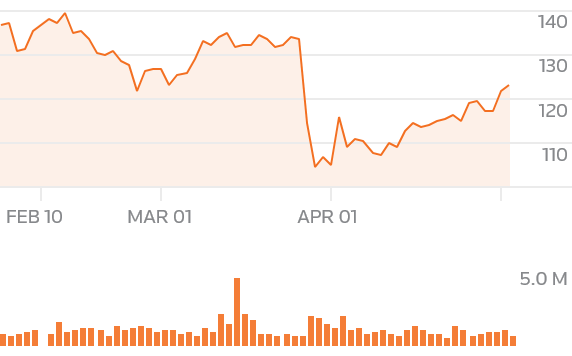 PES said in an emailed statement on Monday they are "ready, willing and able to compete with all refiners and renewable fuel producers on a level playing that has not been distorted by a regulation purporting to subsidize 'renewable' fuels that neither promote energy security nor provide environmental benefits."
In its note to employees on Sunday, PES said the cost of RINs in 2017 alone was $218 million, more than every cost besides crude oil.
The United Steelworkers union, which represents more than 600 jobs at the refinery, also called for changes in the biofuels obligation on Monday, saying "urgent and immediate" action is needed.
In 2017, refiners including Valero Energy Corp (VLO.N) and CVR Refining (CVRR.N), through the latter's majority owner Carl Icahn, tried to get the Trump administration to shift the cost obligation for the credits down the supply chain.
That effort failed after lobbyists representing ethanol producers intervened.
The bankruptcy comes six years after private equity firm Carlyle Group LP (CG.O) and Energy Transfer Partners' (ETP.N) Sunoco Inc rescued PES from financial distress, in a deal supported by tax breaks and grants.
The White House and EPA did not respond to request for comment.
Reporting By Jarrett Renshaw, additional reporting by Tom Hals; Editing by Meredith Mazzilli