U.S. Prepares Lawsuit Over Fiat Chrysler Diesel Emissions
Source: By Ryan Beene, Bloomberg • Posted: Friday, May 19, 2017
Justice Department
is preparing to sue
Fiat Chrysler Automobiles NV
if talks fail to resolve differences over the automaker's alleged violations of U.S. clean-air rules with its diesel vehicles, according to two people briefed on the matter.
A lawsuit could be filed as soon as this week, said the people, who asked not to be identified discussing the confidential matter. Negotiations are still ongoing and the parties may reach an agreement to avoid prolonged litigation. A suit would mark an escalation of the U.S. government's months-long inquiry and could expose the automaker to significant penalties.
The suit being prepared alleges the company used illegal defeat devices, one of the people said. Such devices — software in computerized systems — improperly disable pollution controls to enhance performance. Volkswagen AG admitted in 2015 to using defeat devices that turned on emissions controls to pass tests but turned them off during driving.
Fiat Chrysler is adamant that its controls weren't designed to cheat emissions tests like Volkswagen's. Investigators have said Fiat Chrysler hasn't been able to fully explain the purpose of all the functions to their satisfaction. The company's shares slumped as much as 7 percent in Milan. The U.S.-listed stock dropped 3.8 percent to $10.19 as of 9:50 a.m. in New York.
'Counterproductive' Move
"In the case of any litigation, FCA US will defend itself vigorously, particularly against any claims that the company deliberately installed defeat devices to cheat U.S. emissions tests," Fiat Chrysler said Wednesday in an emailed statement. "The company believes that any litigation would be counterproductive to ongoing discussions with the U.S. Environmental Protection Agency and the California Air Resources Board."
Fiat Chrysler has been seeking approval for updated software for 2017 model year diesels that it intends to install in 2014-2016 vehicles cited by the EPA in a Jan. 12 violation notice. Carmakers have had trouble certifying diesel models in the U.S. following the Volkswagen scandal — Daimler AG's Mercedes-Benz earlier this month halted efforts to get approval for 2017 diesel versions of models including the C-Class sedan and GLE sport utility vehicle.
"This is yet another big knock on diesel's already shattered image in the U.S. market," Ed Kim, a vice president at researcher AutoPacific Inc., said in an email.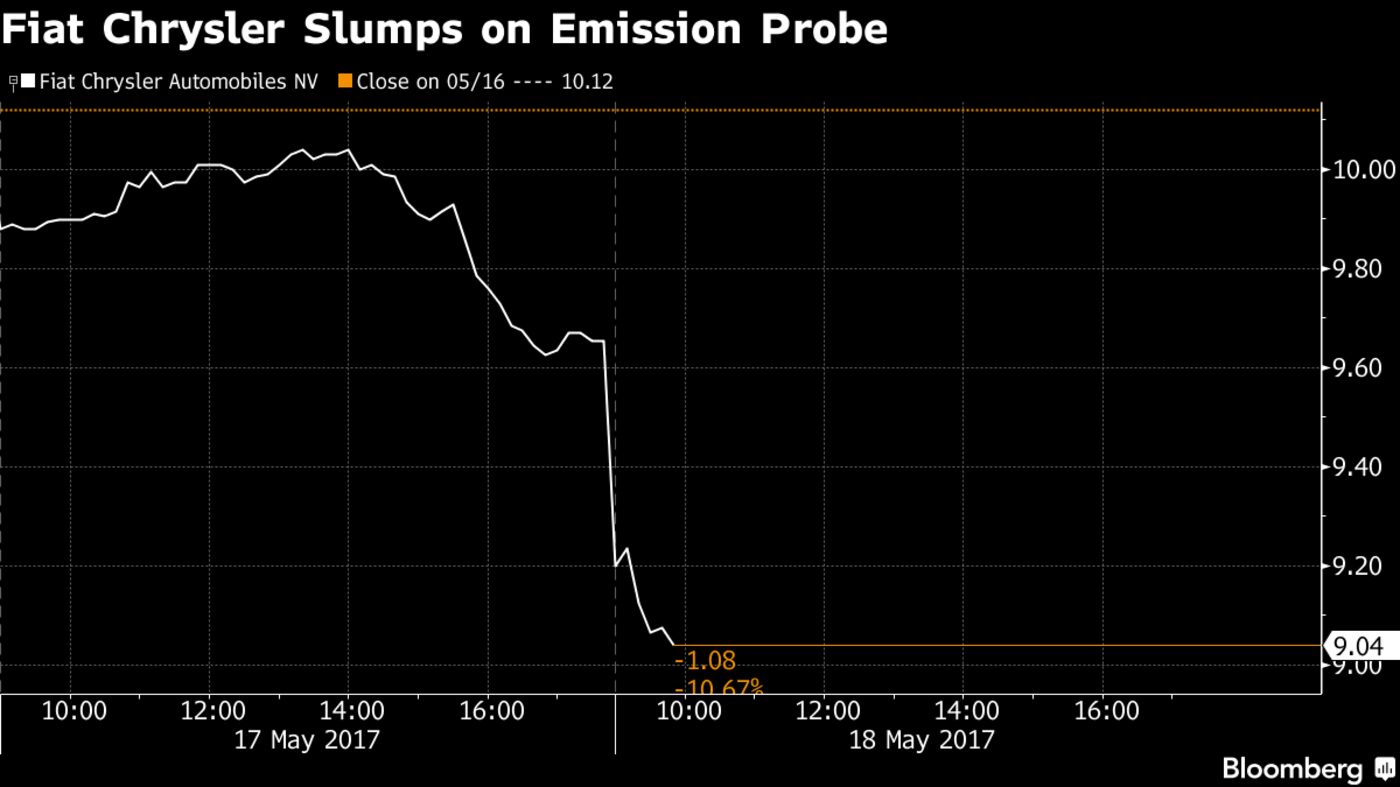 The U.S. has been preparing a potential complaint ahead of an initial hearing for separate lawsuits, brought by owners of the diesel-powered SUVs and pickups, on May 24 at the U.S. District Court for the Northern District of California. The San Francisco court oversaw VW emissions litigation.
Volkswagen's defeat devices permitted its diesel cars to pass emissions tests even as they exceeded pollution standards on the road. Regulators stepped up testing in the wake of that scandal, leading to the discovery of Fiat Chrysler's alleged violations.
Prior story: Fiat Chrysler Accused of Diesel Emissions Cheating by U.S.
Spokespeople for the Justice Department and EPA declined to comment.
The EPA alleged in January that Fiat Chrysler sold 104,000 Jeep Grand Cherokee SUVs and Ram 1500 pickups with diesel engines containing "auxiliary emissions control devices" that the company failed to disclose to the agency.
EPA's Notice
In the notice of violation, the agency also said that one or more of the undisclosed emissions controls may be defeat devices and challenged the automaker to convince investigators otherwise.
Some of the controls "appear to cause the vehicle to perform differently when the vehicle is being tested than in normal operation and use," the EPA said in its notice. Test data showed that the vehicles produced high levels of nitrogen oxide pollution under certain conditions, the agency said in January.
The alleged violations carried potential penalties of up to $44,539 per vehicle, then-EPA enforcement chief Cynthia Giles said at the time. That translated to a penalty of up to $4.6 billion based on the number of vehicles involved.
"This sounds like brinkmanship on the part of the government in an attempt to extract a larger settlement amount," Richard Hilgert, an auto analyst at Morningstar Inc., said in an email. "The major difference between the Fiat Chrysler and the VW situations is the admission of guilt as, while Volkswagen admitted to installing an illegal defeat device, Fiat and regulators seem to disagree on what was legally allowed in the functionality of the software."
Prior story: Fiat Chrysler Said to Face U.S. Criminal Emissions Probe
Fiat Chrysler Chief Executive Officer Sergio Marchionne denied the allegations on a Jan. 12 conference call. "We have no defeat devices," he said. The CEO addressed the issue again last month. "We may have made mistakes" on diesel software disclosure, Marchionne said, though Fiat Chrysler "never tried to break any rule."
The EPA said in January that Fiat Chrysler's lack of disclosure by itself constituted a Clean Air Act violation, adding that it may find additional violations. Auxiliary emissions control devices are permitted under the Clean Air Act as long as they're disclosed and explained in detail within applications carmakers file with the EPA.
QuickTake Q&A: Volkswagen Embarks on Life After Diesel Scandal
Fiat Chrysler and EPA officials have been in talks to resolve the issues since January, and those talks continue, one of the people said.
At the same time, the automaker has been working to obtain EPA certifications for its 2017 model year diesel Jeep Grand Cherokee and Ram 1500, which the agency has thus far refused to grant.
Volkswagen admitted to using defeat devices on about a half million vehicles to pass U.S. emissions tests, and about 11 million autos worldwide carry the software. Its then-CEO Martin Winterkorn resigned and the German company has committed to spending more than $24.5 billion to cover costs stemming from the scandal, including a $2.8 billion criminal penalty as part of a guilty plea agreement reached in January with the Justice Department.
Fiat Chrysler is also facing pressure from European Union over its diesel engines. The European Commission, the EU's executive arm, opened an infringement procedure against Italy on Wednesday for a "failure to fulfill its obligations" on vehicle type-approval legislation on Fiat cars. The commission's move followed a request by Germany's government to intervene after Italian authorities rejected its request to look closer at Fiat's diesel engines to ensure they meet European rules.
Italy, which under EU regulations is responsible for overseeing Fiat Chrysler vehicles because the automaker's regional operations are based in the country, has said the manufacturer's models are "absolutely fine" after Germany's KBA motor vehicle authority accused Fiat of using "unlawful switch-off facilities" in emission-control software.