U.S. Grains Tumble as Farmers Weigh Whether to Store or Sell
Source: By Kim Chipman, Bloomberg • Posted: Wednesday, November 3, 2021
Corn snapped a five-day rally as American farmers consider whether to sell their harvested grain now or keep it in hopes of higher prices next year.
Surging production of corn-based ethanol has helped pull futures out of a slump, with prices up 12% from a nine-month low hit in mid-September. Still, they remain far off the near-decade high reached last spring when drought concerns and big crop purchases by China fueled gains.
Growers now are faced with "big decisions on whether or not they should sell grain off the combine at these prices, or should they pay for storage and look to see if we see higher prices down the road," Steve Freed, vice president of grain research at ADM Investor Services, said in a video post.
In other crops, wheat futures in Chicago fell after reaching near-decade highs on Monday. Soybeans edged up slightly while soy meal settled at the priciest level since late September.
READ MORE: Wheat Prices Are Soaring as Harvests Falter and Stocks Shrink
Traders are weighing supply constraints against the demand and export outlook. News that China is trying to ensure adequate food supply during the winter is raising questions about the Asian nation's appetite for the world's corn and soy at a time when U.S. exports are lagging.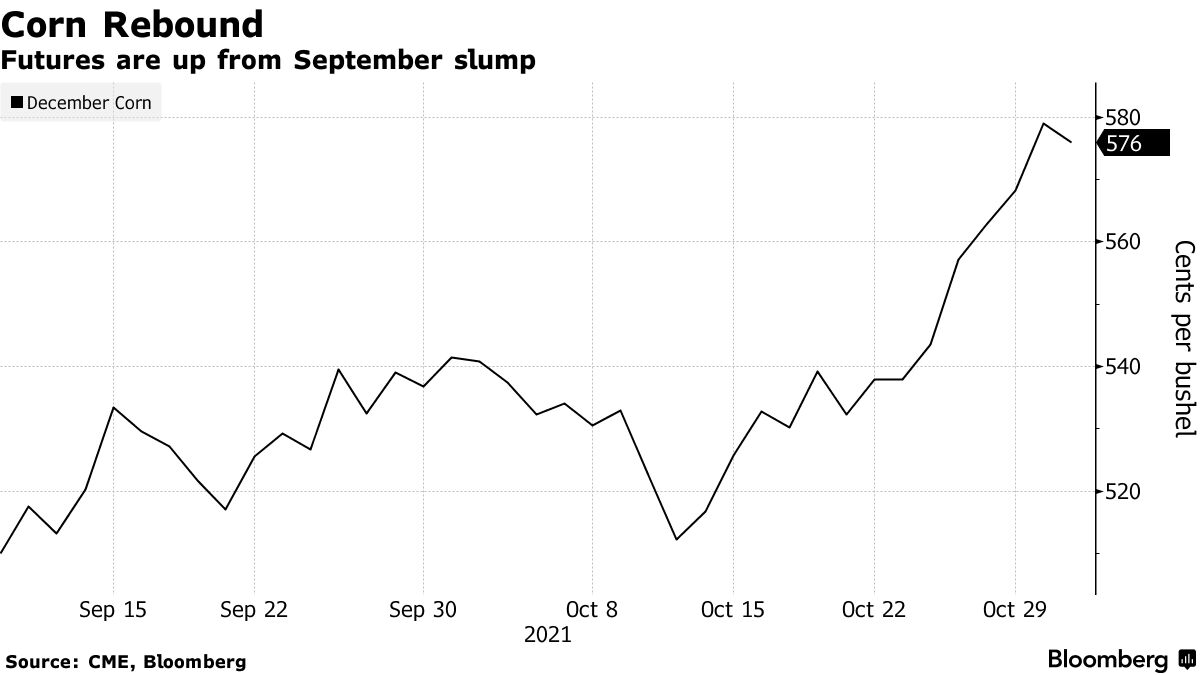 Corn settled 1% lower at $5.73 a bushel. The most-active contract is down 22% from an eight-year high of $7.3225 reached in early May.