U.S.-China Trade Friction Shifts to Livestock-Feed Ingredient
Source: By Jeff Wilson and Mario Parker, Bloomberg • Posted: Monday, September 26, 2016
The preliminary decision to impose a 34 percent duty was announced by China's Ministry of Commerce in a statement on Friday. U.S. shipments of distillers' dried grains (DDGS), a byproduct of ethanol product, damaged China's domestic industry, the ministry said.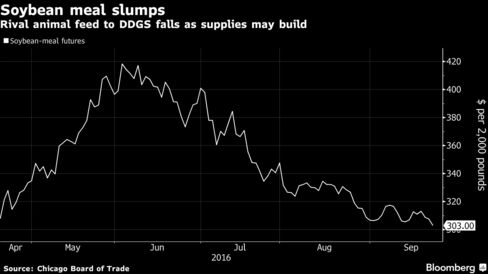 The move comes a week after the U.S. filed a complaint with the World Trade Organization over Chinese subsidies for domestic grain production, which it said denies American farmers the ability to compete on a level playing field. China responded by expressing regret at the U.S. action and said it complied with WTO rules.
"The tariff was right in line where we thought it would be," Todd Becker, chief executive officer of Omaha, Nebraska-based Green Plains Inc., the fourth-biggest U.S. ethanol producer, said in an e-mail. "It is not founded on reality. DDGS continue to remain very competitive on price."
China imported a record 6.8 million metric tons of DDGS in 2015, worth almost $2 billion, Shanghai JC Intelligence Co. estimates, citing official customs data. The Asian nation is the world's biggest buyer, and almost all of its imports come from the U.S.
Provisional Deposit
A provisional deposit of 34 percent of the after-tax imported price will be collected starting Friday, China's commerce ministry said in a statement. Imports of DDGS from companies including Archer-Daniels-Midland Co., Big River Resources LLC and Marquis Energy LLC will be subject to the duty, the ministry said.
Chinese importers will have to pay the deposit to customs, the ministry said. Authorities made an initial decision on U.S. DDGS, and the ministry didn't say when a final decision is expected.
China "can push and shove and fight" on DDGS, Mark Marquis, the CEO of Marquis Energy in Hennepin, Illinois, said in a Sept. 16 interview. Ultimately, the country needs the grain, he said.
Exports Slump
In the seven months ended July 31, exports of DDGS from the U.S., the top shipper, fell 61 percent to 1.7 million metric tons from a year earlier, government data show.
In a joint statement on Friday, the U.S. Grains Council, the Renewable Fuels Association and Growth Energy, lobbies representing the grain and ethanol industries, said America's DDGS are "protecting Chinese feed producers and households against unpredictable swings in global commodity prices."
China has been selling corn, soybeans, wheat, rice and cotton from government reserves since May to reduce inventory. This week, the country lifted a ban on imports of some U.S. beef products and settled a dispute over canola trade with Canada.
Soybean-meal futures fell to a five-month low on the Chicago Board of Trade on concern that supplies of livestock feed will build in the U.S.
"The China duties may push more DDGS into the domestic market, increasing price pressure for competing soybean-meal supplies," Greg Grow, the director of agribusiness at Archer Financial Services in Chicago, said in a telephone interview.