U.S. Boosts Refiners' 2017 Biofuel Quotas to Record Levels
Source: By Mario Parker, Bloomberg • Posted: Monday, November 28, 2016
Under quotas the U.S. Environmental Protection Agency announced Wednesday, refiners must mix 19.28 billion gallons of renewable fuel into the U.S. gasoline and diesel supply next year, including up to 15 billion gallons of traditional, corn-based ethanol.
The mandates are above levels the agency proposed in May and also above last year's requirements. For the first time, the targets match a 15 billion-gallon ceiling that Congress established for conventional renewable fuels in creating a program to boost their use 11 years ago.
The 2017 quotas are certain to increase pressure on Congress and President-elect Donald Trump to overhaul the Renewable Fuel Standard. While Trump is unlikely to rescind the new targets now that they have been finalized, he may support efforts to overhaul it by Congress.
Trump's Take
During his campaign, Trump had varying views of the program. In Iowa early this year, Trump said the U.S. should increase biofuel mandates. But in September, his campaign issued a fact sheet calling for the elimination of the system for buying and selling biofuel blending credits, following criticism from billionaire investor Carl Icahn. His campaign later reissued the fact sheet without the language opposing the system.
The EPA's decision is good news for biofuel backers and Midwest leaders who had argued that climbing gasoline demand justified hitting that 15 billion cap. Americans are on track to consume a record 144 billion gallons of gasoline this year, according to an October forecast from the U.S. Energy Information Administration.
Bob Dinneen, president of the Renewable Fuels Association, said the move "will send a positive signal to investors."
'New Interest'
"By signaling its commitment to a growing biofuels market, the agency will stimulate new interest in cellulosic ethanol and other advanced biofuels, drive investment in infrastructure to accommodate E15 and higher ethanol blends, and make a further dent in reducing greenhouse gas emissions," Dinneen said in an e-mailed statement.
Jeff Broin, chairman of POET LLC, the nation's second-largest ethanol producer, praised the EPA for "holding firm to the letter of the law despite enormous pressure from oil interests."
Oil companies blasted the move, arguing that the 2017 quotas push them beyond a "blend wall" where they are forced to mix a higher proportion of ethanol into fuel than the 10 percent level approved for use in all cars and trucks. Oil companies and industry trade groups had unsuccessfully lobbied the Obama administration to keep total ethanol levels at 9.7 percent of gasoline demand — an amount that would provide a buffer below the conventional 10 percent blend while also accommodating sales of ethanol-free gasoline coveted by boaters.
The EPA's 2017 quotas push well beyond that threshold, and translate to roughly an 11.2 percent blend of ethanol from both advanced and conventional corn-based sources, FBR & Co. said in a research note to clients.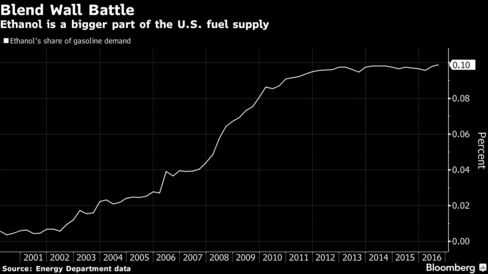 Frank Macchiarola, downstream group director at the American Petroleum Institute, said the EPA "has taken a step backwards with this final rule."
'Market Realities'
Chet Thompson, president of the American Fuel and Petrochemical Manufacturers, said the 2017 targets are "completely detached from market realities."
Separately, Valero Energy Corp., the largest independent U.S. oil refiner and a long-time critic of the biofuels mandate, plans to join the Renewable Fuels Association, according to people familiar with the matter, who asked not to be identified because they aren't authorized to talk about it.
The San Antonio, Texas-based company is America's fourth-biggest ethanol producer, and the move could raise its profile in the nation's capital as a biofuel producer. Lillian Riojas, a Valero spokeswoman, declined to comment.
Surging RINs
The final requirements "force more biofuel in the fuel supply than consumers want or infrastructure can handle," Thompson said in an e-mailed statement. "Refiners should not have the responsibility to force consumers to use products they either don't want or that are incompatible with their cars, boats, and motor equipment."
Prices for renewable identification numbers, the tradeable credits used for compliance, have surged in the past year on speculation the final rule would increase consumption targets. RINs tracking ethanol, in particular, increased on concern refiners would have to use it in excess of 10 percent of gasoline demand.
On Wednesday, RINs for 2016 ethanol consumption compliance jumped as much as 9.2 percent to 95 cents — the highest level since Aug. 5, 2013, according to broker data. Green Plains Inc., the third-biggest U.S. ethanol producer, rose as much as 3.1 percent to $26.60, on track for its highest close in a month on the New York Stock Exchange. In Chicago, soybean-oil futures reached the highest since July 2014.
Blending Requirements
Under the EPA rule, refiners will be forced to blend 4.28 billion gallons of advanced biofuels next year, including 311 million gallons of cellulosic ethanol and 2 billion gallons of biomass-based diesel.
Brooke Coleman, director of the Advanced Biofuels Business Council, said EPA leaders deserved credit for fulfilling their promise to "get the RFS back on track."
"It's a strong rule across the board and moves the conversation forward," Coleman said. "We have moved past the imaginary blend wall."
The Renewable Fuel Standard, created by Congress in 2005 and expanded two years later, was designed partly to shrink U.S. dependence on foreign crude by requiring refiners to use increasing volumes of biofuel each year — up to 36 billion gallons in 2022. That federal law lays out a target of 24 billion gallons of renewable fuels in 2017, and caps the amount coming from traditional corn starch-derived ethanol at 15 billion gallons.
To read about the outlook for ethanol demand, click here.
The EPA rule announced Wednesday does not set an explicit ethanol target. Oil industry-backed legislation pending in the House of Representatives would cap ethanol content at 9.7 percent.
"Forcing more ethanol into the market creates uncertainty for our economy, the environment and for hardworking American families," said Representative Bill Flores, a Republican from Texas who is co-sponsor of the bill. "Rather than continue down this unsustainable path, it is time that Congress fix the RFS once and for all."
Supporters hoped the RFS would drive the development of next-generation alternatives made from algae and non-edible plant materials. Instead, those advanced biofuels have been difficult to commercialize, and the program has become a flashpoint in broader debates about U.S. energy policy, pitting oil companies such as Chevron Corp. and Exxon Mobil Corp. against farmers in the corn-rich Midwest who say it has been a boon for rural America.