U.S. Aims to Keep Alignment With California on Auto Mileage Rules
Source: By Ryan Beene, Bloomberg • Posted: Thursday, February 1, 2018
Environmental Protection Agency
official said.
"The overarching goal of those conversations is to maintain or retain one national program," Bill Wehrum, the assistant administrator of the EPA's Office of Air and Radiation, which oversees vehicle tailpipe emissions, said in an interview. "Maintaining that status quo is important."
The EPA plans to decide by April 1 whether tailpipe emissions standards for cars and light trucks for model years 2022 through 2025 should be revised. The agency is also working closely with the National Highway Traffic Safety Administration as that agency develops a related proposal for vehicle fuel economy standards, Wehrum added.
The rules today are aligned with California's own tailpipe standards as part of a deal struck by Obama regulators to raise the average fuel economy of new cars and light trucks to more than 50 miles per gallon by 2025. That translates to roughly 36 miles per gallon in real-world driving.
The Trump administration is discussing with California officials whether those rules should be revised.
Why Trump Would Want to Slow Tough Fuel Standards: QuickTake Q&A
California's support is seen as critical because the state's powerful Air Resources Board could choose to keep its rules unchanged even if the federal targets are loosened. Doing so would force auto manufacturers to deal with a patchwork of regulation. A dozen states have adopted the California targets, and together they make up a third of the U.S. auto market.
On Track
A report released Monday by Next 10, a nonprofit policy group, handed California officials fodder for standing firm with their targets. The group said that the state is on track to meet its goal to have 1.5 million zero-emission vehicles on the road by 2025 as battery prices drop and ranges improve.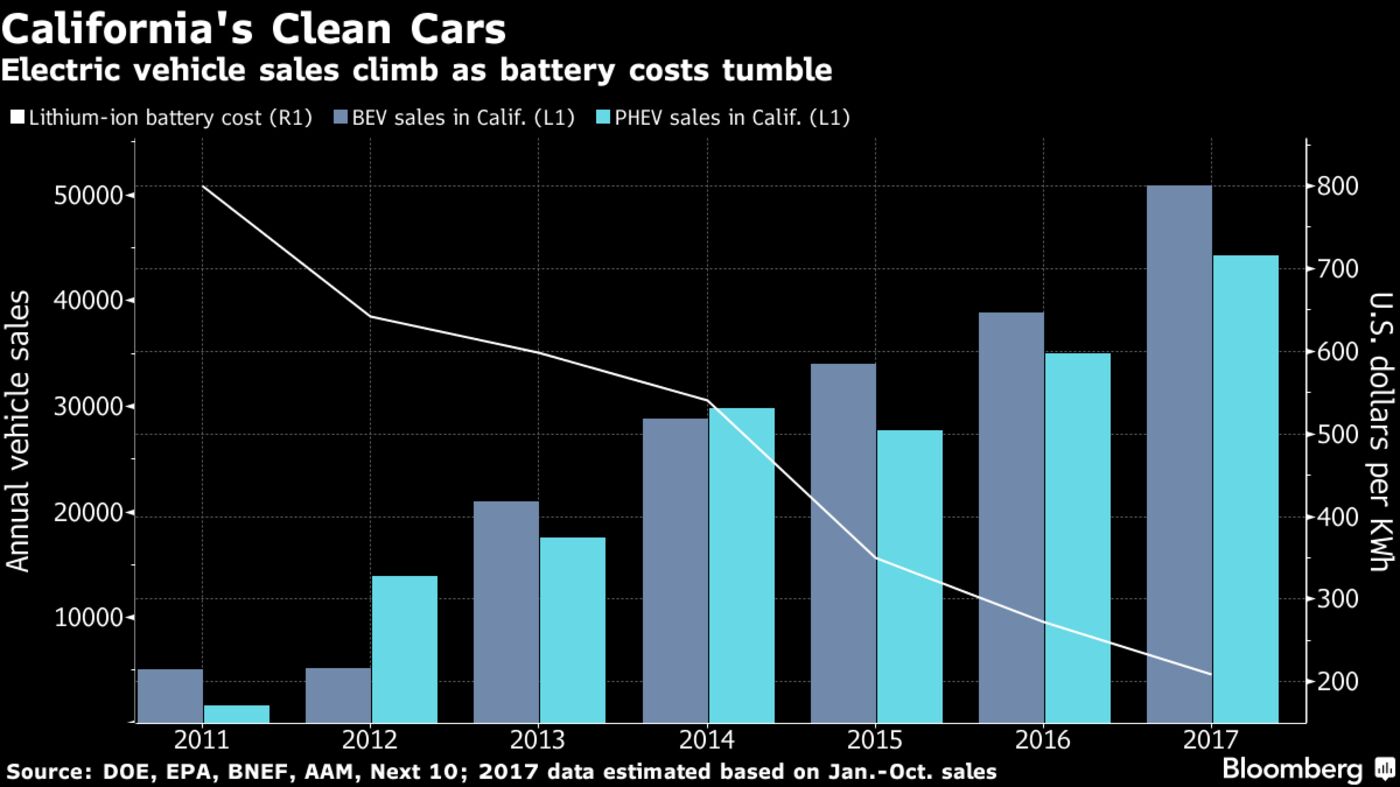 Automakers lobbied Trump and other administration officials to take a second look at fuel economy standards, which some carmakers say need adjustments in light of surging light-truck sales, low gasoline prices and tepid demand for plug-in vehicles.
Wehrum said on Monday that automakers have expressed a range of viewpoints to the agency.
Range of Views
"There are some who think a change is needed, there are some who think sort of a change is needed — maybe instead of changing the standards, we could just change compliance procedures or flexibilities — and there are some who think things are fine," he said.
While the federal review continues, California signaled even more aggressive clean-car goals. California Governor Jerry Brown last week announced a target to have 5 million zero-emission vehicles on the state's roads by 2030, building on the 1.5 million planned for 2025.
The increase is necessary, Brown said, to fulfill the state's legislative mandate to cut carbon dioxide emissions to 40 percent below 1990 levels by 2030. To achieve that aim, California requires that, in addition to meeting greenhouse gas targets, each automaker must sell a rising percentage of zero-emission vehicles in the state.