Trump Views DeSantis as Strongest GOP Challenger in 2024
Source: By Mark Niquette, Bloomberg • Posted: Wednesday, March 15, 2023
Former president attacks leading rival in first 2024 Iowa trip Most polls show Trump leading potentially crowded GOP field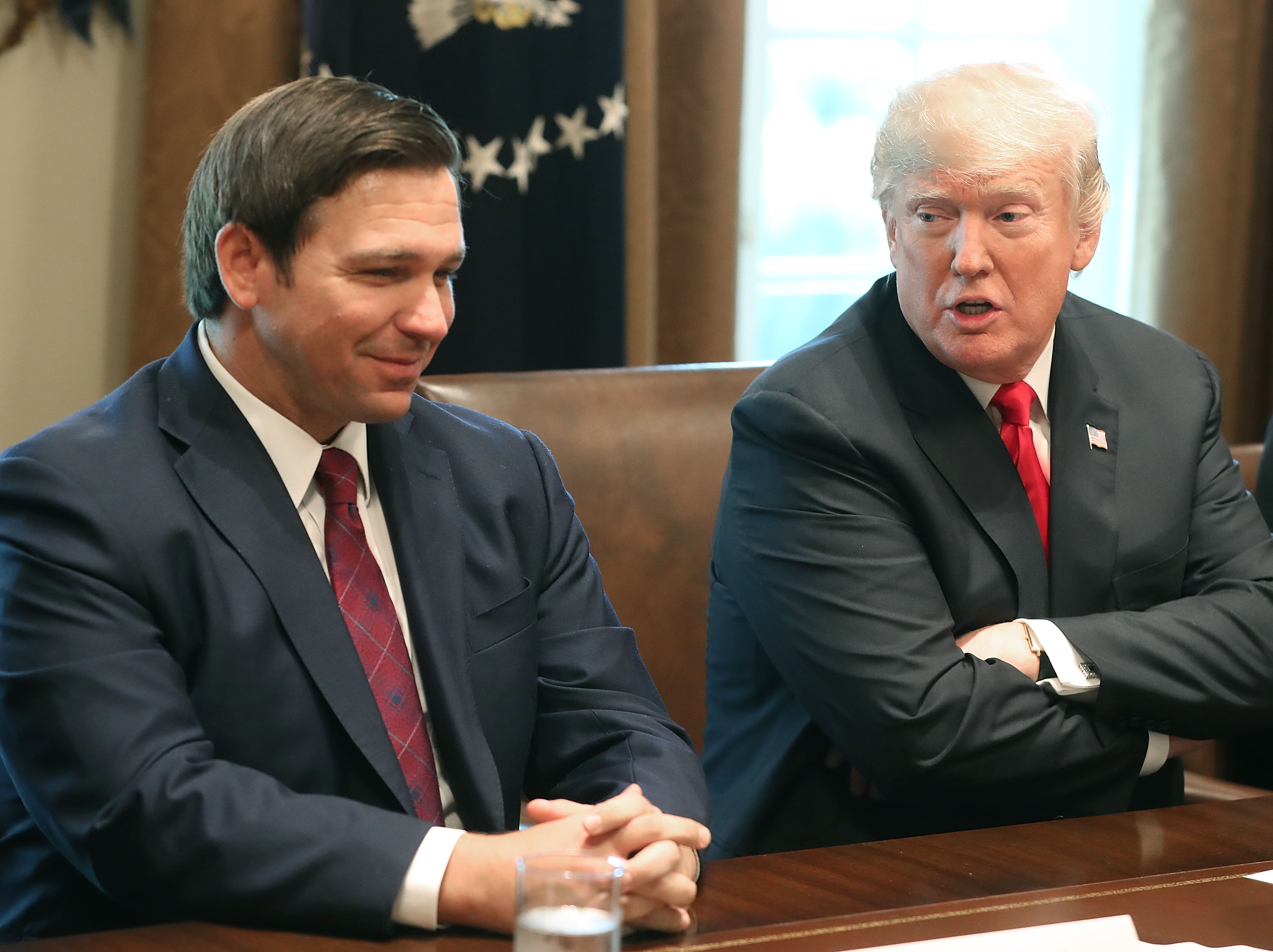 Former President Donald Trump said he considers Ron DeSantis as his strongest potential challenger for the Republican nomination and attacked the Florida governor during his first 2024 campaign stop in Iowa.
"I would say probably so, but you never know what happens. It could change," Trump in response to a question about DeSantis from reporters aboard his plane en route to Iowa. "I think we're not going to have much of a challenge."
During a speech in Davenport, Trump said DeSantis opposed ethanol, which is important to farmers in Iowa and other Midwest states, and that when he was in Congress he voted to raise the minimum retirement age for Social Security to 70 years old.
"And to be honest with you, Ron reminds me a lot of Mitt Romney," Trump said of the 2012 GOP presidential nominee who's no longer very popular among Iowa Republicans. "So I don't think you're going to be doing so well here. But we're going to find out. But those are the facts."
The former president's trip to the state, where Republicans next year hold their first-in-the-nation caucus, comes days after DeSantis held two events there as part of his book tour and met with Iowa lawmakers.
Trump's speech in Davenport was billed as one around his education platform, but his remarks on the issue, including opposition to critical race theory and a vow to break up the US Department of Education, didn't come until well over an hour into his speech. Instead, Trump focused on his efforts to help farmers and bolster ethanol when he was president, saying, "Every promise I made to Iowa as a candidate I fulfilled as your president."
Trump often says that it was his endorsement that enabled DeSantis to win the GOP primary and be elected governor in 2018. The former president responded "Yeah, maybe" when asked by reporters whether he now regrets that endorsement.
"This guy was dead. He was dead as a door nail. And I like people that are loyal," Trump told reporters. "Yeah, I might say that. I always got along great with him. When he was governor, I did a lot of great things for Florida."
Most polls show Trump as the front-runner for the 2024 nomination, with DeSantis trailing him. Former South Carolina Governor Nikki Haley, Ohio entrepreneur Vivek Ramaswamy and Michigan businessman Perry Johnson are so far the only three Republicans who have formally launched presidential campaigns.
Others, however, have shown strong interest, including former Vice President Mike Pence, who at an event in Washington on Saturday offered his strongest public rebuke yet of his ex-boss's rhetoric and actions on Jan. 6, 2021, when Trump supporters stormed the US Capitol in an effort to overturn his 2020 election loss.
Trump said he had heard Pence's statement and that his former running mate is "a nice man" who's apparently trying to get more traction in a potential race.
"I guess he figured that being nice is not working because he's at 3 in the polls," Trump told reporters. "So he figured there might as well not be nice any longer. But, you know, he's out there campaigning. And he's trying very hard and He's a nice man. I've known him. I had a very good relationship until the end."
An Iowa Poll released Friday found that while Trump still enjoys strong backing among Republicans in the state, DeSantis also has a robust favorability rating and the former president's support has eroded. The findings are consistent with polls elsewhere that show many Republican voters still like Trump but are open to voting for a candidate who supports his policies without the political baggage.
Trump was viewed favorably by 80% of Iowa Republicans in the poll — down from 91% in September 2021 — compared with 74% for DeSantis. But the number of GOP voters who said they'd definitely vote for Trump again as the GOP nominee plummeted to 47% from 69% in June 2021.
The former president announced Iowa endorsements Monday from former acting US Attorney General Matt Whitaker, former US Representative Rod Blum and about a dozen state legislators. Trump also made an unannounced stop at Machine Shed Restaurant in Davenport, where he shook hands and took pictures with customers.
The poll numbers should be concerning for Trump as a former president who won Iowa twice, according to David Kochel, a veteran Republican strategist.
The former president has hard-core supporters in Iowa who will back him no matter what. But Trump — who's mired in multiple investigations and was widely blamed for the GOP's disappointing midterms last fall — risks losing voters who care about electability, Kochel said.
"Particularly among a pretty big swath of Republicans in Iowa who care about winning and care about power and gaining power, you've got to nominate somebody who can win," Kochel said. "If Trump looks like it's harder for him to win, I think it's going to work against him."
He has stepped up attacks on DeSantis in recent weeks, trying to undercut the Florida governor's record on handling the coronavirus pandemic, criticizing him for votes in Congress to reduce spending on Medicare and Social Security and calling him a "RINO globalist" and "Ron DeSanctimonius."
He posted 11 short videos on his Truth Social platform over the course of an hour before the Iowa event, including three complaining about the investigations he faces and one using another nickname for the Florida governor. "Just remember, Florida was doing really well long before Ron DeSanctus got there," he said.
(Updates with Trump comments, from first paragraph.)