Trump to Modestly Boost 2019 Biofuel Mandate in Gasoline
Source: By Jennifer A Dlouhy and Mario Parker, Bloomberg • Posted: Monday, December 3, 2018
With the final 2019 quotas released Friday, the Environmental Protection Agency is kicking off a head-to-toe overhaul of the Renewable Fuel Standard and setting off a fresh battle between the oil industry and agricultural interests over U.S. gasoline market share that will play out against an increasingly political backdrop.
Refiners and some environmentalists will be pressuring the EPA to dial back the 13-year-old biofuel mandate next year, even as President Donald Trump courts voters in the top corn- and ethanol-producing state of Iowa.
Trump easily won Iowa in 2016's presidential election after pledging to back ethanol. But in November's mid-terms, with soybeans in the cross-hairs of the U.S.-China trade war, Democrats flipped two Republican-held House seats and now hold three of the state's four Congressional districts.
Political Mischief
The so-called RFS reset will take place "right in the middle of political mischief season," said Stephen Brown, an oil industry consultant and former Andeavor Corp.lobbyist. The effort will be complicated by its "juxtaposition with the Iowa caucuses in January 2020, and genuflection at the altar of corn before then."
The EPA on Friday said it's requiring refiners to blend 19.92 billion gallons of biofuel next year, a 3.3 percent increase over the current requirements and largely in line with quotas the agency proposed in June. Some 15 billion gallons of the total can come from conventional sources such as corn-based ethanol. At least 4.92 billion gallons must be be fulfilled by advanced biofuel, including 418 million gallons of cellulosic renewable fuel, such as ethanol made from switchgrass.
The EPA also set a 2.43 billion gallon quota for biodiesel in 2020, a 15.7 percent increase from the 2.1 billion gallons that will be required in 2019.
Refinery Exemptions
The agency didn't adjust its final quotas to account for waivers exempting some small refineries from the biofuel blending requirements — a defeat for agricultural leaders and political allies who've implored the Trump administration to halt the practice or at least force other refineries to make up the difference.
The EPA has missed an "opportunity to correctly account for billions of gallons of ethanol lost to refinery exemptions," said Emily Skor, head of the Growth Energy advocacy group.
Gene Gebolys, president and chief executive officer of World Energy, one of the biggest U.S. biodiesel producers, said the industry will work with the EPA to ensure small refinery exemptions "do not decimate annual biofuel volumes."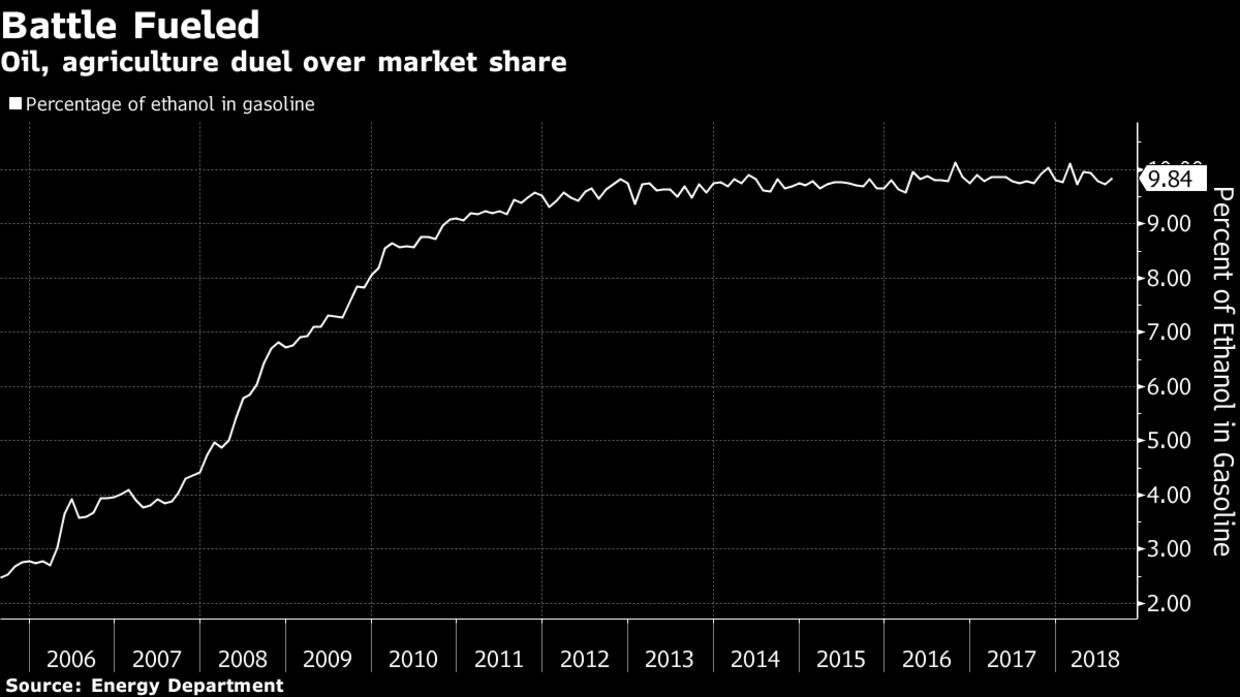 Under the RFS, Congress sought to direct an increasing amount of biofuel into the nation's gasoline and diesel supply — as much as 36 billion gallons in 2022. Lawmakers recognized that conventional, corn-based ethanol would fulfill much of the mandate initially, and anticipated the program would provide a launchpad for next-generation advanced biofuels made from grass, algae, wood and other non-edible materials. However, cellulosic biofuel has been slow to commercialize, with production lagging far below the congressional targets.
Safety Valve
Now, after repeatedly setting quotas below those statutory goals, the EPA is taking advantage of a safety valve Congress built into the program, embarking on a broad "reset" of the RFS that could lead to lowering targets across the board. The agency is aiming to propose modifications in the statutory volume requirements in February.
Refining industry leaders view the RFS reset as a chance to recalibrate a program created under vastly different market conditions 13 years ago, when lawmakers were eager to wean the U.S. off foreign sources of oil and before the domestic drilling boom that unlocked new sources of U.S. crude.
"We need to look at this issue in a different lens," said Frank Macchiarola, a group director at the American Petroleum Institute. "It's a different energy landscape than it was."
Under federal law, the EPA must consider an array of factors in resetting the biofuel requirements, including energy security, annual production rates, current fueling infrastructure, consumer costs, and rural development.
Trade Feud
Those concerns should drive the EPA to lower volumes, Macchiarola said. Under those factors, "I think we make a pretty compelling case that at minimum, you shouldn't depart upward."
However, biofuel producers will make the case that the EPA should do just that; increasing requirements for biodiesel and ethanol use that would bolster the market for corn and soybeans used to make them.
Those commodities, especially soybeans, have been casualties of the Trump administration's intensifying trade feud with China.
Under the RFS law, conventional biofuel, typically corn-based ethanol, is capped at 15 billion gallons per year, though industry officials say they have the capacity to churn out some 16 billion gallons. And while agricultural interests have sought to expand export markets, the trade conflict with China has all but shut that market to American distillers. Biofuel proponents, particularly makers of biodiesel, derived mostly from soybeans, have lobbied for higher consumption targets as a result of the trade spat.
Oil Vs. Agriculture
"All sides will use the reset as an opportunity to do what they want to do," said Wallace Tyner, an agricultural economist at Purdue University in West Lafayette, Indiana. "It's going to create more gamesmanship."
Efforts to revamp the RFS program in Congress have been stymied for years because of tensions between the oil industry and the agricultural sector. The issue divides politicians along geographical lines, rather than ideological leanings, pitting farm-state lawmakers in the Midwest and along the Mississippi River against oil interests in the Gulf Coast and U.S. Northeast.
Now, the EPA will be facing the same political challenges that have blocked overhaul efforts on Capitol Hill — and doing it in the run-up to the 2020 presidential election.
Presidential candidates have long pledged support for ethanol while stumping for votes in Iowa, which holds first-in-the-nation caucuses to decide nominees. That will provide the backdrop for the EPA's work in Washington.
The RFS is always challenging, Macchiarola said. But now, "for EPA, the even greater challenge is we're getting closer and closer to an election."