Trump to Lift Summertime Limits on High-Ethanol Gasoline
Source: By Jennifer A Dlouhy, Bloomberg • Posted: Monday, September 24, 2018
President Donald Trump is slated to unveil the new policy in coming weeks, possibly in Iowa, where farmers, biofuel producers and politicians have been clamoring for the move that's likely to expand the U.S. market for corn-based ethanol. Although the timing of the announcement is in flux, administration officials have confirmed it is coming, said the people, who asked not to be named since the policy hasn't been made public.
At issue are summertime restrictions on so-called E15 gasoline, which contains 15 percent ethanol. Current rules block its sale from June 1 to Sept. 15 in areas where smog is a problem. Most gasoline that is sold nationwide — the common 10 percent ethanol blend known as E10 — is waived from federal vapor-pressure requirements, allowing it to be sold year-round. The same exemption has not been granted to E15 thus far.
About 1,430 filling stations sell E15 in the U.S. now, according to industry data. By comparison, there are more than 122,000 stations in the country.
Biofuel Market
Ethanol advocates say the hassle and cost of changing gas pumps and labels seasonally has dissuaded some filling stations from offering the fuel. They argue that lifting summertime restrictions on the sale of E15 will spur more offerings, expanding the U.S. market for the biofuel. Ethanol currently comprises about 10 percent of America's 143 billion gallon gasoline market.
The policy shift will likely come at the expense of most oil refiners who have for years battled against year-round E15 sales.
Anything that boosts the amount of ethanol in the nation's fuel supply would cut into petroleum's market share. The oil industry also argues the policy shift would increase the risk that the higher-ethanol gasoline will end up in cars not approved to use it, threatening engine damage. The federal government has authorized the use of E15 for all 2001 and newer light-duty passenger vehicles, but some automakers explicitly warn that car warranties will be voided if motorists use the fuel.
Some environmental groups also have argued against year-round E15 sales, saying they would encourage more corn production to manufacture ethanol.
The Trump administration's planned policy shift also could remove key leverage for lawmakers, the Environmental Protection Agency and oil-industry allies seeking a broader compromise package of changes to the U.S. Renewable Fuel Standard that mandates biofuel. Allowing year-round E15 sales has been dangled as part of renewable fuel negotiations, used as a sweetener by refiners trying to lure ethanol industry support for changes they are seeking.
RIN Reforms
The administration is expected to package the E15 announcement with other proposed reforms to the shadowy $2.25 billion market in biofuel compliance credits. Those tradable credits, known as renewable identification numbers, or RINs, are used by refiners to prove they have satisfied annual biofuel quotas.
Communications staff at the White House and representatives of the EPA didn't immediately respond to requests for comment.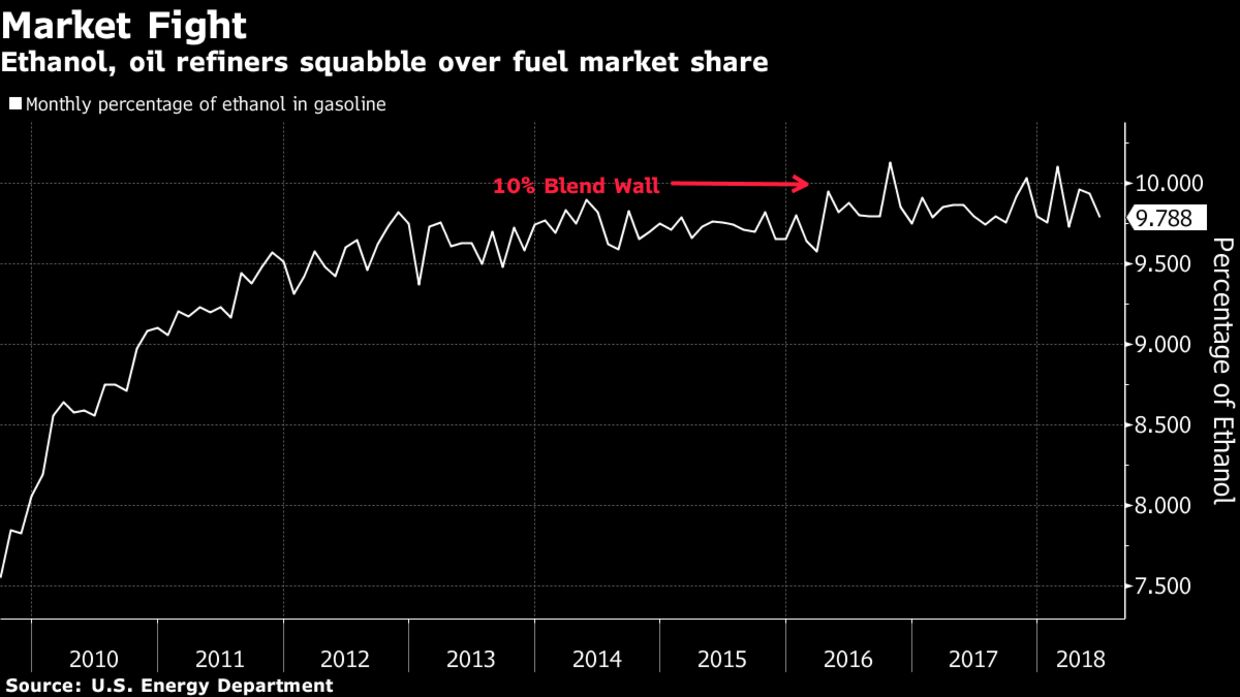 While meeting with Republican lawmakers in April, Trump said the administration would "probably" allow year-round E15 sales, a move he said would make "a lot of farmers happy." Trump reiterated his support for the shift again in July, telling a crowd in Iowa that he was "very close" to "pulling off" the E15 waiver.
It could take months to formally make the change, with the EPA first issuing a written proposal and going through a public comment process before it can lift the fueling restrictions. Even then, the action faces a near-certain legal challenge from the oil industry, which has argued the EPA does not have authority under the Clean Air Act to administratively issue a vapor-pressure waiver for E15.
At a time of great uncertainty for farmers because of low commodity prices and China's tariffs on crop shipments amid Trump's trade war, the E15 announcement would be seen as a victory for the Midwest. Iowa Governor Kim Reynolds, who is locked in a very competitive re-election race, has personally spoken to Trump numerous times about year-round sales.
There's still some chance the administration could back down from the planned policy change. Although the president has repeatedly signaled his support for the shift, past pronouncements haven't been followed by a formal EPA proposal.
"If they get it, that'd be a moral victory," said Wallace Tyner, an agricultural economist at Purdue University in West Lafayette, Indiana. "He's got a lot of people in ag mad at him, so anything he does will help."
More Transparency
The plan for a shift in E15 policy comes after the EPA on Thursday took steps to bolster transparency around RIN trading. The move falls short of some refiners' pleas for limits on who can sell those compliance credits — and how many they can hold.
"Transparency alone will not solve the problems that exist in the RINs market," said Scott Segal, a partner with Bracewell LLP, who lobbies on behalf of refiners. "Real and effective market reforms are needed if you're going to make any difference in this highly suspicious RINs market."
Possible changes include the imposition of position limits capping the number of RINs that can be held by traders.
"I am quite confident the EPA has a range of market reforms under active consideration," Segal said.
Still, the E15 action is seen as at least temporarily mollifying ethanol producers and congressional allies who have complained Trump's EPA is too liberally waiving small refineries from annual biofuel quotas after federal courts rebuked the agency for denying some exemptions.