Trump Pledges Support for Ethanol Even as Administration Stokes Uncertainty
Source: By Mario Parker, Bloomberg • Posted: Monday, June 26, 2017
"By the way, we're saving your ethanol industries in the state of Iowa just like I promised I would do in my campaign," Trump said in a speech in Cedar Rapids. "Believe me they are under siege, folks. I don't know if you know it, but they are under siege."
Trump touted the industry while campaigning in the Corn Belt last year, but his decision to highlight ethanol once in the White House stands in contrast to the approach of former President Barack Obama, who largely avoided the topic after he was elected.
Still, Trump's pro-ethanol rhetoric may not directly translate to higher requirements for the biofuel. Producers are concerned the Environmental Protection Agency may yield to petroleum industry advocates who complain the current law on biofuel use is costly and burdensome. Additionally, billionaire Carl Icahn, a regulatory adviser to Trump and the owner of a oil-refining company, has been pushing for changes to the government renewable fuel program.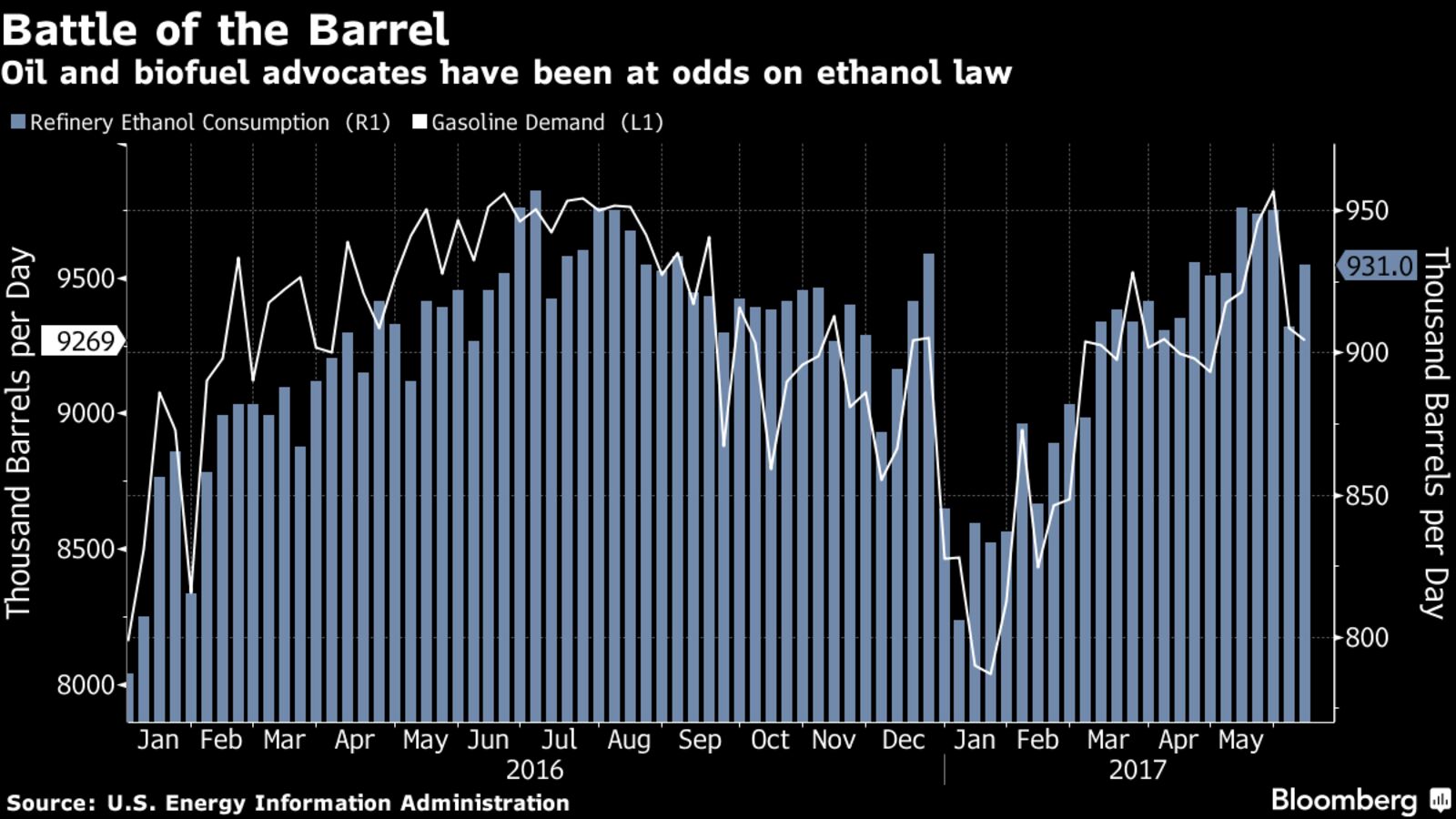 "Trump has been supportive from a rhetorical perspective since the beginning," said Cheryl Wilson, an analyst at Bloomberg Intelligence in Washington. Still, "there's definitely some tea-leaf reading going on right now."
The EPA is in charge of administering the Renewable Fuel Standard, a program created by a Congress in 2005 that requires refiners to use escalating amounts of biofuels in gasoline. The White House had finished vetting the proposed 2018 quotas last week and had authorized the EPA to publish them, people familiar with the situation said. However, the release has now been pushed back until at least next week as agency officials mull changes, the people said Wednesday.
Across the U.S. there are more than 200 ethanol plants with capacity to produce some 16 billion gallons of the fuel, according to the Renewable Fuels Association, a Washington-based trade group.
"President Trump knows that agriculture is the backbone of our economy, and we look forward to his continued support for ethanol, the nation's cleanest and highest-octane source of fuel," Bob Dinneen, the group's president, said in an email.
Corn-Based
Fuels consumed under the RFS include conventional corn-based ethanol as well as biodiesel and so-called cellulosic ethanol, which is derived from non-edible sources. This year, refiners are required to use 19.28 billion gallons of biofuel, up from 18.11 billion in 2016. The conventional variety, mostly corn ethanol, is capped at 15 billion gallons.
Analysts had said the Trump administration would stick to the same 15 billion-gallon target for corn-based ethanol and other conventional renewable fuels in 2018. Trump's comments will disappoint those hoping the administration would reduce corn-based volumes, said Andy Lipow, president of Lipow Oil Associates LLC in Houston.
Even modest increases to the overall biofuel consumption targets for 2018 could prompt credits for 2017 ethanol compliance to jump to $1, Citigroup Inc. predicted. Those credits, known as renewable identification numbers, traded at about 73 cents on Thursday, data compiled by Bloomberg show.
Compliance credit prices will "remain elevated," absent "meaningful cuts" in volumes by the Trump administration, Citigroup analyst Aakash Doshi wrote in a report Wednesday.