Trump backs compromise deal on biofuels policy: source
Source: By Jarrett Renshaw, Reuters • Posted: Friday, March 2, 2018
The potential breakthrough comes amid rising concern in the White House over the state of the U.S. Renewable Fuel Standard, or RFS, a law requiring refiners to mix biofuels such as corn-based ethanol into their fuel that has increasingly divided two of Trump's most important constituencies.
The source said Trump told attendees at the White House meeting that he supported capping the price of biofuels blending credits that refiners must acquire to comply with the RFS, while also expanding ethanol sales by raising ethanol content in gasoline.
Prices for the blending credits have surged in recent years, upsetting refining companies that in some cases are spending hundreds of millions of dollars on them. A refiner in the key electoral state of Pennsylvania in January blamed its bankruptcy on the soaring cost of the credits.
The White House said in a statement after the meeting: "Today's meeting is a part of the ongoing effort to best understand the many differing views on this issue, and the President looks forward to continuing this discussion."
Republican Senator Charles Grassley of corn state Iowa, who attended, said after the meeting that nothing was decided, but that an "emerging solution" could include allowing for year-round sales of 15 percent ethanol blend for motor fuels.
Gasoline with 15 percent ethanol is currently restricted during summer because of concerns over smog.
"Emerging solution fr WH mtg 2day is year round e15," Grassley said on Twitter, adding the reforms would drive down prices for the blending credits, called RINs. He also expressed opposition to a hard cap on RIN credit prices, saying it could cut biofuel demand and hurt farmers.
No specific price cap level was discussed at Thursday's meeting, according to the source, but Republican Senator Ted Cruz of Texas, who has been driving efforts to tweak the RFS on behalf of refiners and who attended the meeting, has proposed limiting RINs to 10 cents each.
FILE PHOTO: The Philadelphia Energy Solutions oil refinery is seen at sunset in front of the Philadelphia skyline in Pennysylvania, U.S., March 24, 2014. REUTERS/David M. Parrott/File Photo
Cruz said in a statement with Republican Senator Pat Toomey of Pennsylvania that he was "encouraged that President Trump recognizes the importance of providing relief from crushing RINs costs and expanding the potential market for ethanol that will benefit both Iowa farmers… and blue-collar refinery workers."
RIN prices on Thursday dropped 10 cents to 53 cents each after the meeting, according to traders.
'CONTINUE TO PLAY OUT'
VLO.NNew York Stock Exchange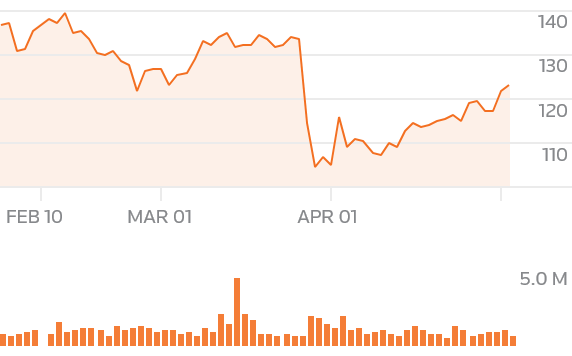 The biofuels industry had mixed reaction to the meeting.
"The President very clearly understands that the path forward is to allow sales of E15 year-round, promote growth, and put more RINs on the market," said Emily Skor, chief executive of biofuels producer Growth Energy.
"Nothing new was discussed in this meeting. Removing accountability from oil companies would deprive millions of Americans the freedom to choose less expensive, homegrown biofuels and imperil countless jobs and family farms across America's heartland," said Jeff Broin, CEO of leading U.S. ethanol producer POET.
"This issue will continue to play out."
Sources told Reuters that a number of companies were also represented, including Valero Energy Corp (VLO.N), Delta Air Lines' (DAL.N) Monroe Energy, PBF Energy Inc (PBF.N), and Philadelphia Energy Solutions. PES last month blamed the RFS for its bankruptcy.
The biofuel industry was represented by officials from POET and Green Plains Inc (GPRE.O), along with others.
Reporting by Jarrett Renshaw; Editing by David Gregorio and Peter Cooney