The Slow Death of Diesel
Source: By Chris Bryant, Bloomberg • Posted: Friday, August 26, 2016
billions of euros 
of impairments.
There are reasons to think Europe's autos industry might be sidelined too.
Carmakers outsource a lot to suppliers, but still insist on building their own combustion engines. They form the bedrock of brand identity and the added value in manufacturing. The effort still consumes billions of euros in capital, but the assets risk being stranded by the rise of electric vehicles.
The danger's acute in Europe because carbon dioxide emissions rules are stricter than in the U.S. The big bet on diesel by the continent's carmakers (the chart below shows their percentage of diesel sales in Europe) just makes things worse. Thanks in part to Volkswagen, it's not a technology winning many friends.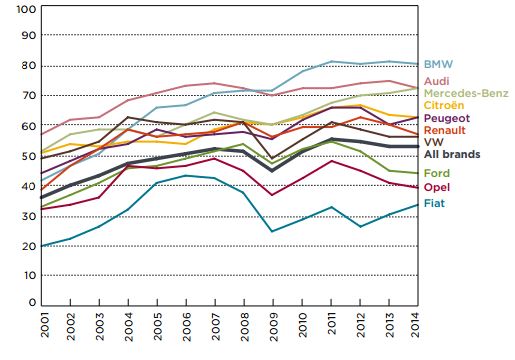 For smaller cars in particular, the technical effort of making diesel engines compliant is becoming uneconomical. While more than half the cars sold in the continent are diesel-powered, consultants at Alix Partners expect this to be just 9 percent in 2030. Combustion engine plants will close: