Roiled by China-U.S. Trade Spat, This Grain Falls to Decade Low
Source: By Megan Durisin, Bloomberg • Posted: Friday, April 14, 2017
Prices for U.S. distillers dried grains, a corn byproduct that's used in animal feed, have tumbled to the lowest in a decade for this time of year. China's move earlier in 2017 to impose import tariffs has significantly slowed American exports to the world's biggest market.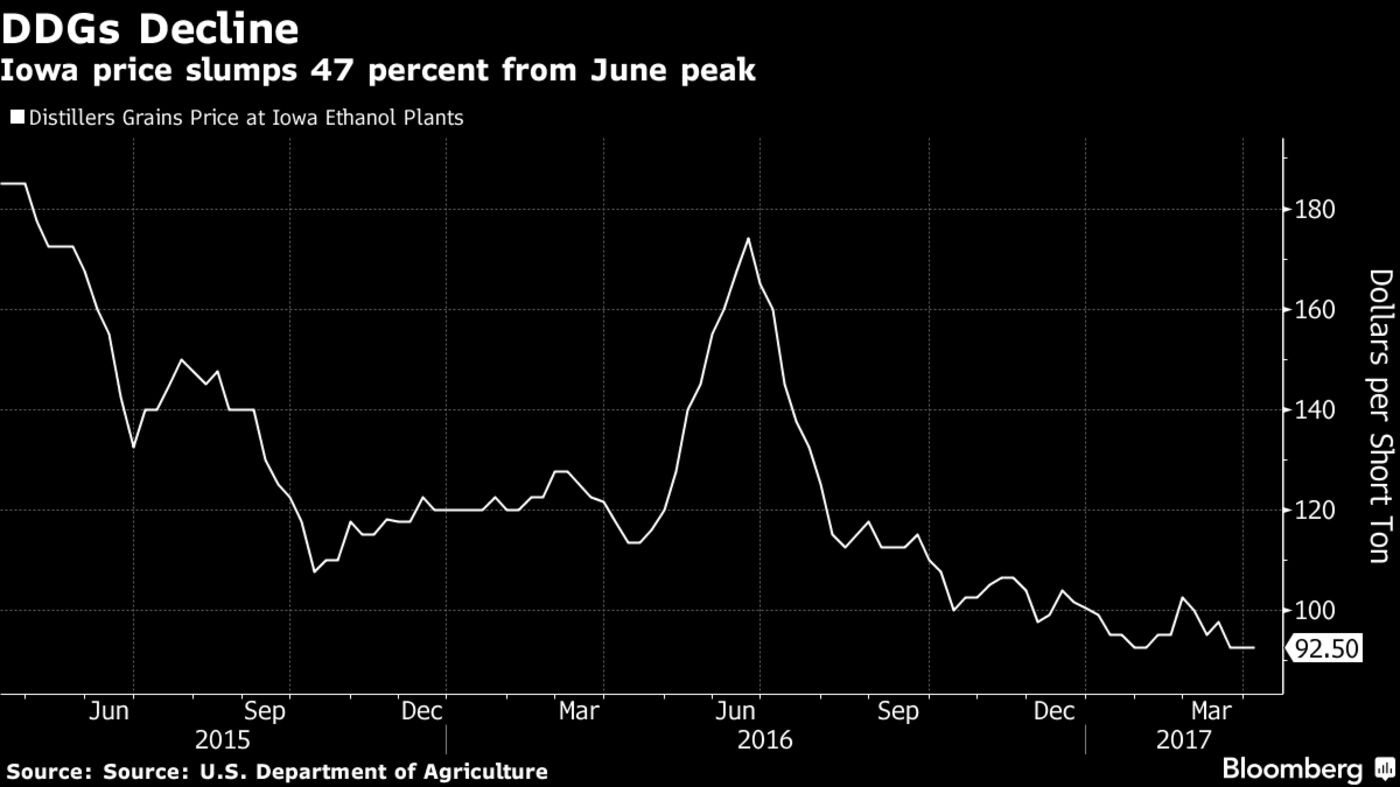 The woes of DDG sellers highlight the risk President Donald Trump's tough stance on trade poses to farmers. Protectionist policies could threaten crop shipments at a time when American grain inventories are piling up. In the case of DDGs, while other importing countries have stepped in to make purchases, there's still enough excess supply that U.S. prices continue to slump.
"There's no home run like China sitting out there," said Kurt Shultz, senior director of global strategies at U.S. Grains Council, an export development group. "U.S. agriculture is dependent on trade. If we don't have all of the doors open on trade that we can, we put our farm economy at risk."
China Tariffs
DDGs are the dried, yellow flakes left over after the corn kernel's starch is fermented during ethanol production. In January, China set anti-dumping duties and anti-subsidy tariffs on imports, both higher than rates imposed in a provisional decision in September.
Trump has long criticized China for exporting more to the U.S. than it imports and vowed during his campaign to be tough on the country in trade negotiations. Retaliation by China in the agriculture markets could jeopardize U.S. exports of soybeans, pork and dairy.
China's purchases of DDGs have already started to shrivel. In the six months through February, American shipments to the nation plunged 69 percent from the same period last year, U.S. Department of Agriculture data show. Adding further pressure to exporters, Vietnam, the third-largest buyer, shut off purchases in mid-December, citing beetle contamination.
Spot prices for DDGs in Iowa plunged 47 percent from a peak last June to $92.50 per short ton, the lowest for the time of year since at least 2007, USDA data show.
Ethanol Output
Prices are also falling as U.S. ethanol output holds at a seasonal record-high pace. A drop in crude oil helped cheapen gasoline, spurring consumers to take more road trips and increasing the demand for biofuel use in blending. That's increased supplies of DDGs as a byproduct of ethanol making, especially as ample corn supplies make the ingredient cheap for fuel producers.
"To get the added ethanol, the added DDGs come along whether the market really needs them or not," said Scott Irwin, an agricultural economist at University of Illinois.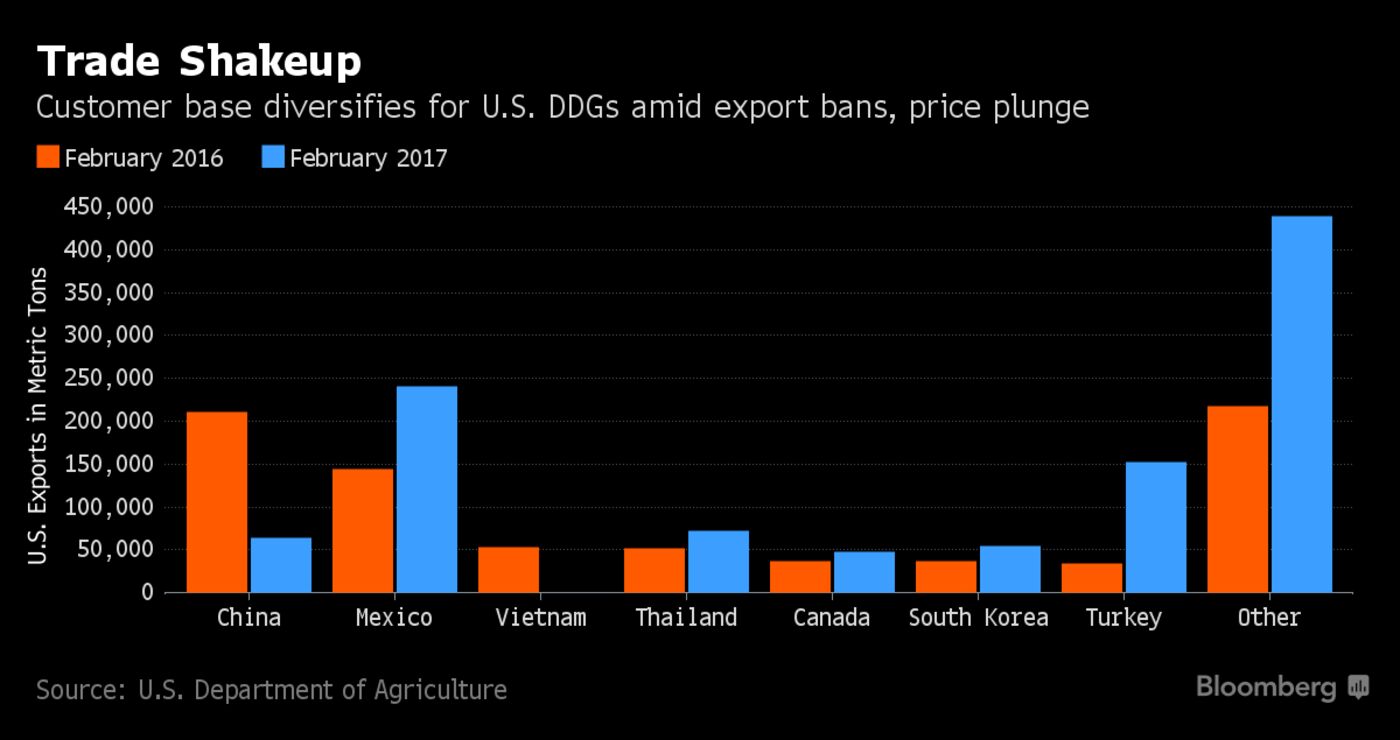 Still, falling prices for DDGs have proved alluring to buyers other than China. In the marketing year that began in September, shipments more than doubled to Turkey and climbed 10-fold to New Zealand. Mexico has now emerged as the top buyer of U.S. supplies and upped purchases by 9 percent.
"There's certainly incremental growth in a lot of the markets that have not used DDGs in the past," Shultz of the U.S. Grains Council said.
Those purchases are putting U.S. shipments ahead of last year's pace. Exports in both January and February posted monthly records, USDA data show. Consumption in domestic livestock herds is also probably on the rise, Irwin said.
"There's more than one way to skin a cat," said Eamonn Byrne, chief operations officer and director of Lakeview Energy LLC, a Chicago-based company that owns ethanol plants in Iowa and Ohio. "You can't ignore DDGs" being so cheap relative to corn, he said.
The other good news for farmers is there are signs relations between the U.S. and China have improved. Chinese President Xi Jinping met Trump in Florida last week and was said to be poised to offer a series of trade sweeteners that include agriculture and automobile sectors, according to Bloomberg BNA. Chinese feeds mills may seek more U.S. DDGs amid gains in domestic corn costs, a Shanghai JC Intelligence analyst said last month.