Pruitt Reverses Course on Biofuels in 2018 RFS Determination
Source: By Jessie Stolark, EESI • Posted: Monday, December 4, 2017
According to EPA Administrator Pruitt, "Maintaining the renewable fuel standard at current levels ensures stability in the marketplace and follows through with my commitment to meet the statutory deadlines and lead the agency by upholding the rule of law."  While the biofuels industry breathed a sigh of relief on the administrator's course-correction on the RFS, the final volume numbers provide little room for future growth for cellulosic and biodiesel fuels.
The proposed volumes made waves this summer, as they were the first time that the EPA had chosen to lower total fuel volumes, compared to the prior year. Compared to the proposal, cellulosic biofuels received a modest boost of 50 million gallons in the final volumes.  The biofuels industry argues that advancements – such as the growing biogas sector (a cellulosic fuel) and the rapid deployment of corn-fiber to fuel technology warrant more robust cellulosic fuel volumes for 2018. And, of course, these fuels represent even greater greenhouse emission reductions as compared to gasoline.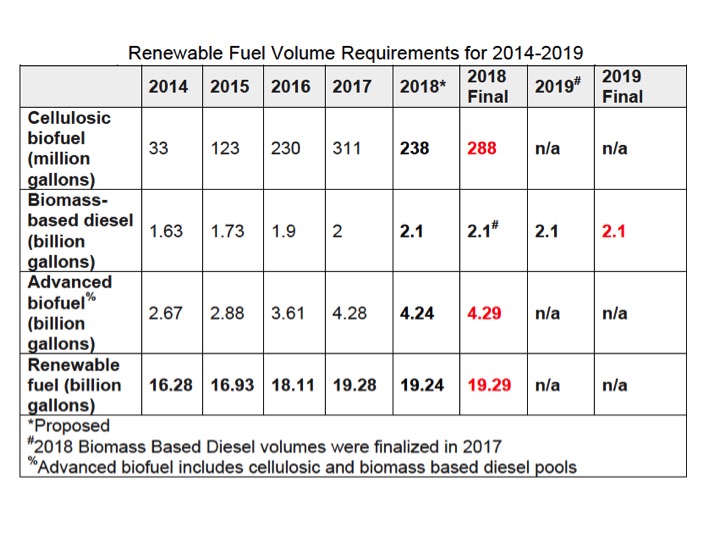 Additionally, in reducing statutory volumes by 20 percent in two consecutive years, EPA will prompt a "reset" of volumes. According to the Clean Air Act, any RFS reset undertaken by the EPA would require a complete analysis of various factors including impacts of the statute on the environment, the transportation fuels market, prices of agriculture commodities, food prices, job creation and rural development.
Biomass-Based Diesel
EPA delivered disappointing results to the biodiesel industry. Citing the expired blender's tax credit and the Department of Commerce's determination that countervailing duties should be imposed on biodiesel imports, EPA maintained flat volumes for biodiesel.
Volumes for biomass-based diesel must be set 14 months in advance.  The proposal maintains the 2.1 billion volumes from 2018 into 2019. At the same time, according to the Energy Information Administration, the U.S. biodiesel industry has a production capacity of 2.3 billion gallons in 2017, which does not include imported biodiesel. Consequently, the National Biodiesel Board told the administration that the number set for biodiesel is "sending the wrong signal to an industry poised for robust, sustainable growth."
Cellulosic Biofuels
According to EPA, actual cellulosic biofuel production in 2017 is slightly lower than EPA's projection. In light of EPA's miscalculation of cellulosic volume production, EPA states that this "warrants a change to the percentile values used to project liquid cellulosic biofuel."
EPA expects eight facilities to produce cellulosic biofuels (including ethanol, renewable natural gas and heating oil) in significant quantity in 2018.  This includes three U.S. based companies, Quad County Corn Processors (corn kernel fiber), Poet-DSM (corn stover), and Ensyn (wood waste).
With an on-time announcement from the EPA, the biofuels industry turns back towards other regulatory issues, including allowing the year-round sale of higher blends, such as E15.
For more information see: