PROGRESS: Siouxland Ethanol boosts production with $8M expansion
Source: By IAN RICHARDSON, Sioux City Journal • Posted: Monday, April 17, 2017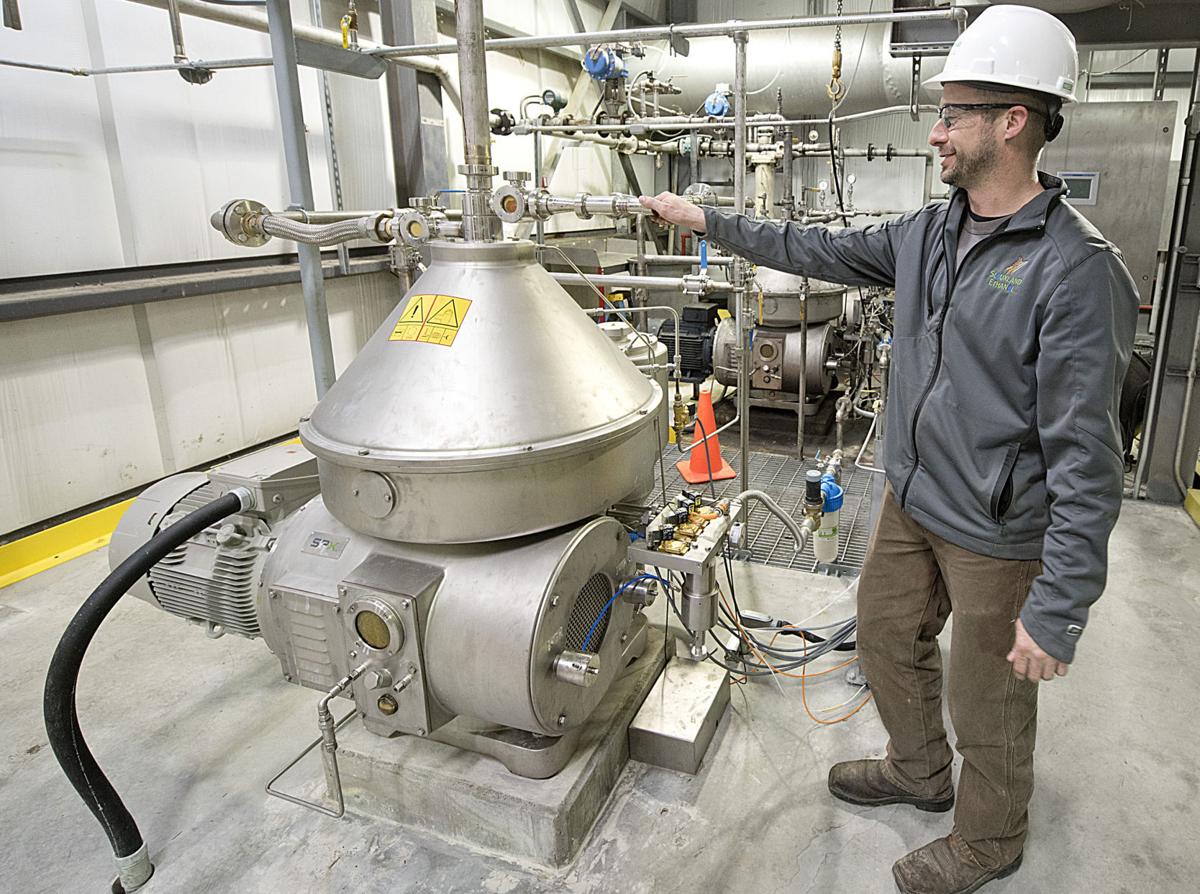 Tim Hynds, Sioux City Journal. Pat Baker is shown with a new centrifuge, used to separate out corn oil at Siouxland Ethanol in Jackson, Neb. The plant's $8 million expansion, completed in January, boosted projected corn oil output from 22 million gallons per year to 27 million.
The ethanol plant at 1501 Knox Blvd. completed the major project in January, raising its projected output from 65 million gallons of the corn-based fuel per year to 80 million.
Pam Miller, Siouxland Ethanol's director of industry and investor relations, said the result has been higher profits as it reduces its overall manufacturing cost per gallon.
"We're able to spread our fixed costs over more gallons," Miller said. "That translates to bottom-line increased profits."
The plant first fired up its machinery in 2007 with the capacity to produce 50 million gallons of ethanol per year. In February 2016, the company completed a push that streamlined its processes, tweaked some ingredients and added new equipment, boosting capacity to 65 million gallons.
The Board of Directors in June approved the $8 million expansion, which has now brought production up to its current status. The expansion also increased Siouxland Ethanol's projected output of distillers grain from 164,000 tons per year to 190,000 tons and boosted corn oil output from 22 million gallons per year to 27 million.
Miller said the largest portion of the expansion project included the addition of two new fermenters, bringing the number at the facility to six. The plant also added substantial cooling capacity, which helps it run more smoothly in the hotter months.
The 24/7 facility, which has a staff of 37, is backed by around 700 investors, most living within a 100-mile radius of Jackson.
Miller said the company last year received "efficient producer" status, an Environmental Protection Agency designation that takes into account greenhouse gas emissions.
"Our running average is about 28.1 percent lower in greenhouse gas emissions as compared to a refinery," she said. "That's a really good number."
Revenue in the plant's 2016 fiscal year, which ended in September, totaled $11.6 million, up from $10.5 million the year before. Miller said she believes the next year will be another positive one.
The company last year also hired Nick Bowdish with N Bowdish Company from Carroll, Iowa, as president and CEO for Siouxland Ethanol. Bowdish has day-to-day responsibilities for the operation.
Miller said efforts are ongoing to boost public awareness about higher ethanol blends, such as E-30, which contains 30 percent ethanol to 70 percent gasoline, as opposed to the 10 percent included in E-10, the blend used by the majority of vehicles across the United States.
"Although not approved by the EPA for use in non-flex (fuel) vehicles, we have strong evidence that it performs extremely well for its high octane, which causes complete combustion in the engine and results in fewer tailpipe emissions," she said.
Miller said efforts include educating motorists about alternative fuel options such as E-30 and E-15 blends, as well as working with retailers to expand the number of pumps selling such fuels in the region.