Prices Will Dictate China's Agriculture Buys, U.S. Adviser Says
Source: By Marvin G Perez, Bloomberg • Posted: Tuesday, December 17, 2019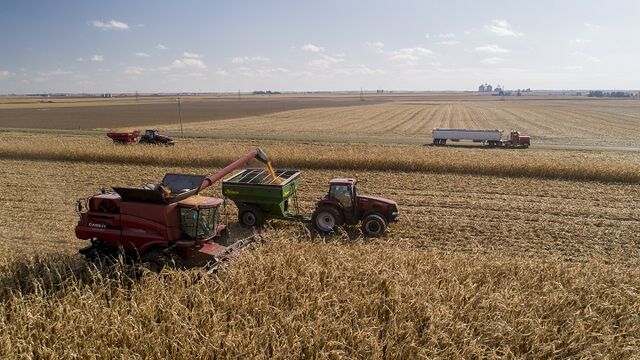 While the Asian nation has pledged to buy $80 billion in U.S. agricultural products in the next two years as part of an initial trade accord, purchases probably will be attuned to market conditions, said Tom Kehoe, an adviser to the U.S. Department of Agriculture and and U.S. Trade Representative.
"These are business people," Kehoe said Tuesday in an interview at Bloomberg headquarters in New York. "They are going to have to be in a competitive situation. Otherwise, they are not going to buy it."
Read More: China to Grant Regular Tariff Waivers for U.S. Farm Imports
Kehoe's comments underline the ongoing challenges for U.S. growers competing in crop markets with countries including Brazil and Argentina, whose currencies have weakened against the dollar. Announcing the phase-one trade deal Friday, China also stressed it has increased buying based on market conditions and following WTO rules, adding it will import agriculture products from the U.S. and other countries.
Sill, Beijing made detailed pledges on agriculture that would see it purchase at least an additional $16 billion annually in commodities on top of the pre-trade war level of $24 billion and endeavor to buy as much as $50 billion annually, according to USTR Robert Lighthizer.
Read More: China May Buy Ethanol, Divert Hong Kong Trade to Hit U.S. Pledge
Kehoe said specific quantities aren't being announced because details may move market prices, and that would be "unfair."
"There are safeguards built in" for both countries "to live up to what they've promised," and those details will be released in the "next few days," he said. "Pretty much all ag markets are involved: most of the grains, beans, pork, some seafood."
China probably will meet the targets because the Dec. 15 tariffs won't go in effect, and some of the 15% tariffs are being shifted to 7.5%, which involves billions of dollars in products facing lower levies, he said.
— With assistance by Isis Almeida