Politics or Real Demand: What's Driving China's Big Corn Buys This Week?
Source: By TYNE MORGAN, AgWeb • Posted: Thursday, March 18, 2021
second 40+ million bushels corn sale to China this week
.
BREAKING:🚨 Private exporters reported to the U.S. Department of Agriculture export sales of 1,224,000 metric tons of corn for delivery to China during the 2020/2021 marketing year. — AgDay TV (@AgDayTV) March 17, 2021
After a brief buying hiatus, Arlan Suderman of StoneX says while it may seem coincidental with the meeting happening on U.S. soil this week, he thinks the demand is real.
"We are seeing more evidence now that China wants to follow through on this demand," says Suderman. "And I think part of that is due to some of the increased risk to South American production. China has their own meteorology department of climatologists. They see some of the forecast drying out for the Safrinha Corn Belt, with the late planting and increasing risk."
There's a sense today that China isn't done, but it will be back on the next price break, but we'll see. I still go day to day with China. April is setting up to be a record corn shipment month though. #corn #oatt — Arlan Suderman (@ArlanFF101) March 17, 2021
Suderman thinks China's climatologists are also looking at signs that point to possible growing drought this summer.
"They see what's happening in the in the Pacific, as far as sea surface temperatures that are increasing the risk for the Midwest for the summer," he adds. "And since they have basically used up their reserves, they are getting nervous about the size of feed grains that they have."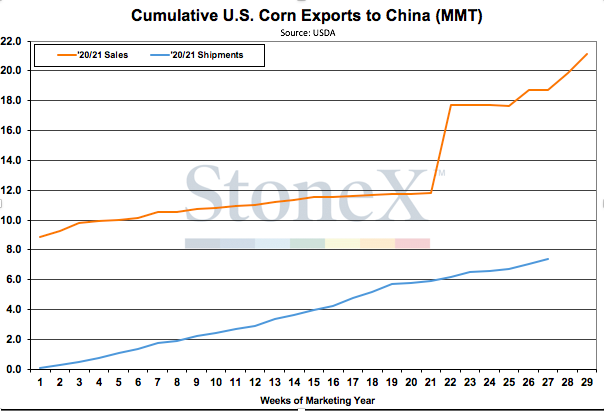 Suderman says that fear is what StoneX thinks is driving the purchases. As China rebuilds reserves, Suderman says there is a real incentive to turn the recent purchases into shipments.
"These latest purchases look to be for April loading, so that's pretty quick and immediate, versus the others, which were sometime in the future, for the most part," he adds. "So, it looks like April is going to be a strong shipment month for corn."
Suderman says it's not just a matter of a need to rebuild reserves, the price is also right for China to continue to come to the U.S. for corn.
"We're looking at a $2 profit for China to take our corn, ship it across the ocean, and put it in their own stocks and resell it at auction," says Suderman. "So, the financial incentive is certainly there. We have the sense on in the cash market today that China's not done, but that they may be done for now. But the next time we get a break in the market, we have a sense that they'll be back for more. And when we look at the shipment cap capacity, probably about a 25 million metric ton shipment total for this marketing years, probably all they can do in the current year."
Suderman was one analyst who was skeptical of China's demand. As the purchases poured in, he wasn't confident the majority would ship.
"I know a lot of people will say we told you so, but there's a lot of reason to be skeptical. And I never trust China," says Suderman. "Grain sorghum farmers and resellers have certainly been burned a lot over the years by seeing big purchases that then get canceled or rolled. And for corn, we had plenty of reasons to be concerned about that. But we are growing confidence now this morning, that things are gaining some momentum, particularly with some of the weather risks ahead for South America and for the U.S. and Midwest."
Related Stories: 
U.S. Announces Largest Sale of Corn to China Since January