Pete Ricketts highlights value-added ag investment strategies
Source: By Robert Pore, Grand Island Independent • Posted: Monday, August 21, 2017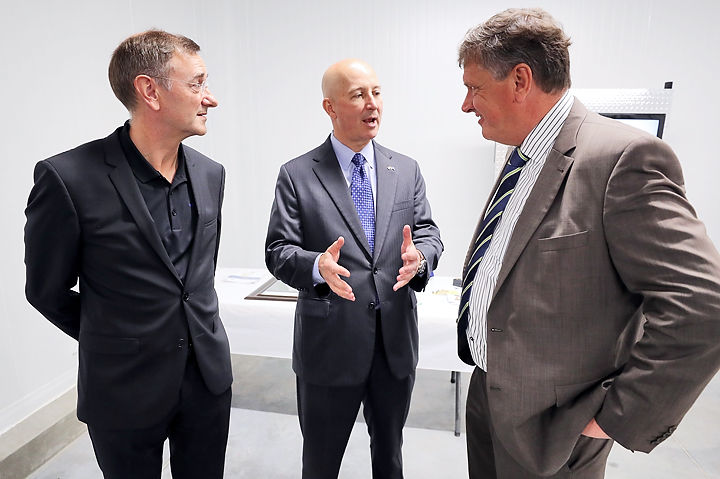 Hendrix Genetics (from left) Managing Director of the Layer Unit Serve Hermans and CEO Antoon Van Den Berg (right) listen as Gov. Pete Ricketts (right) speaks to them Tuesday before the opening ceremony for the new state-of-the-art $18.5 million Hendrix Genetics hatchery located in the Platte Valley Industrial Park-East in Grand Island. (Independent/Barrett Stinson)
 Last week Gov. Pete Ricketts was in Grand Island to help celebrate the opening of Hendrix Genetics' new hatchery.
Ricketts called the $18.5 million facility that covers 20 acres in the northeast section of Grand Island's Platte Valley Industrial Park-East a "great example of value-added agriculture and how we are going to grow Nebraska."
Focusing on value-added agriculture like the Hendrix Genetics facility, Ricketts said, will create jobs that will allow the next generation of Nebraskans to remain in the state.
"Through the process of turning corn into ethanol, several other co-products are produced, including distillers grains, corn oil, corn syrup, and dry starch," he said. "This is the type of value-added agriculture that helps create jobs, increase demand of locally-grown commodities, and attract new businesses."
Ricketts, chairman of the Governor's Biofuels Coalition, is a strong advocate of the Renewable Fuels Standard (RFS) to help provide stability and certainty for partners in the ethanol industry.
Nebraska is the second largest producer of ethanol in the United States, with the industry continuing to invest in their facilities. In the past two years, companies have invested more than $190 million in ethanol plants in Jackson, Fairmont, Adams, Columbus and Kearney to increase capacity and product diversification.
"Nebraska has all the resources necessary for companies to be successful when they invest in our state," said Ricketts.
Along with Hendrix Genetics, which has a $40 million capital investment, Ricketts said Nebraska has seen millions of dollars of investments by other types of value-added agriculture firms, including:
– A $300 million dollar investment by Costco in a chicken processing facility near Fremont.
– Novozymes, a company that produces enzymes for the production of ethanol, is investing $36 million to expand its current facility in Blair.
– Evonik and its business partner, Royal DSM, are spending $200 million to build a facility in Blair to make omega-3 fatty acids.
– Cargill, a well-established meat processor in Nebraska, is investing $111 million to convert its Columbus plant to a cooked meats operation, which will double the employment and size of the plant.
Representatives from a number of major value-added investments have praised the work of state officials in making Nebraska a great place to do business, including Norm Krug, CEO of Preferred Popcorn in Chapman.
Ricketts has outlined several strategies the state has been using to land new value-added agriculture investment, including:
– Biofuels infrastructure — The Nebraska Energy Office is supporting over $5 million of investment in order to make higher blends of ethanol available to Nebraska drivers. The total number of pumps offering E-15, E-85, and other high-ethanol blends are expected to nearly double statewide.
– The Business Innovation Act — This act encourages and supports the transfer of Nebraska-based technology and innovation for statewide economic growth through a series of grants and investment programs and makes value-added agriculture projects eligible for a lower matching requirement.
– International trade missions — Ricketts has led four international trade missions over the last 2 1/2 years, and is planning a fifth to Japan in September.
– Livestock development — The Nebraska Department of Agriculture (NDA) implements the Livestock Friendly County program and livestock siting assessment matrix. NDA says these tools can help county and local officials encourage development of large cattle, hog and poultry facilities.