Pelosi, Mnuchin Trade Stimulus Plans to Bridge Stubborn Divides
Source: By Erik Wasson and Mike Dorning, Bloomberg News • Posted: Tuesday, October 6, 2020
House Speaker Nancy Pelosi and Treasury Secretary Steven Mnuchin will resume negotiations Tuesday on another round of pandemic relief for the U.S. economy yet there's still no clear path to a deal before Election Day.
Pelosi and Mnuchin have spoken regularly by phone over the past week after reviving talks with their first in-person meeting since early August on stimulus legislation. While both sides have reported progress, significant gaps remain between the Democrat's $2.2 trillion proposal and a $1.6 trillion offer backed by the White House.
Even with President Donald Trump urging the two parties during his recent hospital stay to "get it done" on a stimulus bill, Congress would have just four weeks to finalize and pass any legislation before the Nov. 3 election. And it's unclear that an agreement authored by Mnuchin and backed by the White House would have the necessary support in the Republican-led Senate.
Pelosi and Mnuchin spoke by phone for one hour on Monday to discuss spending amounts and exchange written proposals, according to Drew Hammill, a Pelosi spokesman. Hamill said they will continue the conversation on Tuesday.
Later asked by reporters if a deal was coming this week, Pelosi put the onus on Republicans.
"It depends on if they really want to crush the virus, honor our heroes and put money in the pockets of the American people," she said.
Even if the two sides agree on an outline in the coming days, it would likely take Congress two weeks to write the bill, return from recess, overcome Senate delays and pass the legislation. That would mean weeks more until benefits like the $1,200 direct payments both sides agree on for most Americans hit individuals' bank accounts.
Read More: Stocks Gain Most in Almost Four Weeks on Trump Recovery, Stimulus Hopes
Investors nevertheless remained optimistic a stimulus deal is more likely, with analysts saying that helped fuel Monday's surge of 466 points or 1.68% in the Dow Jones Industrial Average.
"Investors are likely running with the idea that recent data and President Trump's firsthand experience with the virus increases the odds of another fiscal package," said Adam Phillips, director of portfolio strategy at EP Wealth Advisors.
'Significant Disagreement'
White House Chief of Staff Mark Meadows — referred to even in the administration as the "bad cop" operative in the stimulus talks — on Monday indicated the administration may still resist a further move toward Pelosi's bigger proposal.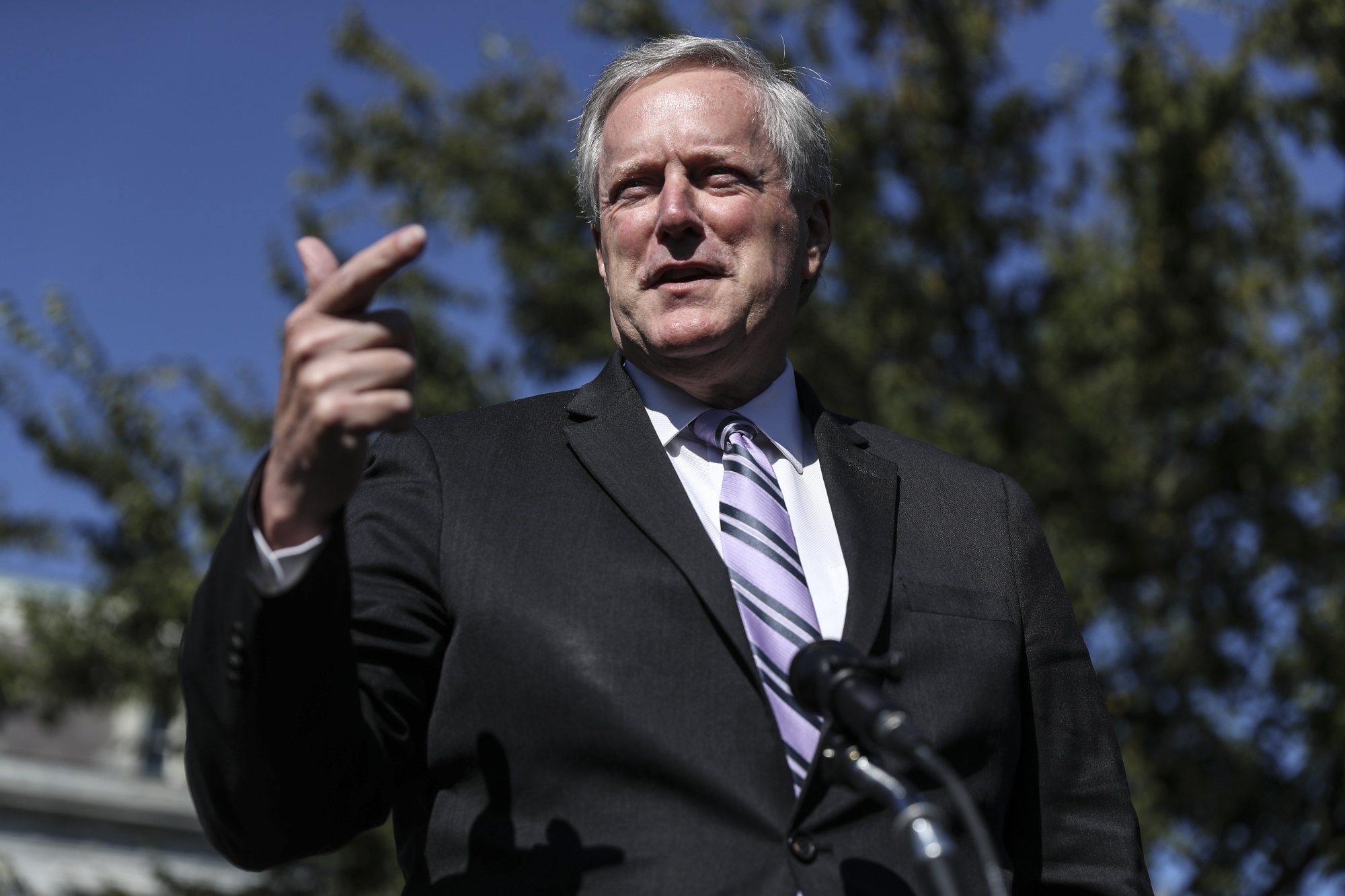 "There are a lot of people that continue to hurt, are waiting on stimulus, and the president's committed to getting a deal done," Meadows said. "He wants to make sure we move expeditiously — but also in a fiscally responsible manner."
Monica Crowley, Mnuchin's spokeswoman, said there is a consensus that another stimulus is needed, particularly for hard-hit sectors of the economy, like airlines.
Still, she said on Bloomberg Radio, "Not only do you have disputes in terms of the top-line number but you also have disagreements internally as to how the money will be spent."
Pelosi has outlined five areas of "significant disagreement." They are mostly the same issues that have stood in the way of a deal for weeks: funding for unemployment insurance; money for schools and state and local governments; amounts for the Child Tax Credit and Earned Income Tax Credit; restrictions on the use of money for testing; and a $44 billion gap on appropriated discretionary funding.
"None of those issues seem intractable," Representative Ted Lieu of California, who is part of Pelosi's House leadership, said. Democrats would consider a deal "somewhat less" than $2.2 trillion, but not "dramatically less," he said.
Renewed Optimism
Pelosi's Monday comments were less upbeat than remarks Pelosi made on Friday suggesting that Trump's diagnosis would "change the dynamic" of the talks and prompt the GOP to be more generous in its offers.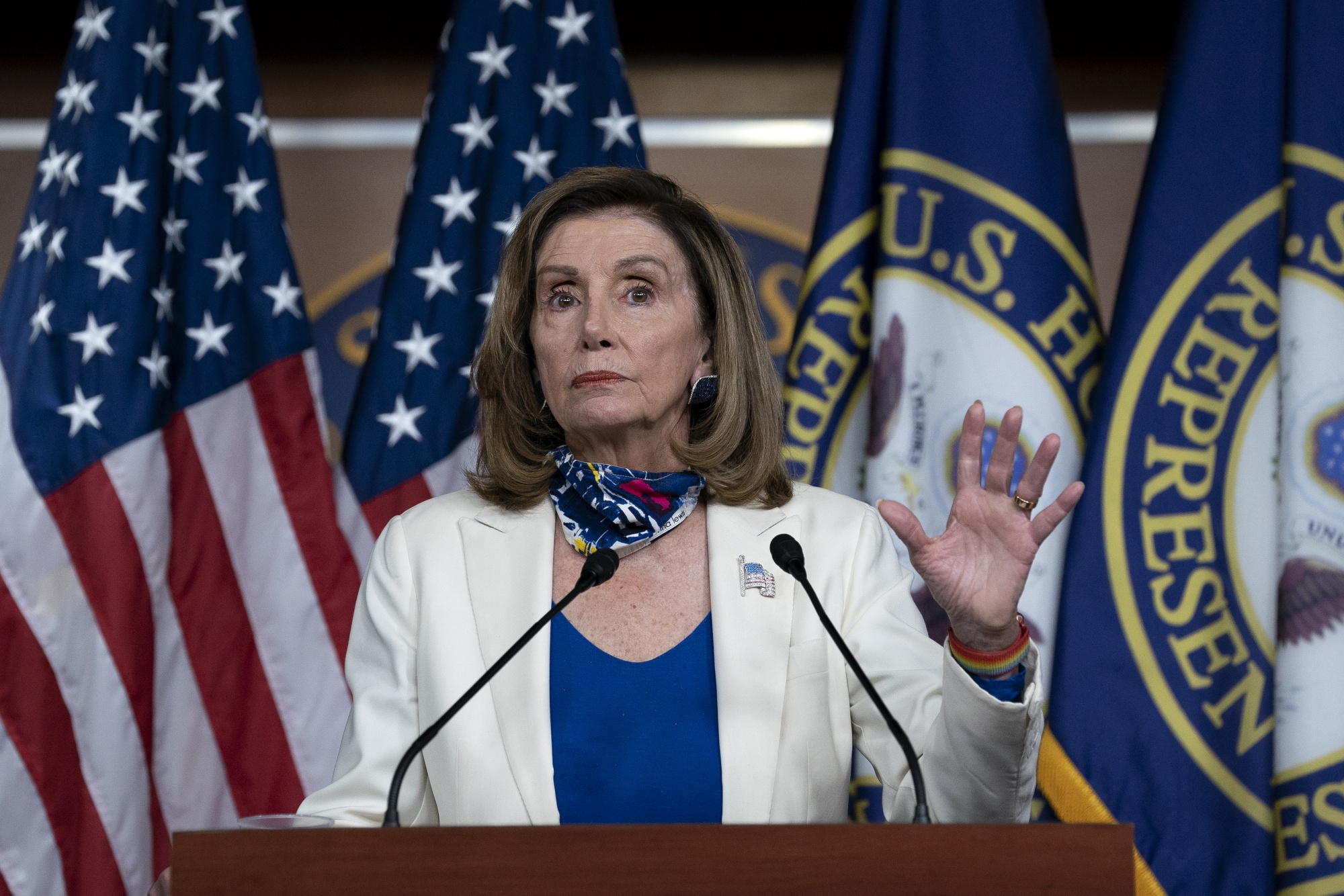 That thinking helped prompt renewed optimism from investors and analysts alike who had in recent days increasingly abandoned expectations for an agreement by the Nov. 3 election.
"We were close to giving up on our assumption that lawmakers would agree to $1.5 trillion in new fiscal support. But, for the time being we will hold onto this assumption," wrote Moody's Analytics economist Mark Zandi in a note to clients Sunday.
The optimism in the equities markets may perversely take pressure off of lawmakers to come to deal, all the more so with the president cheering the market rally. In tweets on Monday, he highlighted how 401(k) retirement accounts have swelled thanks to stock-price appreciation in his term. "STOCK MARKET UP BIG, 466 Points! 28,149. Great News for America. Jobs, Jobs, Jobs!" he tweeted.
— With assistance by Josyana Joshua, Josh Wingrove, and Saleha Mohsin