Parties to White House Biofuel Deal Disagree What's Agreed
Source: By Jennifer A Dlouhy, Bloomberg • Posted: Friday, May 11, 2018
White House
would allow year-round sales of higher-ethanol gasoline in exchange for possible policy changes to rein in compliance costs for refiners.
But major elements of that compromise remained in dispute hours after the meeting between top administration officials and four senators ended, and it could take months for agencies to develop and finalize rules implementing the changes.
"President Trump is pleased to announce that a final decision has been made that allows E15 to be sold year-round, while providing relief to refiners," White House spokeswoman Lindsay Walters said by email. "This outcome will protect our hardworking farmers and refinery workers. The president is satisfied with the attention and care that all parties devoted to this issue."
Walters did not detail the specific type of "relief" the Trump administration was promising refiners. And the senators participating in Tuesday's summit with President Donald Trump — Republican Senators Ted Cruz of Texas, Pat Toomey of Pennsylvania and Chuck Grassley and Joni Ernst of Iowa — disagreed on some aspects of the potential compromise, following months of negotiations over the U.S. biofuel mandate.
Toomey described an "agreement in principle." Ernst said the negotiators were very close and were "headed in the right direction." Cruz was more emphatic, saying Trump had "made a decision" and that both the president and White House chief of staff John Kelly had affirmed there was "a final agreement."
"It's a win-win for everybody," Cruz said, adding that both corn farmers and "blue collar refinery workers" would benefit from the compromise. "The effect of this deal will be to increase the corn sold and decrease the regulatory burdens on refineries — plus this deal will significantly increase ethanol exports."
Compliance Credits
Refiners' concerns generally center around the cost of compliance credits known as renewable identification numbers, or RINs, used to prove they have satisfied annual biofuel quotas. RINs tracking 2018 ethanol consumption targets tanked as much as 19 percent, to 25 cents, before recovering to about 32 cents, according to broker data compiled by Bloomberg.
Grassley praised the agreement to sell gasoline containing 15 percent ethanol year-round, calling it "good news for farmers and consumer choice at the pump." And Grassley said the Trump administration made the right decision in rebuffing a cap on RIN prices that "would have destroyed demand for biofuels and hurt biofuels workers."
But he suggested any change on exports would come only after further negotiation between Environmental Protection Agency Administrator Scott Pruitt and Agriculture Secretary Sonny Perdue, who also attended Tuesday's White House summit.
"While details weren't decided, I look forward to reviewing a plan being developed by Secretary Perdue and Administrator Pruitt," Grassley said in an emailed statement. "Any fix can't hurt domestic biofuels production."
The White House reiterated the administration's support for a policy change that would enable year-round sales of E15 gasoline, which currently can't be sold during the summer in some areas where smog is a problem. Trump outlined a plan to lift the summertime restrictions on E15 sales last month, but farm-state senators complained the EPA hasn't moved fast enough to make the change.
Top administration officials also agreed to pursue a policy change that would allow refiners to trade in RINs tied to exported biofuel. The regime would be developed by Perdue and Pruitt, and there was no agreed timeline for when the change might be implemented, said a person familiar with the White House deliberations.
It's not clear, however, that there's a consensus on that approach. The Iowa Renewable Fuels Association said there was "no agreement" on the idea, floated by Cruz, to allow exported biofuel to count toward domestic blending requirements.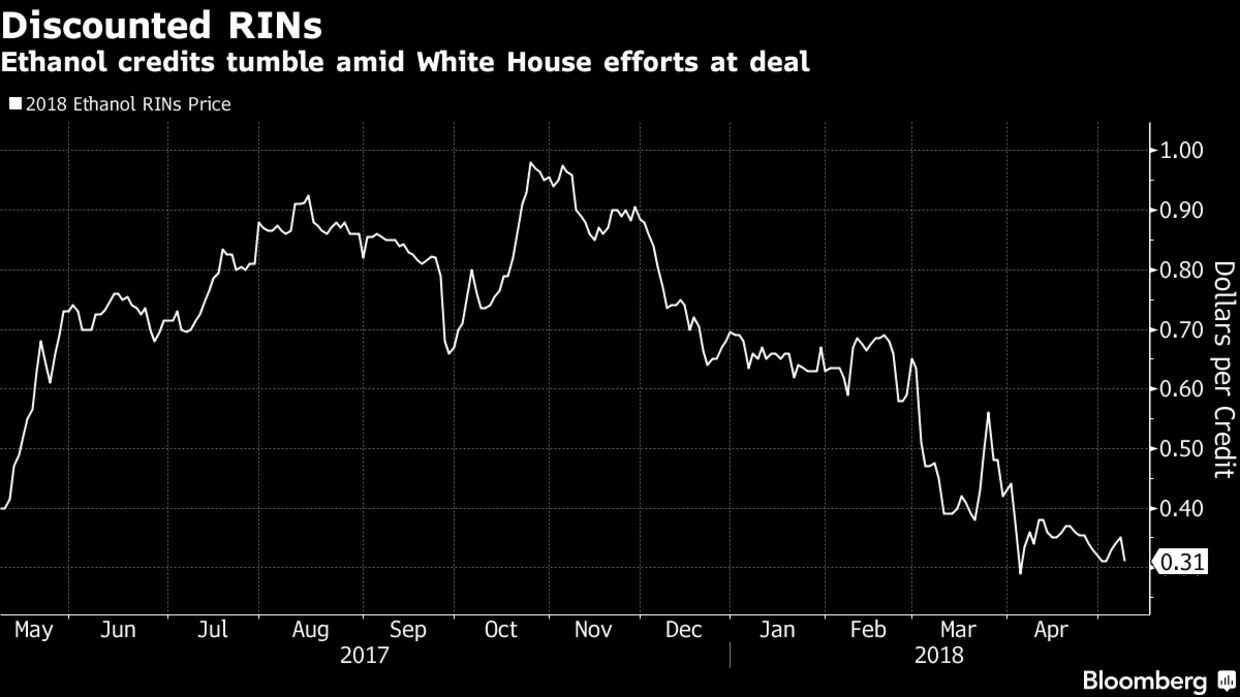 Under current policy, RINs must be retired when the underlying biofuel is exported. Allowing RINs associated with exported biofuel to count toward domestic quotas would effectively expand the pool of available compliance credits, potentially lowering their price.
Questions on Exported Biofuel
That would mark a shift in administration policy on the issue. Last October, Pruitt backed off of a proposal from some refiners to allow exported biofuels to count toward domestic quotas. Valero Energy Corp., PBF Energy Inc., and other refiners had advanced the export idea, arguing it would boost ethanol demand while tamping down compliance costs.
Grassley used Tuesday's meeting to complain the EPA is too liberally granting refiners exemptions allowing them to ignore biofuel quotas, without reassigning the waived quotas. The practice effectively undercuts a nationwide quota to use 15 billion gallons of conventional biofuel, typically corn-based ethanol, Grassley told reporters Tuesday.
During the White House meeting, Pruitt expressed his willingness to reallocate the exempted quotas, possibly tethering it to the exported biofuel change.
The real policy work now falls to the EPA, which must develop rules to implement the changes as part of an already complex program.
Toomey said he hoped negotiators "made enough progress" to diminish financial risks to refineries, "but I think there are important details to be worked out."
Emily Skor, chief executive officer of Growth Energy, a Washington-based trade group whose members include Poet LLC and Green Plains Inc., said the organization was "very pleased" a deal had been reached to allow for the year-round sale of E15 and that there was no cap on RINs. But Skor criticized the export idea of allowing exported biofuel to count toward domestic compliance, calling it "nonsensical" and warning such a plan could be seen as a subsidy, prompting retaliatory tariffs.
— With assistance by Ari Natter, Erik Wasson, and Justin Sink