Oil Back Above $50 After Tanker Explosion Near Saudi Port
Source: By Elizabeth Low, Bloomberg • Posted: Monday, December 14, 2020
Oil climbed past $50 a barrel after another tanker explosion in the Middle East raised concerns over the region's stability, and the first Covid-19 vaccine was poised to be distributed across the U.S.
Futures rose as much as 1.7% in London. The explosion, at the Saudi port of Jeddah, comes three weeks after an oil tanker was damaged in a possible attack at the Saudi terminal of Shuqaiq. While the latest assault is small, it symbolizes a wider geopolitical risk that could affect energy in the region.
There was also optimism in the U.S. as the first deliveries of the Pfizer Inc.-BioNTech SE vaccine will be made Monday, after the drug gained emergency authorization last week. At the same time, the dollar weakened, boosting commodities priced in the currency.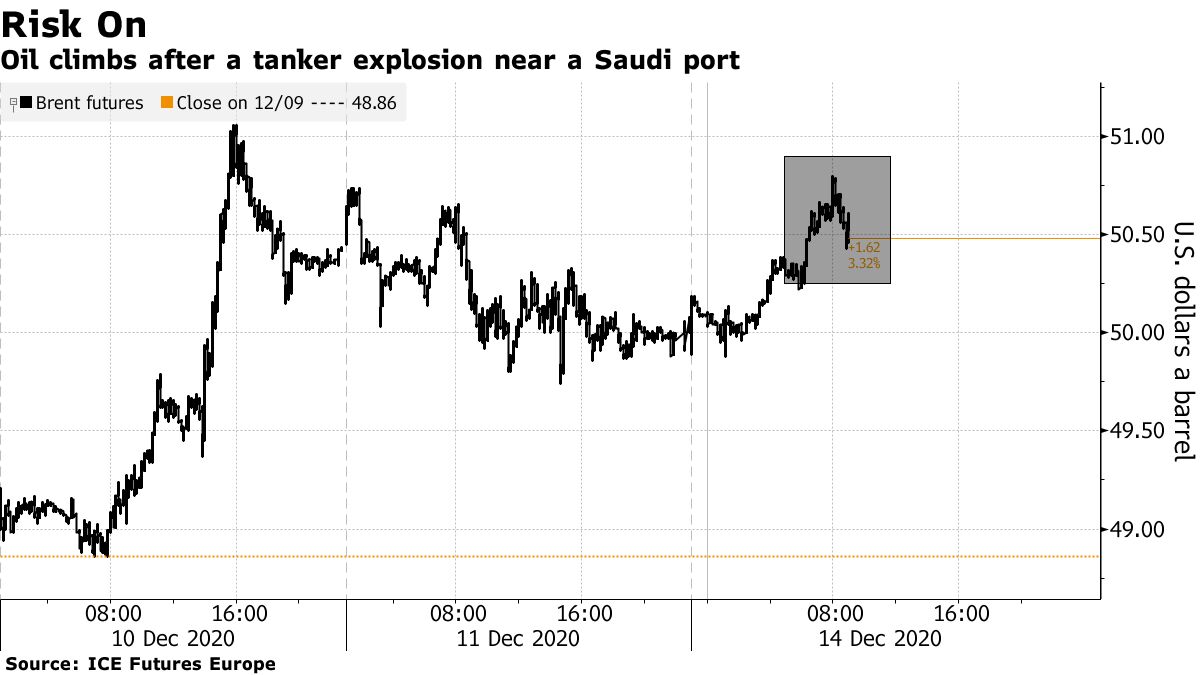 Oil is up more than 30% since the end of October amid vaccine breakthroughs and an OPEC+ compromise deal on production. Iran, meanwhile, plans to almost double output in the next year in anticipation of a loosening of sanctions after Joe Biden becomes U.S. president.
"From a macro point of view, the focus of global markets is the potential for a recovery and reflation trade in which oil will, in our view, participate," said Harry Tchilinguirian, an oil strategist at BNP Paribas. "However, oil also has its own idiosyncratic drivers which are sometimes overlooked, with geopolitical risk centered in the Middle East being one them."
Prices
Brent for February settlement advanced 1.4% to $50.65 a barrel at 8:33 a.m. New York time
West Texas Intermediate for January delivery rose 68 cents to $47.25
There are signs that physical oil markets remain robust. Oman crude on the Dubai Mercantile Exchange is trading in backwardation — where nearby contracts are more expensive than later ones — indicating tight supplies. Indian Oil Corp. was snapping up cargoes last week, while a unit of China's RongshengPetrochemical is seeking barrels for March delivery.
The amount of oil stored on giant tankers at sea is also dwindling, the latest sign the market is whittling away a glut built up earlier in the year. Floating storagefell 11% last week to 86 million barrels, according to Vortexa Ltd.
While parts of Asia have rebounded strongly from the virus-led crash and there are signs global demand is picking up after a November trough, the outbreak is continuing to dent consumption in some nations. South Korea is considering stricter social-distancing measures and Germany will enter a hard lockdown from Wednesday, which will last until at least Jan. 10.
Other oil-market news:
Bank of China Ltd. sued BP Plc in Singapore over its alleged role in fabricating oil deals with collapsed trader Hin Leong, in the latest effort by a creditor to recover losses after one of the biggest trading scandals in decades.
Royal Dutch Shell Plc has promoted Stacie Pitts, Carolyn Comer and Alice Acuna to lead three of the five biggest trading businesses in the company.
A tanker booked by Iran's national oil company arrived at the Venezuelan coast and is expected to load crude as ties between the two sanctioned countries deepen, according to a document seen by Bloomberg News.