Obama using final budget request to push for action against climate change
Source: By Suzanne Goldenberg, The Guardian • Posted: Monday, February 8, 2016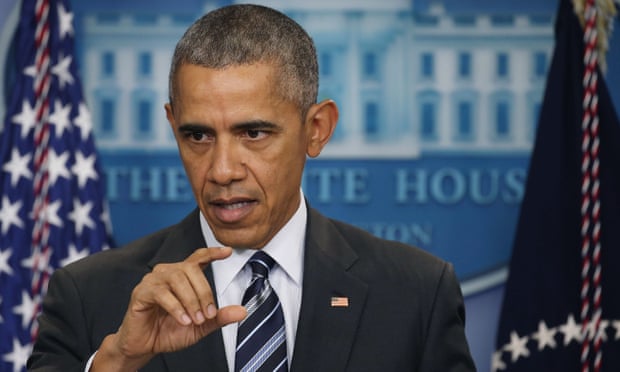 Barack Obama called on Congress to double funding for clean energy research on Saturday, using his final budget request – and one of the last high-profile moments of his presidency – to push for action against climate change.
The president said his final budget on Tuesday would propose doubling clean energy research spending from $6.4bn to $12.8bn by 2020.
"Rather than subsidise the past, we should invest in the future," Obama said in his weekly address. "That's why the budget I will send to Congress this Tuesday will double funding for clean energy research and development by 2020."
It was the third time in as many days that the White House has tried to use the budget to promote Obama's climate change agenda.
On Thursday, the White House told reporters Obama would ask Congress for an oil tax of $10 a barrel to help pay for high-speed rail, electric cars, and driverless vehicles.
The move was immediately dismissed by Paul Ryan, the House speaker, as "dead on arrival".
But Obama indicated on Saturday that he expected Congress to at least give a hearing to his proposals for doubling down on clean energy research.
"While Republicans in Congress are still considering their position on climate change, many of them realise that clean energy is an incredible source of good-paying jobs for their constituents," Obama said in his address.
Republicans and Democrats have been working together in recent days to pass the first bipartisan energy bill in a decade – although progress has stalled over the response to the Flint water crisis.
However, Obama said he believed there was still common ground on energy.
"That's why we were able to boost clean energy research and development in last year's budget agreement. And I hope they support my plan to double that kind of investment," the president said.
The research initiative grew out of promises Obama made on the eve of the Paris climate summit when the US and other big economies pledged to ramp up $20bn in funding for clean energy research.
A parallel initiative, led by a constellation of billionaires including Bill Gates and Mark Zuckerberg, was launched to leverage more research funding from the private sector.
The White House said in a conference call with reporters on Friday afternoon that Obama would seek more funds for research into battery storage, electric cars, and cleaner fuels. The budget will also seek substantial funding for research into nuclear reactors and carbon capture and storage technology – both technologies favoured by Republicans.
Tuesday's budget is one of the last remaining opportunities left to Obama to shape the environmental agenda.
In the coming months, the White House expects the Republican-controlled Congress to try to cut the budget of the Environmental Protection Agency, and so undermine its ability to enforce his signature achievements such as new rules cutting carbon emissions from power plants.
The White House also expects skirmishes over the Green Climate Fund, which was set up under the UN talks to try to help poor countries switch to cleaner fuels and protect their people against climate change.