Mexico Is No Longer No. 1 U.S. Corn-Buyer After Trade Tensions
Source: By Alan Bjerga, Bloomberg • Posted: Sunday, July 9, 2017
Sales to Mexico through May were $1.04 billion, down 6.7 percent from a year earlier, the U.S. Department of Agriculture said Thursday in a monthly update. That contrasts with the 32 percent increase for the overall value of U.S. corn exports in the period, during which the average dollar value of the commodity was little changed. Japan boosted its purchases 53 percent to $1.19 billion to become the largest importer of American corn.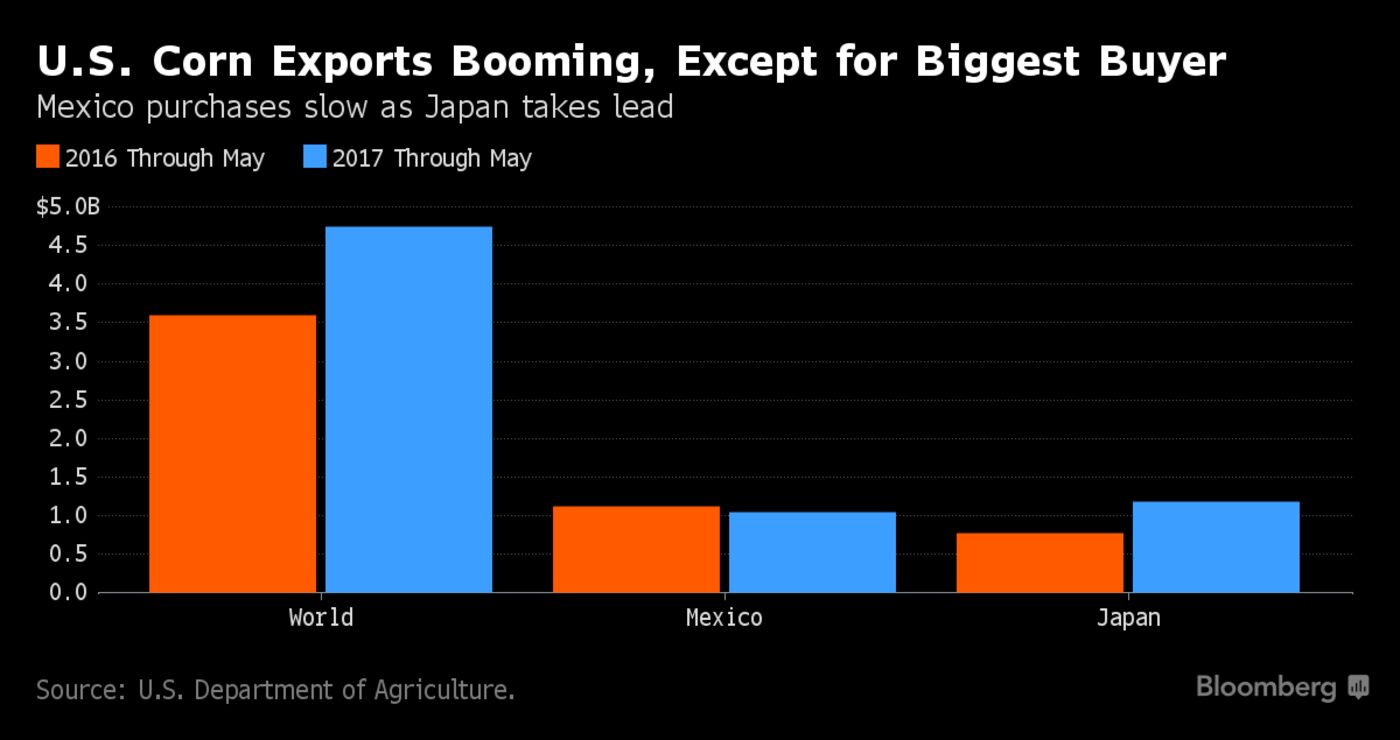 Mexico initiated talks with other major corn exporters this year after it was criticized by President Donald Trump, who said the country has taken advantage of its northern neighbor through the North American Free Trade Agreement, taking away jobs and investment. The dispute helped to send the Mexican peso to a record low against the dollar in January
Mexican purchases now seem to be rebounding as the peso recovers, said Lesly McNitt, public policy director for the National Corn Growers Association in Washington. Still, the relatively sluggish pace of shipments shows how the bilateral trade relationship in agriculture is at risk, with Nafta heading toward a renegotiation as soon as next month, she said.
"They are preparing a Plan B in case the U.S. becomes a less reliable supplier," she said. "We would hope they wouldn't have to feel the need for a Plan B. For a long time, they didn't."
Mexico, which imported 13.8 million metric tons of U.S. corn in 2016, has been talking to sellers in South America. Buenos Aires-based Adecoagro SA is pursing opportunities to sell Argentinian corn and rice. In May, a Mexican livestock group signed a contract to import 60,000 tons from Brazil. The same month, Francisco Gurria Trevino, a Mexican government official in charge of livestock policy, said his country may import as much as 5 million tons of corn from Brazil in the medium-to-long term.
Sugar Accord
The U.S. has been more conciliatory on trade in general — and farm trade specifically — since the administration's early weeks.
"Like every administration, they didn't know what they didn't know," said Tom Vilsack, Agriculture Secretary under President Barack Obama and now the chief executive officer of the U.S. Dairy Export Council in Arlington, Virginia.
Vilsack traveled to Mexico in March to reassure buyers that the U.S. would remain a reliable supplier, and those efforts seem have paid off — dairy-product exports are up 23 percent year-over-year, according to USDA data. "Mexico realized how much they utilized American agricultural products, and they began to look for alternatives to protect themselves," he said. "The administration took a different tone when they understood what was at stake."
A bilateral agreement on sugar may have headed off turmoil over that commodity in any Nafta renegotiation. U.S. Agriculture Secretary Sonny Perdue and his counterparts from Canada and Mexico lauded Nafta's benefits in a meeting in Georgia last month, calling the negotiations "family discussions that need to take place," while praising what the treaty has done for farming, one of the few U.S. business sectors with a trade surplus. Speaking at the same meeting Mexico's Agriculture Minister Jose Calzada called Nafta an "umbrella of trust" that should be strengthened through renegotiation.
Mexico's attitude toward the reliability of U.S. agricultural suppliers will help set the tone of Nafta renegotiation, said Cullen Hendrix, a professor of international relations at the University of Denver and a fellow at the Peterson Institute of International Economics in Washington.
"Agriculture for the most part likes Nafta and would like as little disruption as possible," he said. "But if you start seeing ag used as a poker chip in the negotiations, with concessions made to get something in another sector, you'll see Mexico work even harder to diversify."