Marathon Weighs Selling High-Ethanol Gas in Minnesota
Source: By Mario Parker and Jennifer A Dlouhy, Bloomberg • Posted: Monday, October 22, 2018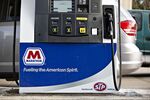 A Marathon Petroleum Corp. gas station in Peoria, Illinois. Photographer: Daniel Acker/Bloomberg
Marathon Petroleum Corp., the largest U.S. oil refiner following its $23.3 billion acquisition of rival Andeavor this month, is weighing a plan to start sales of high-ethanol gasoline at its stations in Minnesota, according to people familiar with the matter.
The Findlay, Ohio-based company may sell so-called E15 gasoline, a blend that contains as much as 15 percent ethanol, at stations in the state, said the people, who asked not to be identified because the information hasn't been made public. Offering the higher blend would help Marathon compete with others selling it and also curry favor with political leaders in Minnesota, the fourth-biggest U.S. producer of corn-derived ethanol, the people said.
Donald Trump last week announced he was allowing for year-round sales of E15, something that ethanol advocates had been lobbying for. Shares of biofuel producers rallied on the news, while the American Fuel & Petrochemical Manufacturers, an industry group, expressed disappointment over the change.
If Marathon's plan takes off, it would be the biggest refining company to offer the fuel. So far, sales have been limited to smaller, independent retailers like Casey's General Stores Inc., Thorntons Inc. and Sheetz, among others. Marathon has assets throughout the fuel distribution chain from refineries to branded gasoline stations. Minnesota leads the U.S. in E15 stations, according to Growth Energy, an industry trade group.
"We don't have any information to provide on this matter at this time," Jamal Kheiry, a spokesman for Marathon, said in an emailed statement Thursday in response to questions about the E15 plans.
Part of the reason E15 has so far been limited to smaller retailers is because current rules blocked its sale from June 1 to Sept. 15 in areas where smog is a problem. Ethanol advocates say the hassle and cost of changing gas pumps and labels seasonally has dissuaded some filling stations from offering the fuel. Marathon's plans could signal a change is coming after Trump signed a memo last week telling the Environmental Protection Agency to lift summertime E15 restrictions.
But the EPA is only planning on introducing a formal proposal to make the change next February, leaving little time before those fueling restrictions would normally kick in. There may also be years of additional uncertainty as oil industry leaders have vowed to sue, arguing that the EPA doesn't have legal authority to waive E15 from air pollution requirements without further action from Congress.
The fraught timeline could slow expansion of E15, at least in the short term, if it discourages retailers that need to install infrastructure to sell the blend.
Even given the limitations, E15 sales have surged in Minnesota. A state program helped underwrite the cost of installing specialized blender pumps at filling stations. The gains also came as some higher-profile retailers, including Holiday Stationstores and QuikTrip Corp., began offering E15 in the state, said Ashwin Raman, vice president of communications at the Minnesota Bio-Fuels Association.
There may be a psychological boost — as well as a market gain — if big-name, large retailers, such as Marathon, begin offering E15. Ethanol advocates also are working to persuade smaller gas stations to offer the blend.
Even with EPA's regulatory timetable, "people are quite confident this is going to happen, so more of these independent retailers are interested," Raman said.