London's deadly, polluted air turned the city into an EV pioneer
Source: By Feargus O'Sullivan, Hayley Warren and Jeremy Cf Lin, Bloomberg • Posted: Wednesday, October 12, 2022
linked
 to deaths and respiratory problems, the city introduced some of the toughest restrictions on heavily polluting cars anywhere. The policies almost flipped a switch on adoption of electric vehicles.
Since they were put in place three years ago, these restrictions cost drivers of diesel and gasoline cars as much as £27.50 ($30.72) a day to enter the center of London. The number of licensed fully electric vehicles has increased more than fourfold in that span. The proportion of diesel cars has dropped more than a quarter.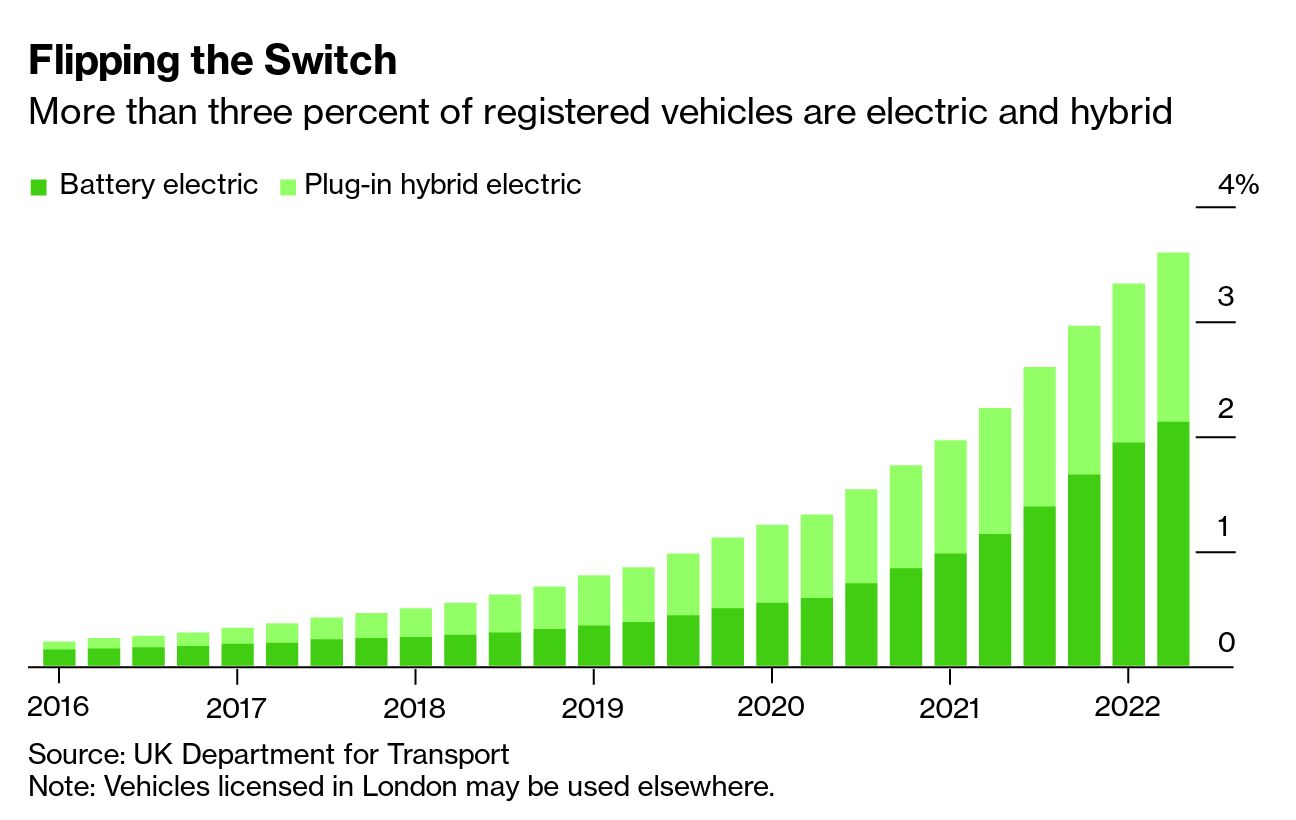 While direct comparisons between cities are difficult, there are indications London's tolls have succeeded in supercharging its EV transition. Uber, the world's largest taxi company, now does a greater share of trips with EVs in London than in any other major city. The roads are also quantifiably more accommodating to cars with a plug: More than 260 charging points are added on average each month, according to data from Melanie Shufflebotham, co-founder of Zap-Map, a popular app for finding charging points.
Most importantly, London's air quality—which was far worse than comparably sized cities like New York and Madrid by one key measure in 2017—is now on par with them.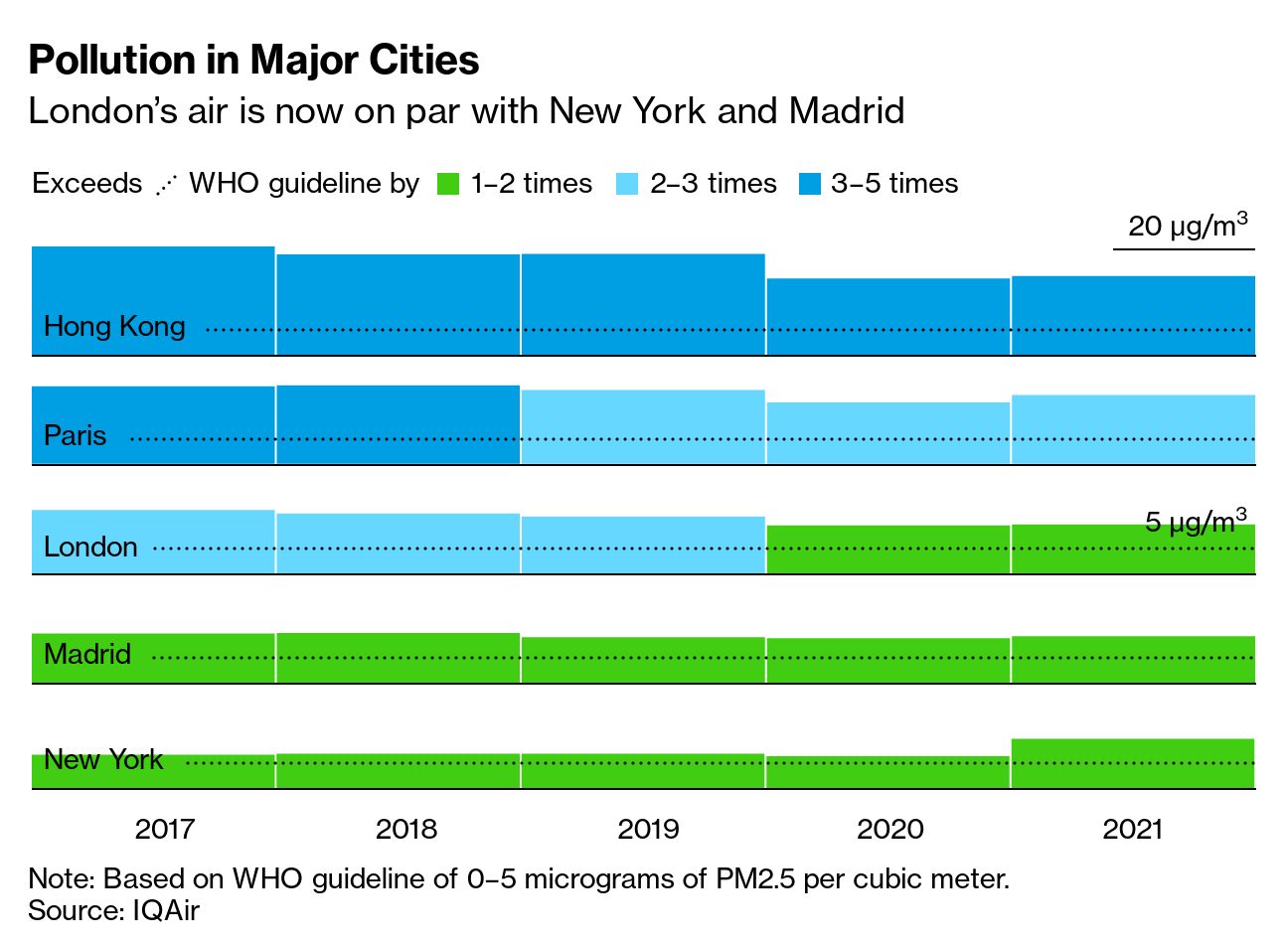 "The issue is personal to me," says London's Mayor Sadiq Khan. In 2014, not long after completing the London Marathon, he was diagnosed with adult-onset asthma that he blames on pollution. "I knew nothing about this hidden killer," he says. "It's not like the Great Smog in the 1950s, you can't see things like particulate matter. But me running along the roads, I'd actually been breathing in poison."
London's struggle to combat car fumes has a long history that predates Khan's tenure. In 2003 the city introduced a groundbreaking congestion charge, which levied a £5 fee on combustion vehicles entering the city center. Not content with its results, Khan unveiled in 2019 an additional £12.50 daily charge on older, higher-emission vehicles. The control district, now called the Ultra Low Emission Zone (ULEZ), was expanded in October 2021 to cover an area 18 times the size of the central London congestion charge area.
Enforcement is based on the declared emissions of a vehicle, rather than its age. But auto industry standards have generally improved over time. This means gasoline and diesel cars registered with the UK's vehicle licensing agency after 2005 or 2015, respectively, tend to meet ULEZ standards. So the rules haven't just increased the number of EVs—they've also made the internal combustion cars on the road much cleaner. According to City Hall's figures, six months after the ULEZ's expansion about 44,000 fewer diesel vehicles drove into the zone every day, compared with the weeks before the new zone's introduction.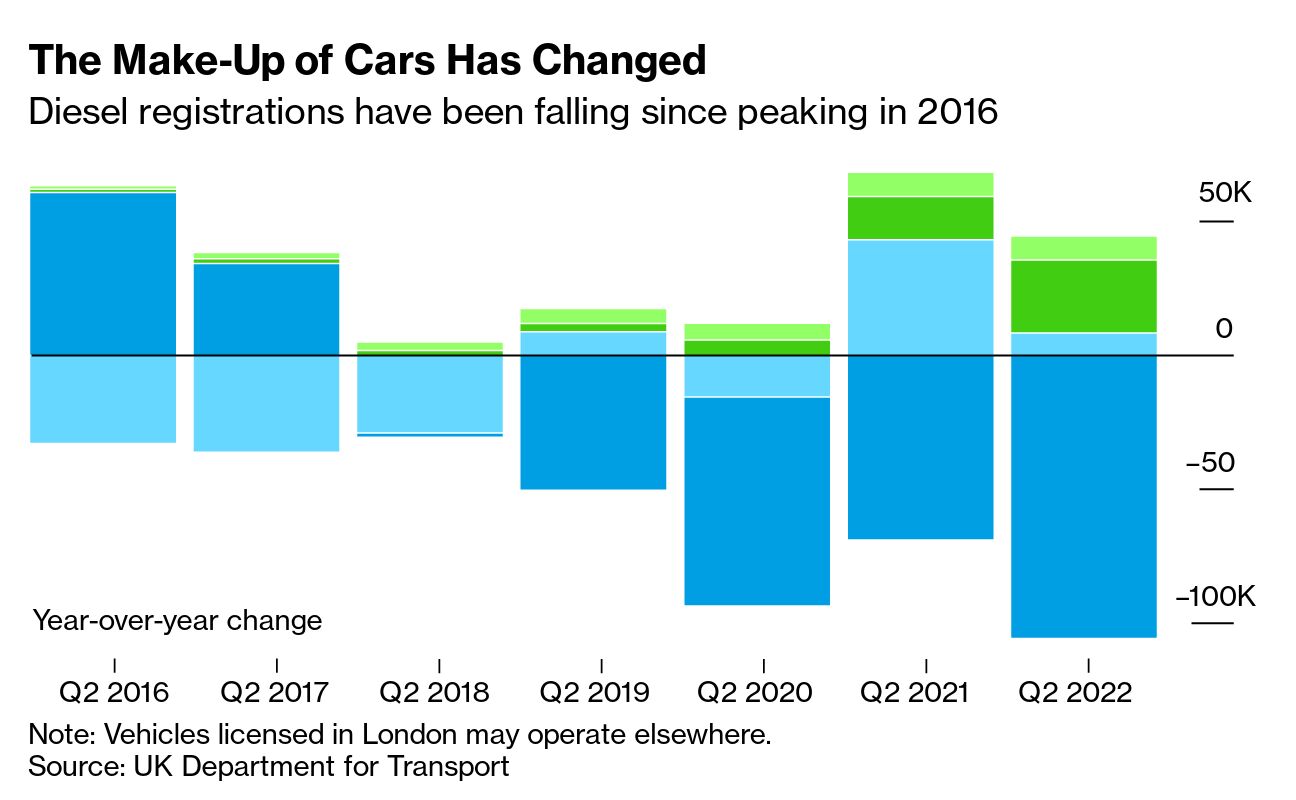 In 2019, Uber had barely 100 EVs in London. As of the third quarter this year, it has more than 7,000 doing 15% of the driving around the city on its service. Chris Hook, Uber's head of global sustainability strategy, believes that the city's policies were instrumental in promoting this shift—especially a rule change in October 2021 that tightened the congestion charge so that only entirely electric vehicles are exempt.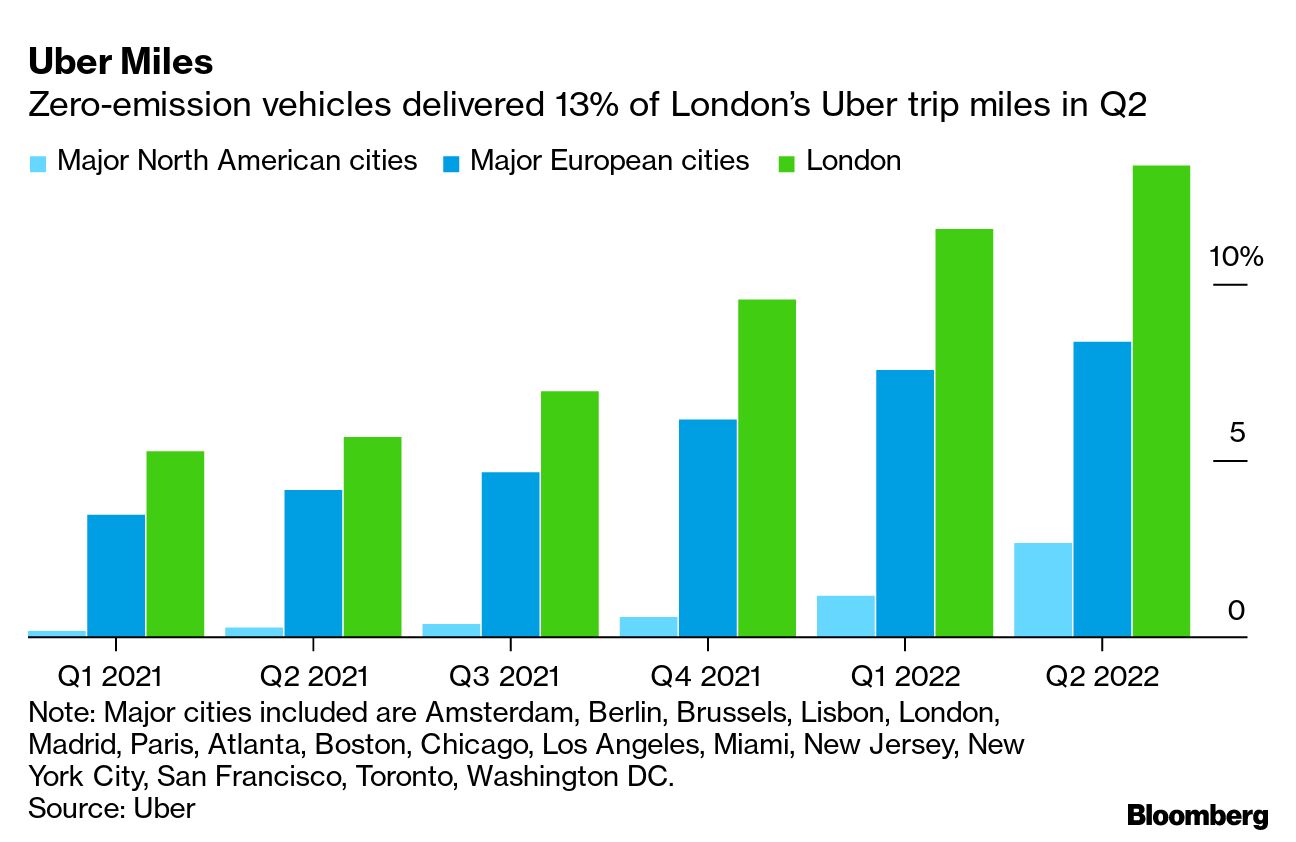 Many Londoners now live with less dangerous levels of pollution. Average concentrations of PM2.5 in London are approximately 19% lower than in 2016. Greater strides have been made on tackling NO2. The number of Londoners living in areas exceeding World Health Organization's legal limits for NO2 dropped from 2 million in 2016 to 119,000 in 2019. (The health guidelines have gotten tougher since then, so once again it's likely that no one in London—as well as in many other cities worldwide—now lives with safe NO2 levels.)
By 2023, when all of the more than 9 million people in Greater London will be covered by the ULEZ, there may come political pushback. The zone will include lower-­density areas where daily driving is more common and public transport is less robust. But over time, arguments about vehicle exhaust will lose relevance thanks to the growing number of EVs on the market, including more affordable models.
Starting in 2030, as the UK begins to phase out sales of new combustion vehicles, zero-emission driving will start to become the only option. The city will certainly get quieter. The sight of tailpipes will become rarer. And all Londoners will breathe easier.