Kansas City firm to re-open Mead ethanol plant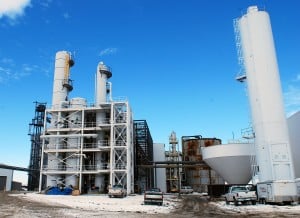 This 2007 photo shows the E3 Biofuels ethanol plant in Mead, which went bankrupt and is set to re-open with the help of a Kansas City firm.
Spectrum Business Ventures of Kansas City aims to bring a closed ethanol plant near Mead out of mothball status in the next few months.
The former E3 Biofuels plant attracted widespread attention in 2006 as the previous management tried to pull together a project they described as a closed-loop system.
That means the plant would operate with energy largely produced on site.
The idea for the $25 million venture was to feed the grain byproducts from ethanol production to 30,000 cattle in an adjoining feedlot and then to use their manure and methane digesters as an energy source to operate the plant.
But a boiler explosion, volatile corn prices and other factors pushed E3 Biofuels into bankruptcy and brought Spectrum Business Ventures into the picture as owner of an enterprise known as AltEn.
"Our current focus is on completing construction and beginning production by late spring of 2012," Justin Shaw, Spectrum's director of business development, said in a prepared statement.
The timeline has been set back a bit from the 2011 target offered by Spectrum executives when they acquired the dormant plant last year in bankruptcy proceedings.
Shaw said as many as 75 employees could be needed to operate the facility.
Omaha businessman David Hallberg, part of the previous ownership and developer of the cattle energy technology, remains enthusiastic about its application.
"There's nothing else like it yet in the world," Hallberg said. "That's why this project is important."
A check of Spectrum's business profile turns up citrus groves, wireless communication and laser hair removal among its other areas of interest. So far, Mead is its only foray into the ethanol business.
The company is privately held, represents multi-family investors in the Kansas City area and promotes itself as a specialist in complex business opportunities.
Its intention at Mead is to carry forward with production of 25 million gallons of ethanol per year with the closed-loop approach.
Low-carbon energy sources are "just something that needs to happen," Shaw said.
Whether Spectrum can pull that off at Mead, where equipment has been idle for years, remains to be seen.
"They're going to have to get some people on the ground when things thaw out in the spring to get up to speed," Hallberg said. "And until you see that happening, everything else is just talk."
Todd Sneller of the Nebraska Ethanol Board wants to see Mead succeed. Difficulties encountered to this point are no surprise, Sneller said.
"I think one of the challenges in deploying any new technology is whether all the new elements of the new technology can come together in a commercial environment," he said.
More than five years after Stephen Johnson, former head of the Environmental Protection Agency, used the plant as a backdrop for announcing a much broader renewable fuels strategy, its potential is unrealized.
In the meantime, said Sneller, there's been no similar idea that's broken through the closed-loop barrier. Mead and Spectrum still have a shot at first-of-a-kind status.
"The concept has lots of appeal for many reasons," he said. "If it were easily done, I think we would have seen it in other places."
He acknowledged that Spectrum hasn't pulled it off yet either, "but they're spending time, money and they've employed quite a few people to try to move ahead with the project."
Among the incentives for success are compliance credits worth as much as $1.13 a gallon in situations where companies in other industries buy the credits to compensate for their own air emissions.
Other advanced biofuels companies have their eye on Nebraska and their own closed-loop possibilities, Sneller said.
"They want the first one to be the showpiece plant to the world."