Irma Cuts Power to 6.4 Million, Shuts Ports, Imperils Crops
Source: By Emma Ockerman, Bloomberg • Posted: Tuesday, September 12, 2017
Hurricane Irma
has knocked out power to at least 6.4 million customers, paralyzed tanker traffic, shuttered gasoline stations and suppressed demand for natural gas. As the storm headed up Florida's west coast, it also threatened more than $1 billion worth of crops.
NextEra Energy Inc.'s Florida Power & Light utility warned Sunday that some customers may go without power for weeks, and parts of its system may need to be rebuilt "from the ground up." The company took two reactors offline at a nuclear plant south of Miami, one for reasons unrelated to the storm. Ports critical to supplying the state with gasoline and diesel were also closed, and energy companies including Exxon Mobil Corp. and Kinder Morgan Inc. shut fuel terminals and pipelines.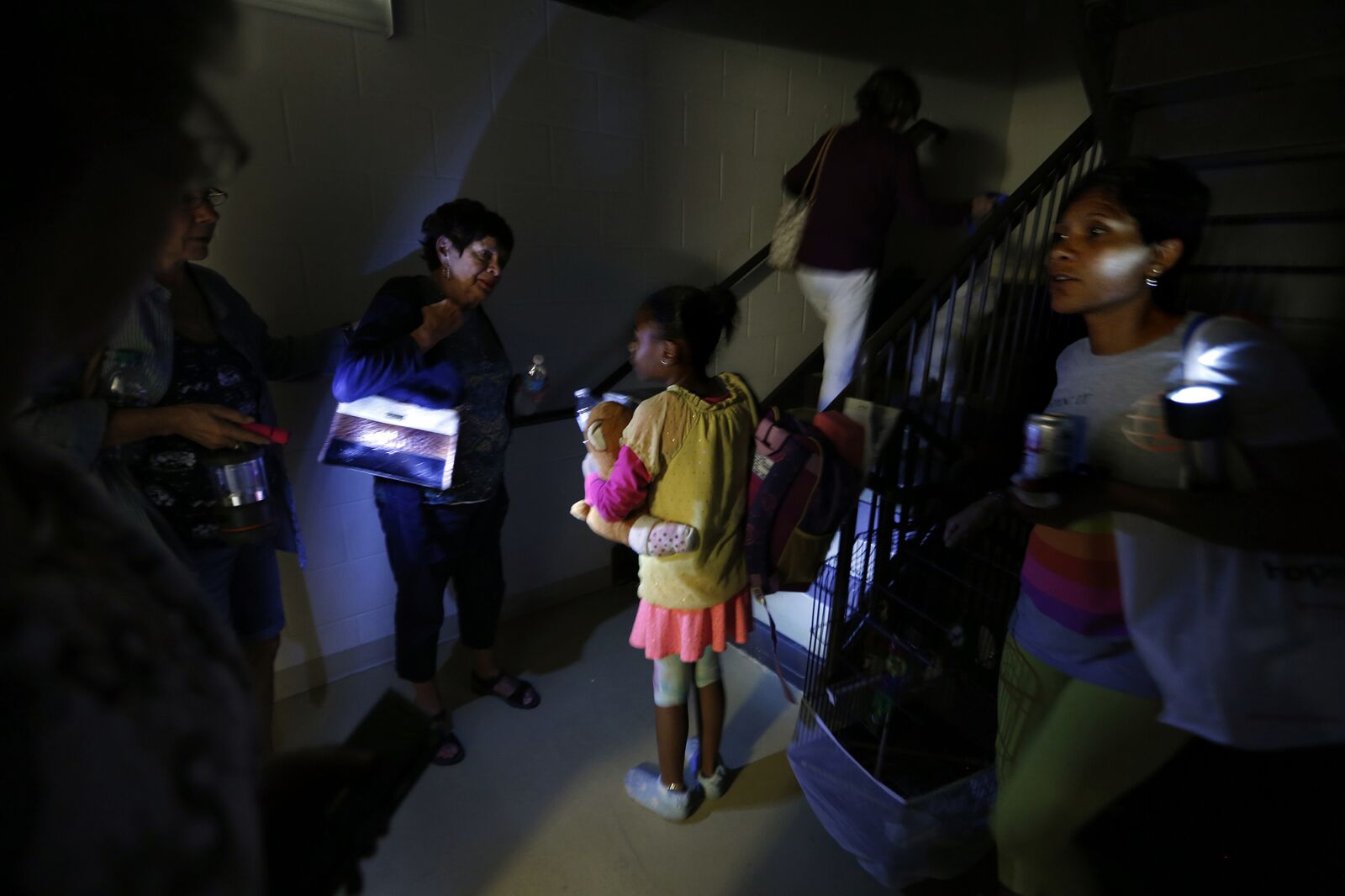 "Fuel deliveries in Florida are virtually nonexistent," Mansfield Oil, a Georgia-based energy supplier, said in a report. "Markets will take time to fully recover, particularly if Irma damages fueling infrastructure."
Irma weakened into a tropical storm as it moved over northern Florida and Georgia. It has sapped natural gas demand by cutting use from power plants, and may also wreak havoc on Florida's farmlands, menacing $1.2 billion worth of production in the top U.S. grower of tomatoes, oranges, green beans, cucumbers, squash and sugar cane.
Florida citrus crops probably suffered "widespread damage" from flooding and strong winds, Kenny Miller, a meteorologist at MDA Weather Services in Gaithersburg, Md., said in a telephone interview.
Florida's orange, grapefruit and other citrus trees are full of developing fruit that Irma may blow away. Winds could also destroy the trees themselves in a region that accounts for almost 10 percent of the nation's fruit and vegetable farmland. Orange-juice futures fell Monday after rallying last week ahead of the storm.
Meanwhile, ports and terminals including Miami, Tampa, St. Petersburg, Port Everglades, Jacksonville and Charleston, South Carolina, were closed to traffic. Florida, which depends wholly on pipelines and tankers for fuel supplies, was already facing fuel challenges after Hurricane Harvey knocked offline refining capacity in the Gulf Coast.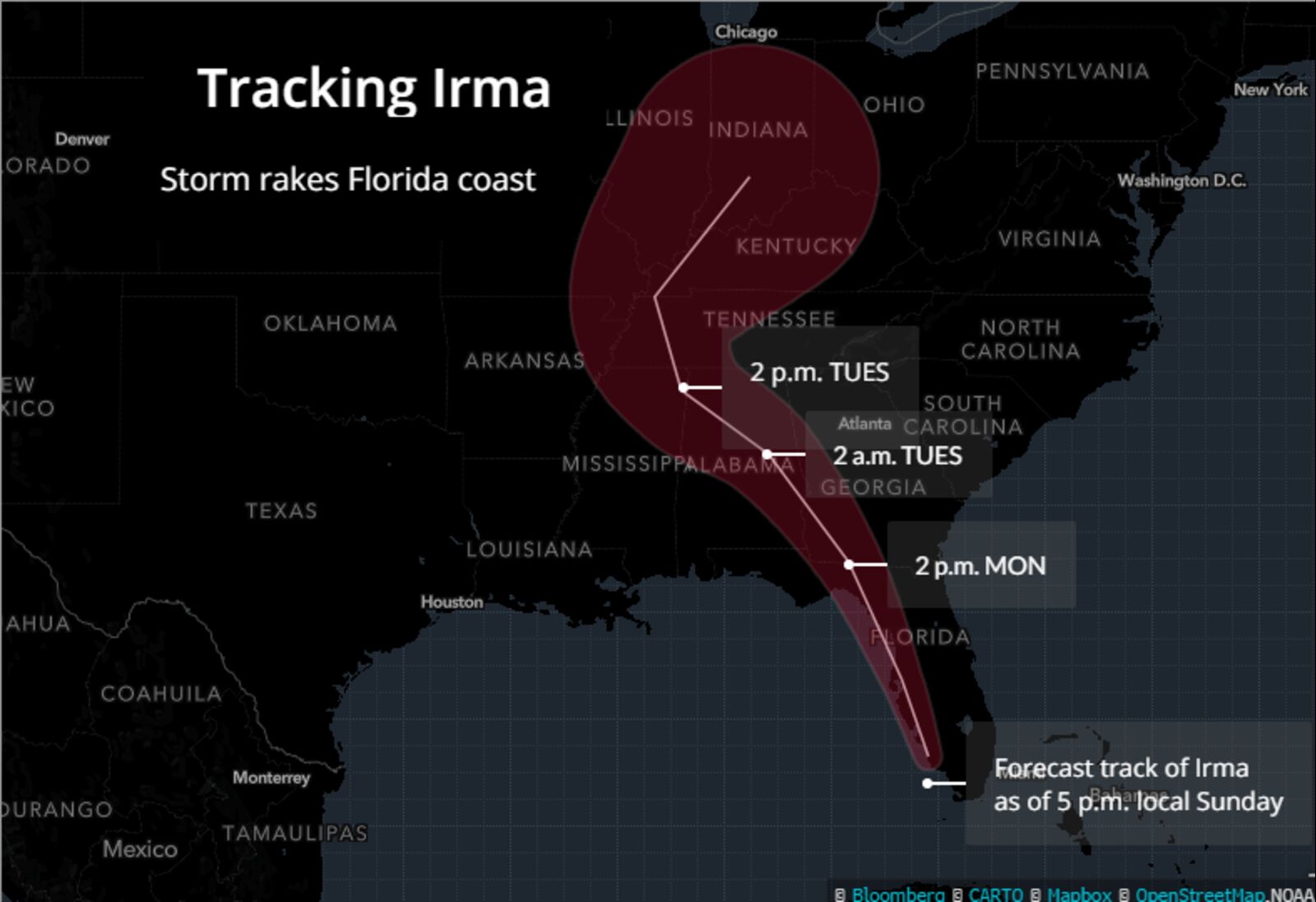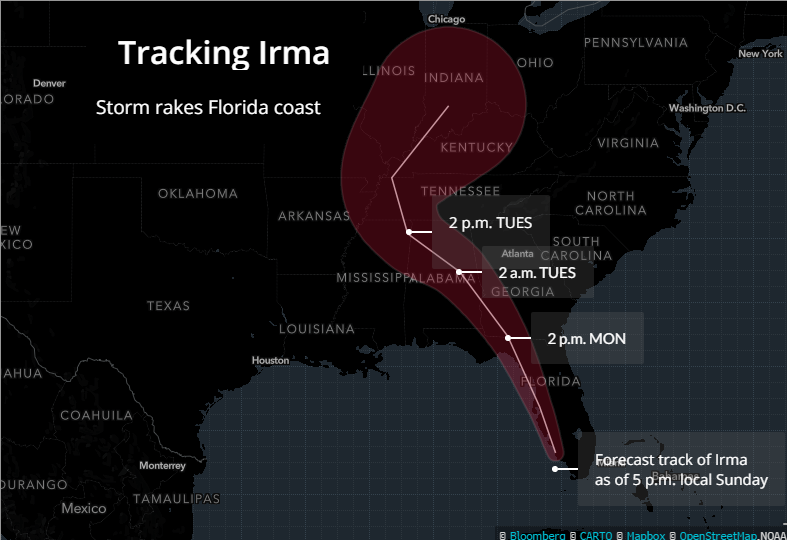 Kinder Morgan shut a pipeline system that carries gasoline, ethanol, diesel and jet fuel to land-locked Orlando from Tampa; all of its fuel terminals in Florida; and the Elba Island liquefied natural gas plant in Georgia.
Demand for gas to fuel power plants in Florida, Georgia, South Carolina and North Carolina dropped to about 3.77 billion cubic feet Sunday, the lowest in data going back to 2014, according to Bloomberg New Energy Finance.
Florida Power & Light said in a press conference broadcast online Sunday that restoring electricity will be "one of the most complex" endeavors the utility's ever faced. The feed to the broadcast itself cut out for several minutes due to a power failure.
"Unfortunately, we are not immune to Irma's wrath," Rob Gould, a spokesman for the utility, said after the feed for the webcast had been restored.
Other storm-related impacts:
About 42 percent of Florida's retail gasoline stations had run out of fuel as of 10:30 a.m. local time, said Patrick DeHaan, a senior petroleum analyst at GasBuddy.com. About 21 percent of the state's gas stations had no power.
In Georgia, 15 percent of stations didn't have gasoline.
The Florida Department of Agriculture and Consumer Services said information on crop damage wasn't yet available.
Southern's Vogtle and Hatch nuclear power plants in Georgia remained online.
Enbridge Inc. said its Sabal Trail pipeline, which supplies natural gas to Florida, is still delivering.
Duke Energy Corp., which also runs a utility in Florida, said that more than 1.2 million of its customers have lost power and restoration could take a week or longer.
Sanderson Farms halted operations at its chicken-processing plant in Moultrie, Georgia, and will decide by Monday afternoon whether to restart operations Tuesday.
— With assistance by Marvin G Perez, Laura Blewitt, Kevin Orland, Alex Longley, Jim Polson, Ryan Collins, Mark Chediak, Brian K Sullivan, and Megan Durisin