Icahn Guides Trump's Policy and Scores $60 Million
Source: By Mario Parker, Bloomberg • Posted: Thursday, May 25, 2017
CVR Energy Inc., his oil refining company, saved about $60 million in the first quarter because of expectations that the federal government will ease a regulation involving renewable fuels, securities filings show.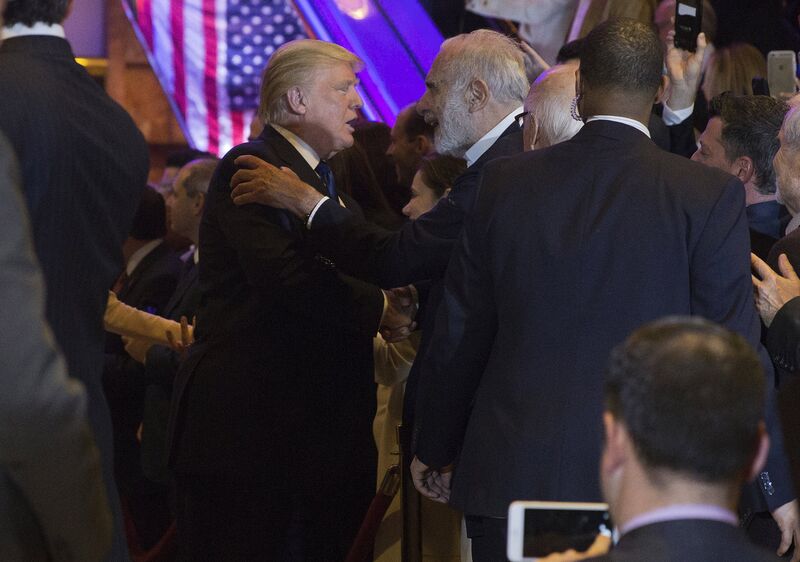 It's much more than a lucky break. As a "special regulatory adviser" to President Donald Trump, Icahn himself has been advocating the kind of relief that will benefit his company.
Icahn's cost savings show how the Trump administration has let officials' outside business interests influence policy decisions. Richard Painter, a University of Minnesota Law School professor and White House ethics counsel under President George W. Bush, calls Icahn's role "a clear conflict of interest."
Even before the magnitude of Icahn's gain was known, a group of U.S. Democratic lawmakers sent a letter to regulators urging them to investigate whether Icahn used his role as adviser to gain unfair trading advantages.
Brandee Stephens, a spokeswoman for Sugar Land, Texas-based CVR declined to comment. Icahn didn't return several messages left for comment.
Icahn's windfall results from potential changes in the George W. Bush-era law known as the Renewable Fuel Standard. It requires that billions of gallons of biofuel be added to the nation's gasoline. Today, about 10 percent of U.S. motor fuel is made from corn, not oil.
Biofuel Mandate
The U.S. Environmental Protection Agency enforces this mandate by requiring refineries and importers to blend in ethanol and other biofuels, or buy credits from those who do the blending. The credits, called renewable identification numbers, or RINs, trade in an over-the-counter market.
CVR's refineries in Kansas and Oklahoma rely mostly on buying RINs. Icahn has said a spike in the price of the credits last year had cost the company $200 million annually. He became an advocate of changing EPA rules so fuel blenders, rather than refiners, face the compliance burden.
On March 9, Icahn said he was betting against the credits by delaying purchases in the expectation their value would fall. It has already been a shrewd wager for CVR, in which Icahn Enterprises LP owns an 82 percent stake. Prices for RINs have dropped 19 percent since Trump's election.
Consider the swing in the cost of the credits at CVR, which spent $53.5 million in the fourth quarter of 2016 and saw a $6.4 million benefit in the first quarter, filings show. It wasn't clear why the company reported a gain.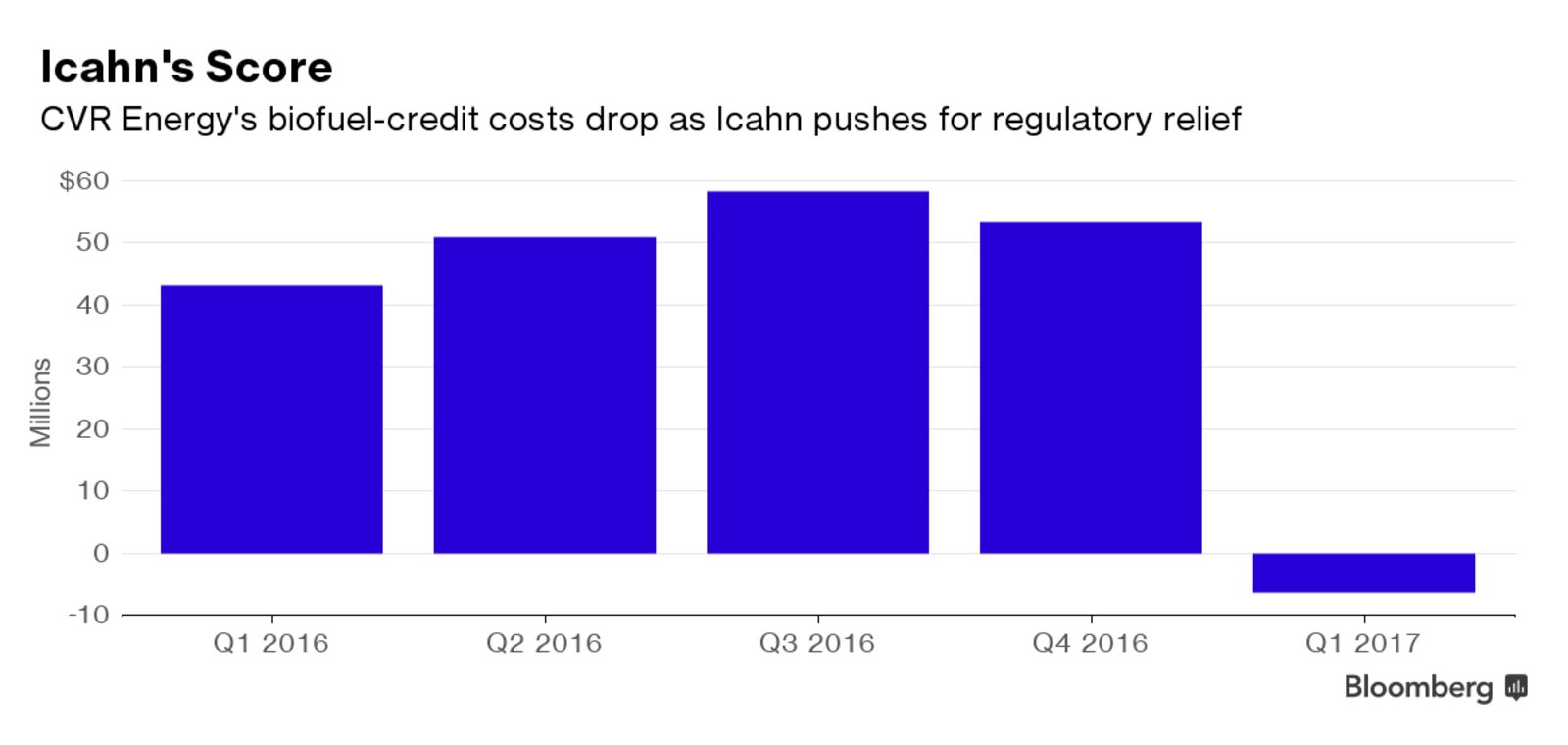 Other refiners such as San Antonio, Texas-based Valero Energy Corp. have benefited, too. A Bloomberg analysis of regulatory filings by eight refiners found they spent $397 million in the first-quarter on the energy credits, down from $583 million in the fourth quarter, according to regulatory filings.
Other market forces may also be at work. Refiners have been blending record amounts of ethanol into gasoline this year, so there's speculation that there will be more than enough to meet demand, according to Mark Broadbent, a senior research analyst who covers refiners at Wood Mackenzie in Houston.
The cost savings from the credits make up only part of Icahn's recent winnings from CVR. In the six months since Trump's Nov. 8 election win, the value of Icahn's stake in the Texas refiner has increased by more than $600 million, to $1.6 billion.
Icahn said the EPA rules have resulted in an arbitrary transfer of wealth from independent refiners like his, which must buy the credits, to large oil companies and gas-station chains, which sell them.
Todd Becker, chief executive officer of Green Plains Inc., which produces ethanol, said the rules shouldn't be changed "just to satisfy two or three or four companies that may be feeling some pressure."