Icahn Calls on EPA to Fix 'Mother of All Short Squeezes'
Source: By Zachary Mider and Laura Blewitt • Posted: Wednesday, August 17, 2016
"The RIN market will cause a number of refinery bankruptcies," Icahn wrote in an Aug. 9 letter to Environmental Protection Agency administrators Gina McCarthy and Janet McCabe obtained by Bloomberg. "The domino effect of this will be that 'big' oil will sop up the bankrupt refineries, causing an oligopoly resulting in skyrocketing gasoline prices."
Merchant refiners that don't own retail gas stations are expecting to pay $1.8 billion this year for Renewable Identification Numbers. They can't generate the credits organically as their integrated counterparts can. As the EPA's mandates to blend biofuels including ethanol or biodiesel have risen, supplies of the credits have been squeezed this summer. Refiners from Valero Energy Corp. to PBF Energy Inc. are crying uncle.
Trump Rescue
In an interview on Bloomberg TV Tuesday, Icahn said Jack Lipinski, CVR's chief executive officer, likened the RINs market to the cocaine cartel controlled by Colombian drug lord Pablo Escobar, who died in 1993.
"He said, 'I told the New York Times in an interview, I hope it gets out, he says, you know, if Pablo Escobar were alive, he wouldn't be doing coke, he'd be trading RINs,"' Icahn said.
Republican presidential nominee Donald Trump, whom Icahn supports, can stop the EPA's "crazy regulations" on his first day in office, Icahn said in the interview.
"There is no good argument for what the EPA is doing," Icahn said, noting that independent refiners are penalized for something they can't do. Icahn would also like to see Federal Trade Commission action.
The program's structure and RINs' inherent volatility are inviting speculators to the playing field, as there are no laws prohibiting parties from trading the credits, said Paul Chen, an equity research analyst at Barclays in New York.
"It's a very stupid system. There's no other way to put it," Chen said by phone. "Anyone with sufficient capital can go in and trade the RIN. You can short the RIN, you can long the RIN, it's totally up to you."
Secret Deals
Speculators and investment banks have partnered with gas-station retailers to gang up on refiners that are stuck buying the credits they can't produce, Icahn said. As a result, the RIN market has become "the mother of all short squeezes" for the independents.
"They are also making secret deals with the blenders to entice them not to sell to the refineries but rather to sell to them," Icahn said. "These speculators are 'hoarding' the RINs hoping to get much higher prices as the time nears when refineries are obligated to deliver RINs to the EPA."
Andy Lipow, president of Lipow Oil Associates in Houston, said it's not clear that these secret deals are taking place as Icahn described. Lipow said the market expects a shortage of credits in the next two years, driving up prices, as the government requirements exceed the amount of renewables used.
"I would actually like to see some of these contracts so I can make up my own mind on whether to agree with Mr. Icahn or not," he said.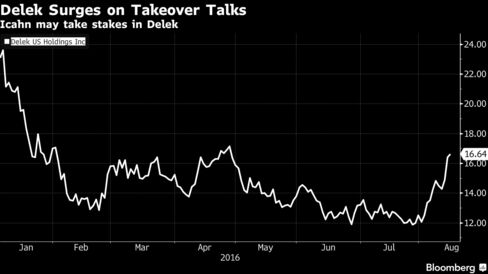 Jimmy Ren, an analyst with Scoggin LLC in New York, noted that Icahn's letter preceded a report last week that CVR may be staging a takeover of the Israeli-owned refiner Delek US Holdings Inc. Delek rose 10 percent Friday on the news and rose 1.5 percent Monday.
"He was trying to merge CVR with Delek," Ren said by phone. "Perhaps he is looking to save cost there — build scale so that he has some pricing power against some of the larger refineries and the gas stations."
Icahn 'Sophisticated'
Frank Macchiarola, group director of downstream and industry operations at the American Petroleum Institute, said Icahn is "a very sophisticated player in very large markets" who knows no market is perfect.
"It's very easy to make vast generalizations about a market over one or two specific instances," Macchiarola said in a telephone interview. "What he's really concerned about here is making money for the companies he has a controlling interest in or a large stake in."
RFS Program
The American Fuel and Petrochemical Manufacturers trade group echoed Icahn's call for reform of the Renewable Fuel Standard program.
"We agree with Mr. Icahn that the RFS is broken and needs to be reformed and independent refiners are getting seriously harmed by the program," Chet Thompson, AFPM president, said in an e-mailed statement. "Congress created the RFS and must move to repeal or significantly reform the program, but until they do EPA can make the program more equitable by moving the point of obligation to the point of compliance."
Renewable fuel credits for 2016 compliance peaked this year at 97.75 cents July 13. The credits were at 81.875 cents on Monday, according to data from Progressive Fuels Ltd. compiled by Bloomberg.