Hugoton KS Abengoa Cellulosic Ethanol Plant Draws Wide Interest
Source: By Vhris Clayton, DTN/Progressive farmer • Posted: Monday, August 29, 2016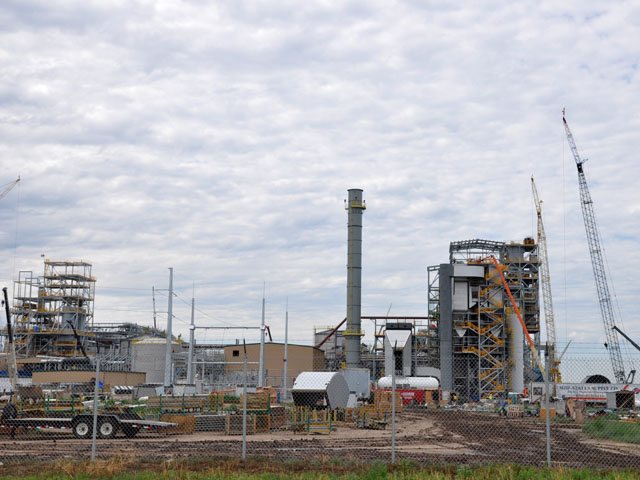 Abengoa Bioenergy's cellulosic ethanol plant in Hugoton, Kansas, could have a new owner by the end of October, an official with the company hired by Abengoa to sell the plant told DTN Wednesday in an exclusive interview.
Mark Fisler, managing director of Los Angeles-based Ocean Park Advisers, the company hired by Abengoa to sell the biomass-based ethanol plant that shut down as part of Abengoa's ongoing bankruptcy proceedings, said there will be an auction for the plant sometime in October and that he's "100% confident" the plant will sell.
"Hugoton has never been a part of the same schedule as the gen-one assets," Fisler told DTN.
"We're going to get out a bid seeking institutional letter to interested parties this week. The activity and interest level at the site are reasonably high. We expect to get a number of letters of interest. There has been more than 15 entities doing site tours, doing engineering work, studying how they would use the asset. It's been very robust. We've been pleased with the opportunities."
The plant, which was built at an estimated cost of $400 million, remains in "cold status at this point," Fisler said. The plant was in the middle of start-up when Abengoa's financial problems surfaced.
Fisler said he expects to receive letters of intent to bid by the first week of September. "We will negotiate and finalize a stalking-horse bidder and will have an auction the latter part of October," he said.
A stalking-horse bidder is the first bid in an auction and more or less sets a floor price for the auction.
"So they get to set the draft of the purchase agreement everyone else has to be subject to," Fisler said. "They get the preliminary inside track."
The interested buyers come from all around the world and from three main camps, Fisler said.
That includes from existing cellulosic ethanol development companies and from first-generation corn ethanol companies looking to produce "generation 1.5" ethanol and maybe use some of the cellulosic aspects of the plant for corn fiber.
The third camp includes advanced biofuels/bio-based chemical companies that may retrofit some of their existing technologies to the plant.
Fisler said the cellulosic ethanol plant still has a "very small number" of employees who remain connected to the site and would be employees with "sound institutional knowledge" about the technology.
"There are a variety of employees (a new owner) would have access to, whether the employees would be interested is a personal choice," he said.
The Abengoa plant is designed to use a variety of feedstocks, including wheat straw, switchgrass and even municipal solid waste. It was expected to provide an annual $17-million, 300-million-ton feedstock market for area farmers.
The 25-million-gallon Hugoton plant is designed to process about 1,000 tons a day of corn stover, wheat straw, milo stubble, switchgrass and other biomass feedstocks, all within a 50-mile range of the plant. The plant also is designed to produce electricity.
Earlier this week, Abengoa sold three of its ethanol plants to Omaha-based Green Plains Inc. during a recent auction. Green Plains bid $237 million to purchase plants in Madison, Illinois, Mount Vernon, Indiana, and York, Nebraska. The plants have an annual combined production capacity of 236 million gallons.
KE Holdings LLC made a successful $115 million bid to buy the Abengoa plant in Ravenna, Nebraska, while Kansas-based ethanol plant builder ICM Inc. was the high bidder at $3.15 million for the Abengoa plant in Colwich, Kansas. ACE Ethanol, LLC, was the successful back-up bidder on the Kansas plant, with a bid of $3 million. The Abengoa corn ethanol plant in Portales, New Mexico, so far has not sold.