Grassley Sees Aid to Ethanol Industry as a Priority
Source: By Chris Clayton, DTN Senior Editor • Posted: Sunday, July 19, 2020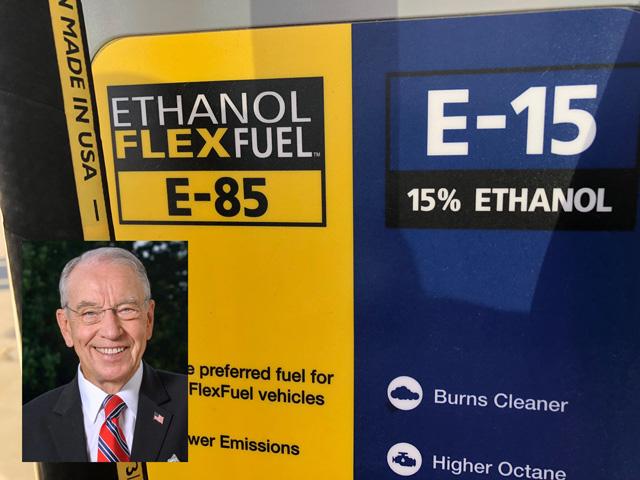 Sen. Chuck Grassley, R-Iowa, said Friday one of his key priorities in the next coronavirus aid package out of Congress would be to subsidize feedstock for the ethanol industry.
Speaking to reporters on a call, Grassley said he and Sen. Joni Ernst, R-Iowa, are focused on getting that kind of language in a Senate package that would subsidize feedstock for the ethanol industry. Grassley and Sen. Amy Klobuchar, D-Minn., introduced that bill in May. Their plan would reimburse biofuel producers for their feedstock purchases from Jan. 1, 2020, to March 31 through the Commodity Credit Corp.
"I think what's going to make our appeal credible besides just the loss that ethanol had — which it didn't get any help last time — is if petroleum gets help. If we can show petroleum has already gotten some help by what was put into the petroleum reserve," Grassley said.
The Senate plan differs from the "Renewable Fuel Reimbursement Program" included in the House HEROES Act, which would provide a 45 cents a gallon payment for biofuel producers for qualified fuel produced from Jan. 1, 2020, through May 1. Ethanol plants that were not producing during that time frame could still receive 22.5 cent credit based on fuel volumes they produced during that time period in 2019 as well.
Ideally, the senator said, the "long-term hope" for ethanol right now is an improving economy and coronavirus situation that allows travel to pick up again.
While Grassley chairs the Senate Finance Committee, he said Senate Majority Leader McConnell, R-Ky., has not laid out much in terms of tax issues for Grassley to tackle. Grassley said McConnell wants to ensure any aid package has limited liability language to reduce lawsuits against businesses because of the coronavirus. McConnell also wants to keep any spending package under $1 trillion. That runs counter to the HEROES Act, which is projected to cost closer to $3 trillion.Grassley said there is also a possibility for more checks to Americans, such as the $1,200 checks sent out earlier this spring. The White House, however, is advocating for a payroll tax cut between now and the end of the year. "I like the tax idea very well because I think the marketplace works, but I tell you I think by the time we got it instituted, it would probably be October before people would be getting any benefits out of it and I don't think it's going to have the economic impact that the president thinks it's going to have," Grassley said. "Then from my standpoint, it would be better to mail out a check if you want it for economic stimulus."

A reporter also asked Grassley about the possibility of boosting the Commodity Credit Corporation funding authority to $68 billion, as advocated by the American Farm Bureau Federation. The senator had some doubts that Congress would boost CCC funding that high.

"There is going to be some help for agriculture of some size, and I don't know what that would be in the next CARES package, but it probably wouldn't be the $68 billion, but I wouldn't be surprised if there wasn't some dollar amount going to the CCC because of low prices," he said.

House Ag to hold hearing on Farmers to Families Food Box Program
The House Agriculture Nutrition, Oversight and Department Operations Subcommittee will hold a hearing Tuesday, July 21, titled "An Overview of the Farmers to Families Food Box Program."

The hearing will be held at 1:30 p.m. and will be conducted in person and broadcast live on YouTube.

Chris Clayton can be reached at Chris.Clayton@dtn.com