Grassley Emboldened as Biden EPA Backs Ethanol in HollyFrontier Supreme Court Waiver Case
Source: By NewsDakota • Posted: Thursday, April 15, 2021
Grassley Emboldened as Biden EPA Backs Ethanol in HollyFrontier Supreme Court Waiver Case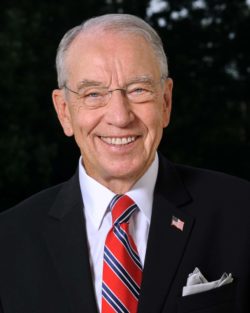 (NAFB) – Longtime ethanol backer and Iowa U.S. Senator Chuck Grassley says he's encouraged the Biden EPA is siding with the ethanol industry in a case that goes before the Supreme Court later this month.
The ethanol industry and the 10th U.S. Circuit Court of Appeals say the Environmental Protection Agency can only grant ethanol waivers to oil refiners who got them continuously in prior years.
Refiners HollyFrontier and CVR Energy argue Congress intended exemptions should be available for application "at any time."
Senior Finance panel member and former chairman Chuck Grassley helped write the RFS law and is leaving it up to the Supreme Court to interpret it, but adds…
The 'gap year' waivers case testing statutory intent comes before the high court on April 27.
Grassley meantime, says the president needs to get ethanol vehicles into any infrastructure plan, not just electric ones as half of new sales by 2025.
Grassley says it makes more sense to include alternative and conventional fuels in any energy plan to reduce carbon emissions, which he claims are the lowest in decades, while China, India and others continue to pollute.