For first time, U.S. gasoline averaged more than 10% ethanol last year: Report
Source: By Ben Wolfgang, Washington Times • Posted: Thursday, April 20, 2017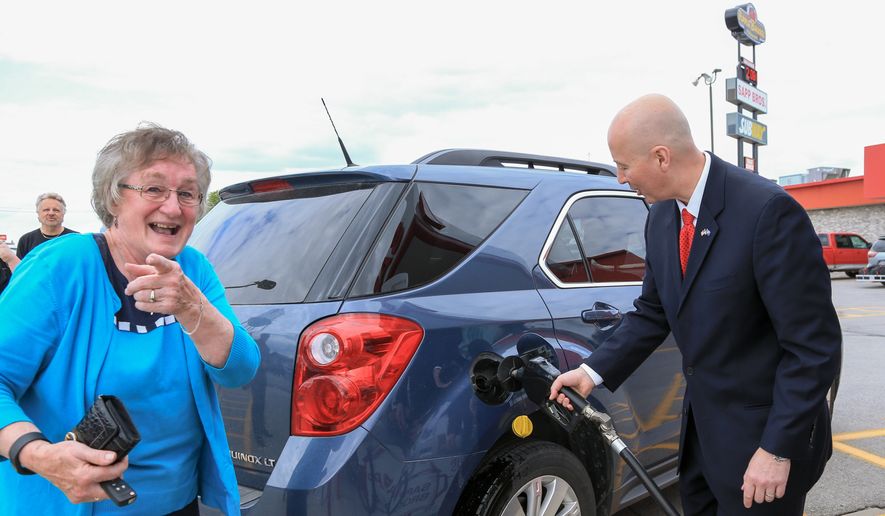 Nebraska Gov. Pete Ricketts pumps E-85 ethanol blend fuel into a car whose driver reacts to the presence of photographers, while visiting the Sapp Brothers Travel Center in Omaha, Neb., Thursday, May 19, 2016, to promote renewable fuels month in … more >
In what industry leaders heralded as proof that the "blend wall" is nothing more than a myth, a new study released Wednesday shows that U.S. gasoline contained more than 10 percent ethanol on average for the first time last year.
The report, released by the Renewable Fuels Association (RFA) and citing recent data from the federal Energy Information Administration, says that the average ethanol content in gasoline last year was 10.04 percent — the first time it's topped the 10-percent mark, which ethanol critics have maintained was the limit for safe operation for the country's fuel infrastructure and for many automobiles.
The news comes amid uncertainty for the ethanol industry under President Trump. While the president was highly supportive of ethanol and the Renewable Fuel Standard — the 2007 legislation that mandated ethanol be mixed into the nation's gas supply at increased levels each year — other administration officials, such as EPA Administrator Scott Pruitt, have been much more skeptical.
There's also an increased effort from oil-and-gas industry leaders, who clearly have the ear of the White House and the EPA, to stop the growth of the ethanol industry and halt increased blending into gas supplies.
For now, however, the ethanol sector says Wednesday's report is proof that going beyond 10 percent ethanol in gasoline isn't the major issue some have made it out to be.
"EIA's data once again shows that the oil industry's blend wall narrative is bankrupt, intended only to mislead consumers and undermine support for the Renewable Fuel Standard," said Bob Dinneen, president and CEO of RFA, the ethanol industry's leading trade group. "The facts provide a different narrative. Ethanol is the lowest cost and cleanest burning source of octane today. Driven by the RFS and attractive blending economics, domestic refiners and blenders used more ethanol in 2016 than ever before and it's likely that trend will continue this year."