Fischer urges Biden administration to end trade war; Hornady says businesses have been harmed
Source: By Robert Pore, Grand Island Independent • Posted: Monday, July 5, 2021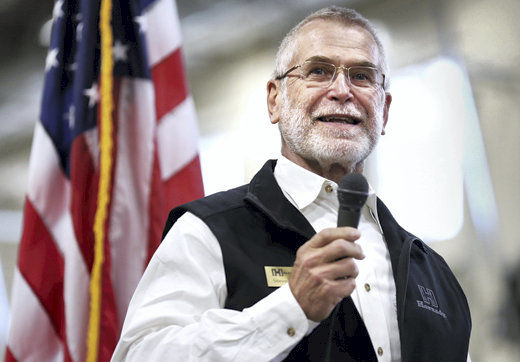 In an effort to undo the economic harm caused by the Trump administration on Nebraska and other American businesses, U.S. Sen. Deb Fischer has joined a number of other senators asking the Biden administration to "end the self-inflicted harm from the trade war that is damaging many U.S. businesses."
In a letter to the Biden administration from Fischer and other senators, they said that for more than three years, they have highlighted the harm to U.S. businesses from tariffs and the trade war.
"While campaigning, you acknowledged this harm when you stated 'American farmers, manufacturers and consumers' were 'losing and paying more.' We agree, and we write to highlight the stories of many businesses that are seeking a de-escalation of the trade war and to urge your administration to eliminate tariffs and quotas that are harming so many businesses and consumers," the letter read.
As the U.S. economy grows after the COVID-19 pandemic, there has been a shortage of material supplies that has caused sharp price increases.
In 2017 and 2018, the Trump administration added tariffs to imported lumber and steel supplies to protect American businesses and jobs.
CNN recently reported that prices for U.S. hot-rolled, coil steel, the most widely produced finished steel product, have spiked almost 270% since bottoming out last August and hit a record high of $1,616 per ton on Friday, according to S&P Global Platts.
Industries report that Trump tariffs and quotas that limit imports, imposed in 2018 to combat steel dumping by China and others, are only adding to the pressure.
In a press release from Fischer, she provided testimony from Nebraska businesses, which are hurting from the tariffs and quotas.
One testimony was from Hornady of Grand Island, which said the company "has noted a troubling trend following implementation of the Section 301 tariffs."
Some of its larger customers have chosen to bypass importers, such as Hornady, and develop their own supply chain directly from China. This translates into lost business for companies like Hornady with no benefit to U.S. manufacturing.
"More disturbing is the fact that our core market — individuals and families seeking secure firearm storage solutions — have had to endure significant price increases," Hornady writes.
"Hornady is a major supporter of Project ChildSafe and we believe that affordable solutions for secure firearm storage should be available to persons of any income level. We constantly review sourcing options and have made many attempts to source quality Firearm Safety Devices in the United States but have so far failed to be able to do so competitively."
Hornady said the "effect of the Section 301 tariffs on our industry is that prices for firearm storage solutions have effectively increased by 25% or more across the board, potentially discouraging some consumers from purchasing a firearm safety device."
Another Nebraska business, according to Fisher, said that its steel costs have doubled during the past six months going up virtually weekly.
"We have had to pass along price increases to our customers every month and will have more to go as steel costs continue to go up," according to the testimony provided by Fischer.
"Our concern is when the auto manufacturers get back going full steam in the fall when they get their chip shortage issue resolved then there will be even more pressure on steel costs. We ordered steel back in the January/February time frame for delivery in April and May. We are just now starting to get the April stuff. This has put tremendous pressure on our manufacturing and shipping folks, not to mention our dealers and end customer/growers. At this point we are having to order steel with expected deliveries later this fall but we cannot lock in a cost, so we will just have to wait and see what our costs will be at that time."
Fischer and a number of her Senate colleagues also are asking the Biden administration to uphold the promises he made on the campaign trail to support the biofuel industry and the family farmers who rely on it.
"While we are aware of the power of the oil lobby, and its efforts to influence your administration, I urge you not to bend to their demands to undercut the RFS, by either reducing annual blending obligations, or any by other means that destroys demand for clean renewable ethanol and biodiesel. The farmers and biofuel industries in our states would welcome the same access to your National Climate Advisor to discuss shared priorities."
The letter was led by Sen. Joni Ernst (R-Iowa).
Recently, a coalition of renewable fuel and farm groups expressed "extreme disappointment" in the U.S. Supreme Court decision overturning a 2020 appellate court ruling that struck down three improper small refinery exemptions granted by previous EPA administrators.
The Des Moines Register reported: "In a 6-3 decision, the court reversed a 10th Circuit U.S. Court of Appeals ruling that the U.S. Environmental Protection Agency during the Trump administration had exceeded its authority in granting dozens of small refineries waivers from the mandate, known as the Renewable Fuel Standard."
The decision stems from a May 2018 challenge brought against EPA in the U.S. Court of Appeals for the Tenth Circuit by the Renewable Fuels Association, the National Corn Growers Association, National Farmers Union, and the American Coalition for Ethanol, working together as the Biofuels Coalition. The petitioners argued that the small refinery exemptions were granted in direct contradiction to the statutory text and purpose of the RFS.
The Biofuels Coalition thanked President Biden and EPA Administrator Michael Regan for taking swift action to rein in the previous administration's mismanagement of the small refinery exemption program.
The coalition said that after carefully reviewing the issue, new EPA leadership in February reversed the agency's previous position and announced support for the Tenth Circuit decision. In April, EPA decided to revoke three last-minute refinery exemptions granted the day before Biden's inauguration. In May, EPA announced it would cooperate with a Government Accountability Office investigation into the past administration's adjudication of small refinery exemptions.
According to the coalition, 70 small refinery exemption petitions remain pending with EPA, for the compliance years 2011-2020.
The Des Moines Register reported that the renewable fuels industry estimated that the Trump administration's small-refinery exemptions resulted in $2 billion in lost renewable fuel demand annually from 2017 to 2019.
Nebraska is the nation's second leading ethanol producer with a capacity of producing more than 2 billion gallons annually of ethanol. It is estimated that ethanol provides a market for 40% of the state's corn crop.