Fact check: President Trump's rally in Omaha
Source: By Joseph Morton, Omaha World Herald • Posted: Wednesday, October 28, 2020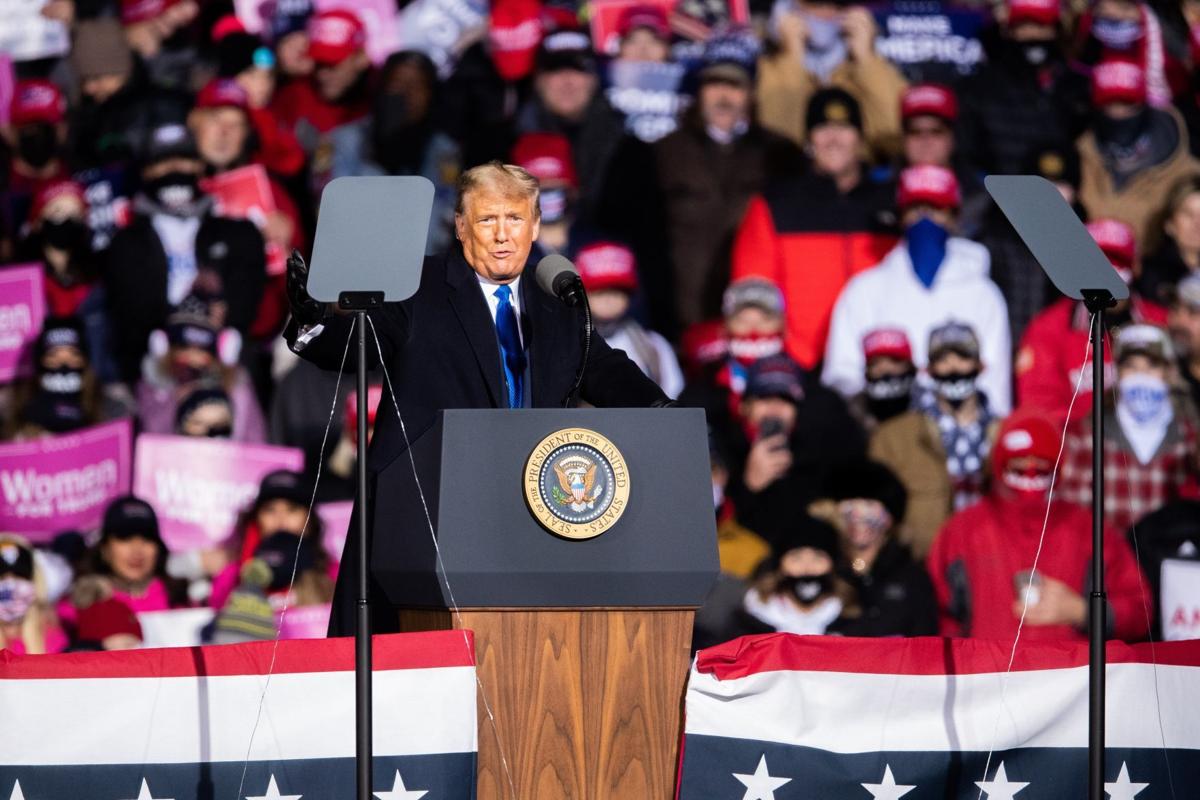 We fact checked a few Midlands-specific items from President Donald Trump's Omaha speech.
On the pandemic economy
Trump said: "We are setting records, 11.4 million people. … We are literally setting records — unemployment, look at housing, look at automobile production. Look at how you're doing in Nebraska."
The facts: The September report showed U.S. employers added 661,000 jobs, which did in fact bring the total rebound in jobs over recent months to about 11.4 million. But that figure still represents only about half of the more than 22 million jobs that were wiped out when the virus first struck in the spring and large swaths of the economy were forced to shut down. It's true that Nebraska and Iowa have fared better economically than many other states. Nebraska now has the lowest unemployment rate in the country at 3.5%, while Iowa is in fifth place at 4.7%. The coronavirus is on the march in both states, however, which could mean that a painful winter awaits.
On trade and the farm economy
Trump said: "I ended the NAFTA nightmare and proudly signed the brand new USMCA which is turning out to be phenomenal. It's a great deal, it's a great deal, just kicked in now. … When China targeted our farmers I delivered $28 billion to our incredible farmers here in Nebraska and Iowa and all across the country. …Nobody else is going to do that. In fact, some people say our farmers do better now than they did when they actually had to farm."
The facts: Farm country certainly welcomed the new U.S.-Mexico-Canada Agreement, although they were most enthused about the certainty it brought. The trade war with China took a toll on Midwestern grain farmers who saw crop prices drop sharply as China stopped buying their products. As part of a Phase One deal, China has committed to large purchases that could help the situation. And Trump did deliver those additional farm payments to mitigate the pain. Some Democrats have highlighted a recent Government Accountability Office report, however, that found Southern producers received larger payments than their Midwestern counterparts. And farm groups have repeatedly said their members would rather farm for the global marketplace than for government handouts.
On ethanol
Trump said: "(The Green New Deal) would wipe out the ethanol industry, Joni. It would totally wipe out that industry. We worked hard on that industry and they're now in good shape. … As president I will always defend ethanol."
The facts: Some Green New Deal backers have talked about phasing out fuel-based vehicles, but others have argued that ambitious environmental proposals can be pursued while making agriculture a profitable part of the solution. The Trump administration also has had a mixed record when it comes to ethanol. The industry rejoiced greatly when the administration approved the year-round sale of the ethanol blend known as E15, for example. But the administration also generously granted refineries a large number of waivers to federal ethanol mandates. Those waivers undermine demand for the biofuel.
On Nebraska's senators
Trump said: "(Senator) Deb Fischer — who's fantastic. She is my favorite senator from the state of Nebraska by far, by far."
The facts: There's no reason to doubt Trump prefers Fischer, a reliable supporter during his presidency, to her fellow Republican home-state colleague Sen. Ben Sasse, who has at times been a sharp critic. During a recent telephone town hall, for example, Sasse said Trump cozies up to dictators, betrays U.S. allies, privately trashes evangelicals and has "flirted with white supremacists." Trump responded on Twitter by saying "Little Ben Sasse of Nebraska" was an embarrassment to the state and the least effective Republican in the Senate.