Even Without Trump-Brokered Deal, Refiners Get Biofuel Relief
Source: By Mario Parker, Bloomberg • Posted: Friday, March 23, 2018
White House
meetings in recent months, U.S. oil refiners haven't seen any change in the federal mandate requiring them to blend biofuels. Yet the market in biofuel credits shows they're getting some of what they want anyway.
The complaint among some refiners is that the cost of complying with the Renewable Fuel Standard is too high. Refiners without the capability to blend ethanol or biodiesel have to buy the credits, so-called Renewable Identification Numbers, or RINs. Prices for RINs have slumped amid the Trump administration meetings, indicating that refiners are increasingly confident they'll get some kind of relief.
"The conversation has already been helpful in that area of driving RIN prices down," U.S. Agriculture Secretary Sonny Perdue said in a speech in Washington on Tuesday.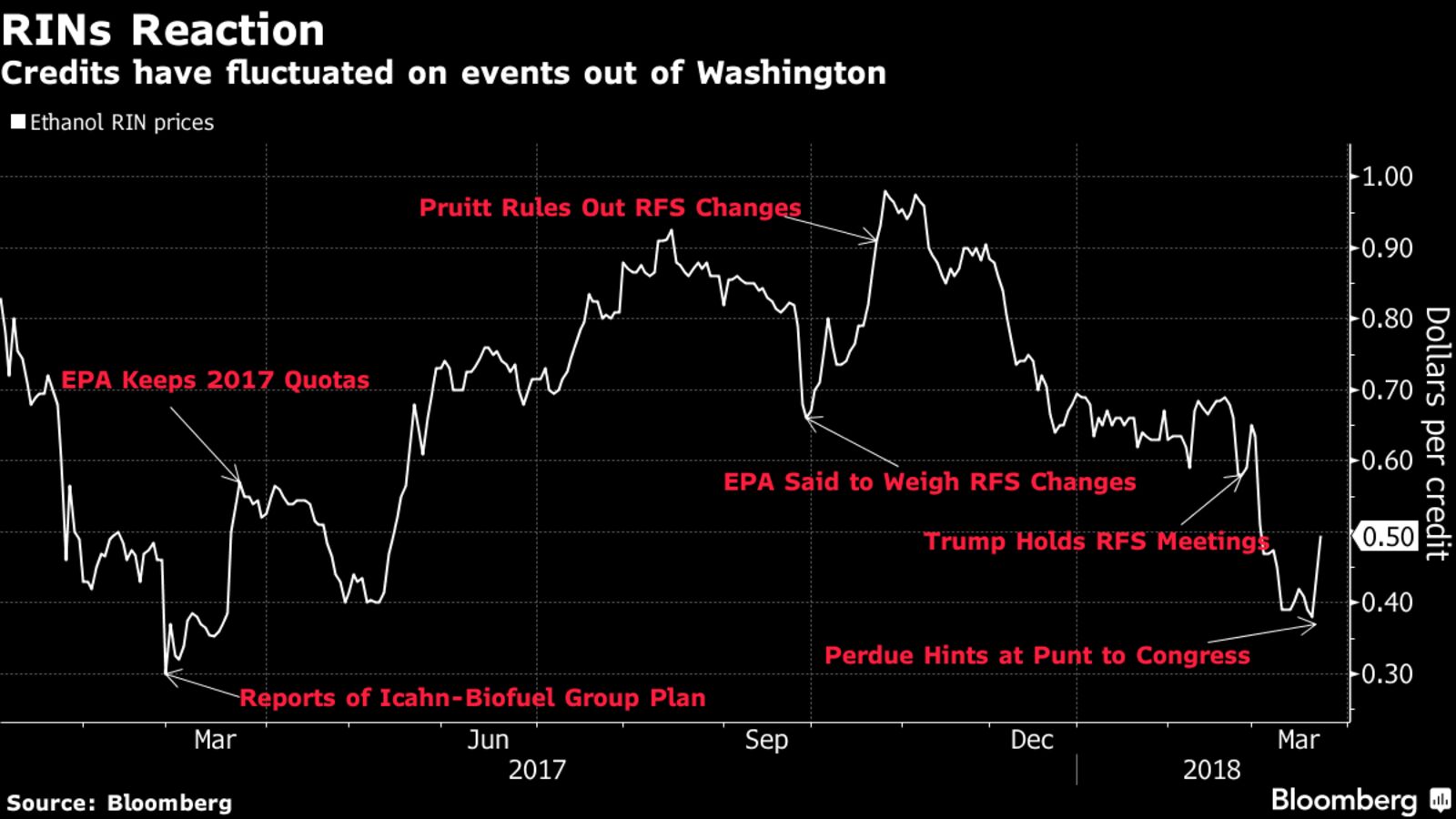 The RFS is a complicated policy that crosses political lines and reverberates in markets for corn and crude oil. Two of President Donald Trump's most valued constituencies — blue-collar workers and farmers in the rural Midwest — are locked in a fight over compliance costs. The debate has gotten more heated since the recent bankruptcy of Philadelphia Energy Solutions Inc., the largest U.S. East Coast refiner. But farmers of corn and soybeans — used to make ethanol and biodiesel — support the RFS.
Although Trump had pledged to support the program during his presidential campaign, he has personally waded into the debate, holding meetings in an attempt to broker a deal between the two sides.
Price Caps
Some refiners have used those meetings to push the president to put a ceiling on the price of RINs. Biofuel advocates, meanwhile, have countered that any price cap would be "catastrophic," based on a view that climbing RINs spur companies to blend more ethanol to generate credits when they are more lucrative.
But it's unclear how much effect RINs prices actually have on ethanol blending or spot prices for the fuel. Ethanol costs have been relatively stable amid big swings in RINs over the past year.
"There is no erosion or backsliding of ethanol blending when RIN prices drop significantly, nor is there a massive increase in blending when RIN prices skyrocket," said Brendan Williams, vice president of government relations for New Jersey-based refiner PBF Energy Co. Market data "disprove erroneous claims that controlling RIN costs would somehow hurt farmers or destroy ethanol blending," he said.
Even without complex administrative changes, prices for the RINs tracking 2018 ethanol targets have tumbled 49 percent since October, a time when the prospect of changing the RFS grew dimmer after Trump directed Environmental Protection Agency chief Scott Pruitt to back off any changes that would dilute the mandate.
Still, RINs prices remain volatile. They've jumped 30 percent since Tuesday, according to broker data compiled by Bloomberg, after Perdue said the administration is trying to determine whether to move forward with a fix or leave it to Congress.
His comments suggested waning White House interest in finding a solution that government agencies could implement on their own. That could mean the RFS is here to stay in its current form for some time to come, because lawmakers have struggled for years to advance a legislative overhaul. Although Republican Senator John Cornyn is developing a plan, it faces long odds of passage before the November mid-term elections.