Ethanol sputters in Montana, but feds favor more
Source: TOM LUTEY, Billings Gazette • Posted: Tuesday, May 8, 2012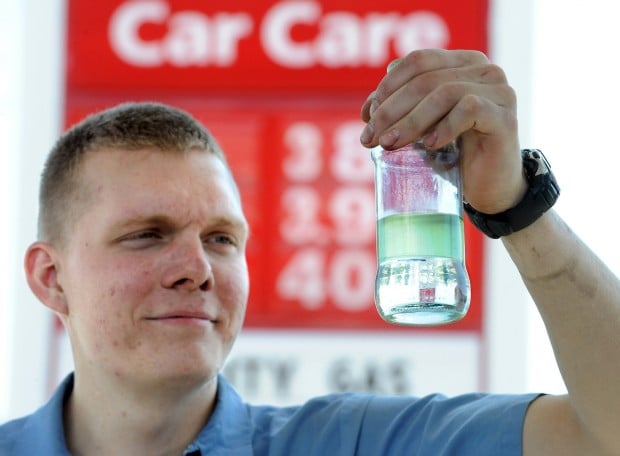 The federal government is asking the nation to accelerate adoption of ethanol-blended gasoline, but Montana efforts are sputtering, according to officials who say even current standards aren't often met.
One day after U.S. Agriculture Secretary Tom Vilsack called on petroleum companies to increase ethanol levels in gasoline to 15 percent, Montana officials and ethanol advocates said that isn't likely here. A 10 percent ethanol blend known as "E10" is sold in state, but even that level can be hard to come by. Petroleum marketers say retailers and consumers aren't ready for anything more.
"I think in Montana, we haven't even fully got to the E10 fuel standard," said Shirley Ball, president of Montana's Ethanol Producers and Consumers.
The state doesn't have an ethanol refinery, and that drives up the cost of blending ethanol into gasoline, Ball said. Even at gas stations with 10 percent ethanol notices posted at the pump, five years after Congress and President George W. Bush mandated the Renewable Fuel Standard, the blend isn't always what flows from the nozzle. That mandate, intended to curb America's dependence on foreign oil, requires the nation to increase its renewable fuel use to 36 billion gallons a year by 2022. Boosting the ethanol blend in gasoline to 15 percent is considered a crucial step to reaching the 2022 goal. The national mandate for 2012 is 13.2 billion gallons.
"In Missoula you are getting ethanol because of the (reformulated gasoline requirement) for air quality," said Ronna Alexander, Montana executive of the Western Petroleum Marketers Association. "In Billings you might see it a quarter of the time. The rest of the state? The answer is no."
Statewide, Montana consumed 493.6 million gallons of gasoline last year, with roughly 43 percent, or 214.5 million gallons, blended with ethanol. Those numbers from the Montana Department of Transportation indicate that Missoula County accounted for 137 million blended gallons, or just less than 28 percent of the state total. The remaining ethanol was blended in Billings. Only Billings and Missoula have the equipment to blend ethanol and gas.
Ethanol's road to Montana pumps has been bumpy despite support from advocates like Gov. Brian Schweitzer, who in 2005 said he intended for Montana to be a leader in renewable fuels, with ethanol playing a role. At the time, the state was rolling out a fleet of flexible-fuel vehicles capable of burning an ethanol blend of up to 85 percent. That effort stalled for a lack of steady fuel supply
Establishing an ethanol refinery has also proven challenging, though several have been proposed over the past 20 years. An ethanol-from-barley refinery is in the works in Fort Benton, but progress has been slow. State officials say the refinery wouldn't produce enough ethanol to meet Montana's potential demand.
The 15 percent ethanol blend is coming, said Tim Lloyd, Montana Weights and Measures program manager. National standards will be set at a meeting this summer, after which Montana will begin preparing for E15 fuel.
Alexander said she expects Bozeman, Helena and Great Falls to be capable of blending ethanol in the next year. But the state's petroleum marketers have indicated that they aren't ready for E15 fuel.
That's not just a Montana issue.
The American Petroleum Institute earlier cautioned that the Environmental Protection Agency was acting too soon when it approved E15. Many gas stations lack the equipment needed to sell E15. The increased ethanol could cause leaks in existing infrastructure, the institute said.
The higher ethanol blend has also been approved by the government only for vehicles newer than 2000, while some warranties on new cars are voided by ethanol levels greater than 10 percent. Alexander said petroleum marketers don't want to sell E15 if they're going to be liable for damage to vehicles not designed for the fuel. They want Congress to shield gas stations from blame.
But automakers are adapting to the newer standard. Larry Deschene, who manages the city of Billings motor pool, said cars purchased by the city since 2009 are equipped for higher ethanol blends in gasoline. That's because American automakers have made a commitment to "flexible fuel" vehicles capable of burning a variety of fuel blends. The cars haven't come at an extra cost to Billings, he said.
Deschene said the city has faced challenges with ethanol-blended gasoline. A few years ago, ethanol-blended fuel stored in city tanks separated in cold weather.
Expanding ethanol use is tricky, but with a federal mandate steering the effort, it is happening. Cenex Harvest States, which has a Laurel oil refinery, has been in the ethanol business for 40 years. The company's ethanol area includes 27 states. In Sioux Falls, S.D., where the state's major ethanol producers are based, CHS customers fill up at blender pumps, where they can choose ethanol blends up to 85 percent.
In Montana, CHS has tripled its ethanol business in recent years, said Dustin Haaland, CHS's director of renewable-fuels supply. There will be challenges developing an E15 market. The fuel isn't approved for small engines or boats, either, because of issues of water in the fuel. And E15 is off-limits to even some new cars and trucks with warranties voided by any blend over E10. But those challenges aren't unique to Montana, Haaland said.
"At the end of the day, we as a company will be making sure our brands are appropriate for consumers," Haaland said.