Ethanol Credits Criticized by Icahn Drop to Pennies Under Trump
Source: By Mario Parker, Bloomberg • Posted: Wednesday, September 26, 2018
On Tuesday, the credits tracking compliance with ethanol consumption targets under the Renewable Fuel Standard fell 19 percent to 11 cents apiece. They've gradually declined during Trump's presidency as the White House has tried to broker a deal between refinery interests and agricultural proponents. They're down 27 percent since Sept. 21 when Bloomberg reported that Trump plans to allow year-round sales of higher blends of ethanol.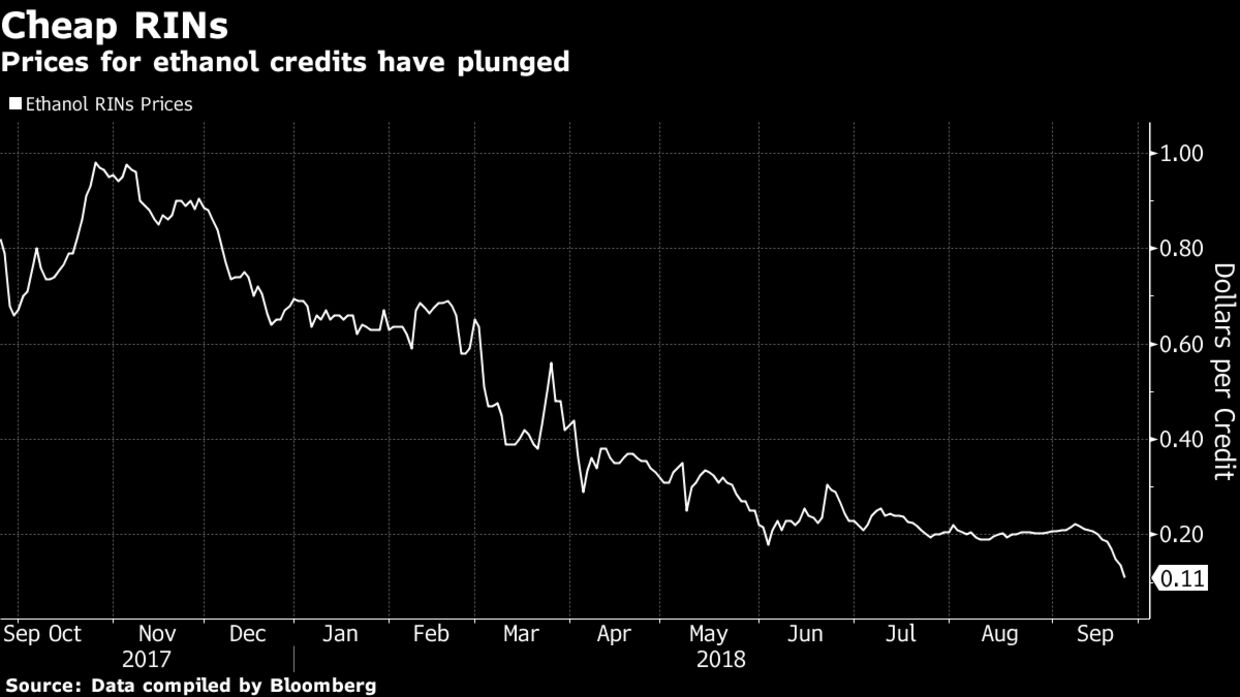 Icahn owns an 82 percent stake in independent oil-refiner CVR Energy Inc. The government program calls for companies like CVR to either blend renewable fuels like ethanol or biodiesel with petroleum or buy credit in lieu. Icahn became the public face against the trading of the credits, known as Renewable Identification Numbers, or RINs, with letters to regulators in the Obama administration, interviews and op-eds, likening it to the underlying factors that led to the 2008 financial crisis.
Refiners use RINs to prove they have satisfied annual biofuel quotas.
In the most-recent filings with the U.S. Securities and Exchange Commission, both CVR and Icahn Enterprise Partners LP repeated that they are cooperating with the U.S. Attorney's office for the Southern District of New York September 2017 subpoena on Icahn's activities related to the policy and his role as special adviser. No claims or allegations have been made, according to the filings. Icahn wasn't immediately available for comment.
Little Bearing
RINs prices have little bearing on the amount of ethanol blended into gasoline, CVR Chief Executive Officer David Lamp, said Tuesday in an emailed statement.
"Although RIN prices have fallen substantially in 2018, the amount of ethanol blended in gasoline remains relatively constant, constrained by both the blend wall and lack of customer demand for higher ethanol blends," Lamp said. "High RIN prices benefit no one."
Ethanol advocates have referenced the lower costs as they appeal to Trump to allow higher blends, known as E-15 because it's comprised of 15 percent ethanol. In the U.S., ethanol is made mostly from corn.
"The refineries have accomplished what they wanted to accomplish and I think E-15 is going to keep the RINs price down," Senator Chuck Grassley, a Republican from Iowa, said on a conference call Tuesday with reporters.
No Guarantee
Although the current low RIN prices are good news for refiners, there's no guarantee they'll stay there. And refiners pushing for price caps and other policy changes to rein in compliance costs say they need more certainty. Oil industry leaders also argue that low RIN prices now don't resolve bigger, fundamental problems with the underlying mandate.
"For refiners, the certainty of RINs staying low is what they want," said Frank Maisano at Bracewell LLP, which represents refiners. "Unfortunately, the fact that they are low now is meaningless if the cost of a RIN shoots up at some later date, as it has in the past. That's what we have to guard against."