EPA Opens Door to Sorghum Oil as Biofuel Feedstock
Source: By Todd Neeley, DTN/Progressive Farmer • Posted: Tuesday, January 2, 2018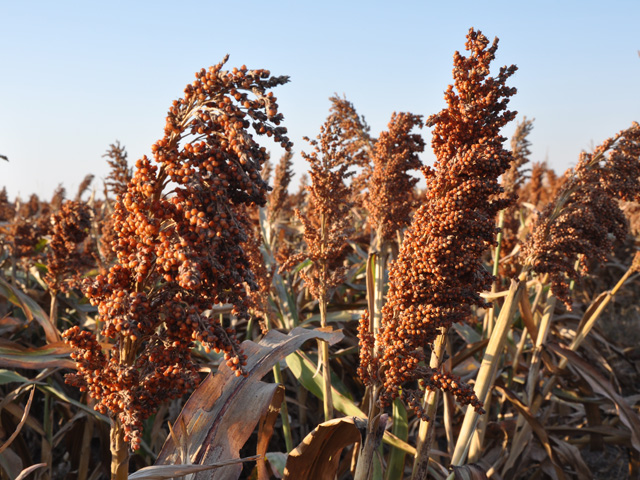 Sorghum oil generated at ethanol plants may soon be an approved biofuels feedstock for the Renewable Fuel Standard. (DTN file photo)
OMAHA (DTN) — Sorghum may see another Renewable Fuel Standard boost from a newly proposed pathway for sorghum oil extracted from ethanol plants, according to a new rule proposed by the U.S. Environmental Protection Agency.
On Dec. 19, EPA Administrator Scott Pruitt signed a proposed rule to allow sorghum oil to qualify as a biofuel feedstock for advanced biofuels and biomass-based diesel. The EPA proposal came about as a result of a petition filed by the National Sorghum Producers (NSP).
In the proposal, the agency estimates about 30% of grain sorghum grown, or 120 million bushels a year, is used to produce ethanol. In recent years, more than 5.2 billion bushels of corn has been used annually to produce ethanol.
"Distillers sorghum oil is still a relatively niche product, and the NSP petition anticipates a potential of 12 million to 21 million ethanol-equivalent gallons of fuel to be produced from the oil per year," EPA said in its proposal.
"We propose to define distillers sorghum oil to mean oil recovered at a point downstream of where a dry mill grain sorghum ethanol plant grinds the grain sorghum, provided that the grain sorghum is converted to ethanol, the oil is rendered unfit for food uses without further refining, and the distillers grains resulting from the dry mill and oil extraction processes are marketable as animal feed."
The agency would allow for a number of oil-recovery methods at ethanol plants, including recovery of sorghum oil before fermentation from the slurry or from liquefaction tanks, and sorghum oil recovery after fermentation from the thin stillage and/or dried distillers grains with solubles, or DDGS. Also qualifying would be oil recovery by a third-party from DDGS at ethanol plants.
EPA said it is anticipating sorghum oil producers will attempt to sell reduced-oil distillers to poultry, swine and dairy cow producers, "as these markets allow them to obtain a higher value for their product."
Dairy cattle producers may be willing to pay a premium price for reduced-oil DDGS, EPA said, as lower-oil distillers grains improve milk production.