EPA Administrator: WOTUS Rule May Be Completed in 2018
Source: By Todd Neeley, DTN/Progressive Farmer • Posted: Thursday, February 1, 2018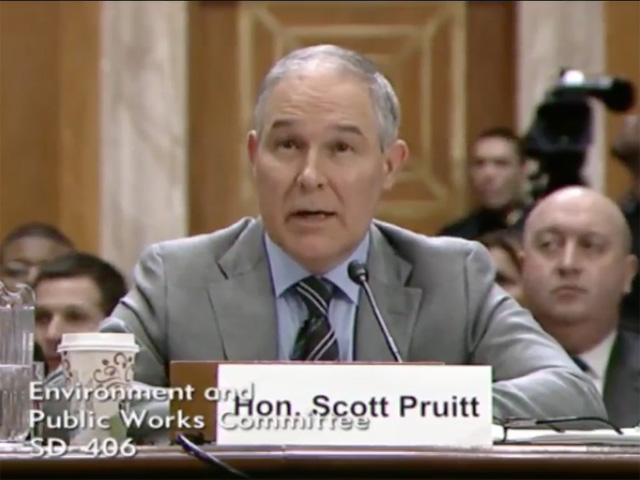 U.S. Environmental Protection Agency Administrator Scott Pruitt made his first appearance before the U.S. Senate Environment and Public Works committee on Tuesday. (YouTube screenshot)
OMAHA (DTN) — The U.S. Environmental Protection Agency continues to look at whether it can approve the use of E15 year-round, EPA's Administrator Scott Pruitt said on Tuesday during his first appearance before the U.S. Senate Environment and Public Works Committee.
As members of Congress continue to explore possible reform to the Renewable Fuel Standard and amid pressure from petroleum refiners to waive RFS requirements, the expansion of the E15 market continues to be a top priority for the ethanol industry.
Allowing year-round E15 sales would bolster demand for corn, and as a result, would boost markets for other feedstocks used for cellulosic ethanol and other advanced biofuels.
"This is not a policy issue," Pruitt told the committee, "it's about the determination of legal authority. The process of internal review continues. We are working to get an answer as soon as we can."
Federal law currently forbids the sale of E15 from June 1 to Sept. 15. The ethanol industry continues to push for EPA to extend the waiver for Reid Vapor Pressure, or RVP, to E15. Currently, E15 sales are restricted in nearly two-thirds of the country during the summer months because of ozone concerns.
Ethanol and gasoline are both low volatility. When the two fuels are mixed, the volatility spikes, but only at blends just below E10. As more ethanol is blended with gasoline, the vapor pressure decreases, which essentially means E15 reduces vapor pressure.
In addition, Pruitt told the committee he understands ethanol's place in a high-octane future.
Brian Jennings, CEO of the American Coalition for Ethanol, said his group was encouraged by Pruitt's testimony.
"ACE members are grateful Administrator Pruitt is committed to completing the review of EPA's legal authority to provide RVP relief for E15 and higher blends and that he reiterated the agency's interest in how high-octane fuels can meet fuel efficiency standards," Jennings said in a statement.