E15 Bill Attempts to Solve Ethanol Conundrum
Source: By Jessie Stolark, EESI • Posted: Monday, June 19, 2017
Running Out of Places to Put Ethanol
The ethanol industry is grappling with a future that never materialized. In 2005, the thinking was that oil use would continue to grow exponentially into the future. Ag-state politics, high oil prices, the environmental movement and growing military engagement in the Middle-East led to the passage of the Renewable Fuel Standard (RFS), which essentially mandated the use of renewable fuels made from a variety of sources, including corn and soy, purpose-grown crops, and waste in the transportation fuel supply.  Lawmakers were so gung-ho that they even increased the fuel volumes mandated by the law in 2007.
The RFS essentially imagined a world where we could easily soak up 36 billion gallons of renewable biofuels by 2022 as E10 (10 percent ethanol, 90 percent gasoline) or as E85 (85 percent ethanol, 15 percent gasoline). Instead, the 2008 recession hit, the fracking revolution came and gas prices tumbled, and E85 has only ever been used in small quantities.
As a result of declining gas use and increased engine efficiency, the biofuels industry hit a milestone in 2013 that wasn't expected for many years – the so-called "blend wall". For the uninitiated, the blend wall is when the gasoline supply is fully saturated with 10 percent ethanol.  To utilize higher blends, some changes are needed to gasoline infrastructure.  In 2013, the industry was capable of producing much more than 10 percent by volume of the domestic gasoline supply, but the problem was now, where to put it?
Retailers, Feds and Consumers Start Getting on Board with E15
Seeing a business opportunity, some independent retailers started offering E15 at their gas stations several years back. Charlie Good is probably the poster boy for E15. The owner of Good & Quick Tire and Automotive Services in Nevada Iowa, Good installed blender pumps at his station when virtually no one else was doing it. He offered E10, E15, E20, E30 and E85. According to Good, "the gallons that are increasing are the E15 gallons mostly."
Pretty soon, larger independent retailers, such as Casey's and Thornton's took notice and began installing the infrastructure for E15 and higher blends. When stations upgrade pumps, installing blender pumps cost more but can open up new markets for the retailer. Blender pumps draw fuels from two separate tanks and mix the fuels on-site. They are capable of dispensing a variety of biofuel blends greater than 10 percent (E10), such as E15 and E85.
In late 2015, USDA announced they would be awarding $100 million for blender pump installation through competitive grants under the newly created Biofuels Infrastructure Partnership (BIP).  BIP, together with a private initiative, Prime the Pump, has provided $210 million towards blender pump infrastructure to 21 states: Colorado, Florida, Illinois, Indiana, Iowa, Kansas, Louisiana, Maryland, Michigan, Minnesota, Missouri, Nebraska, North Carolina, North Dakota, Ohio, Pennsylvania, South Dakota, Texas, Virginia, West Virginia and Wisconsin. In total, USDA estimates that $210 million will be invested as a result of the program, increasing the number of blender pumps by 5,000 at over 1,400 gas stations. And that's when things really got going.
According to Growth Energy, there are now 830 retailers in 29 states selling E15. This is up from 109 retailers in mid-2015. Many have begun offering E15 because of the combined forces of the joint federal-private investments, the potential value of Renewable Identification Numbers (the tradable compliance mechanism for the RFS), and the consumer angle.
The largest retailer to begin offering E15 is Sheetz, which operates in six states: Pennsylvania, Virginia, Ohio, West Virginia, Maryland, and North Carolina. According to Mike Lorenz, Sheetz Executive Vice President, Sheetz has installed blender pumps at 190 of their stations. Even though they are not advertising it, Lorenz states that consumers "are finding it because it is 3 – 10 cents cheaper than regular gasoline and is 88 octane instead of 87. That's what motivates fuel purchases – cost and performance."
With Demand for E15 Growing, Regulatory Fix Needed
According to retailers and biofuels producers, sales of E15 are now artificially depressed in the summer months due to the E15 waiver issue.  Without a waiver for E15, retailers must label the fuel as 'flex-fuel vehicles only,' despite the fact that automotive manufacturers and EPA have certified its use in 2001 and newer make and model year cars, which is approximately 90 percent of the vehicles on the road today.  The growing number of stations offering E15 means that the cost of the twice-annual switch is growing.  In 2017, the E15 changeover cost retailers nearly $2 million, according to Lorenz.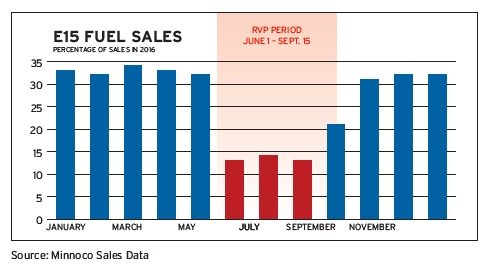 Data from Minnoco, a Minneapolis Fuel retailer
At Wednesday's hearing, witnesses provided a variety of perspectives on the bill.  But one thing became clear – despite the bill being a technical issue, it still remains a heavy lift, considering it requires amending the Clean Air Act.
What remains to be seen is if ethanol-boosters on the Environmental and Public Works Committee, including Senators Fischer (R-NB), Ernst (R-IA), and Duckworth (D-IL), can convince their colleagues of the environmental and economic merits of increasing consumer access to higher ethanol blends.
For more information see: