E-Mails Reveal EPA Chief Cozied Up to Industry He Regulates
Source: By Jennifer A. Dlouhy, Todd Shields and Tim Loh, Bloomberg • Posted: Thursday, February 23, 2017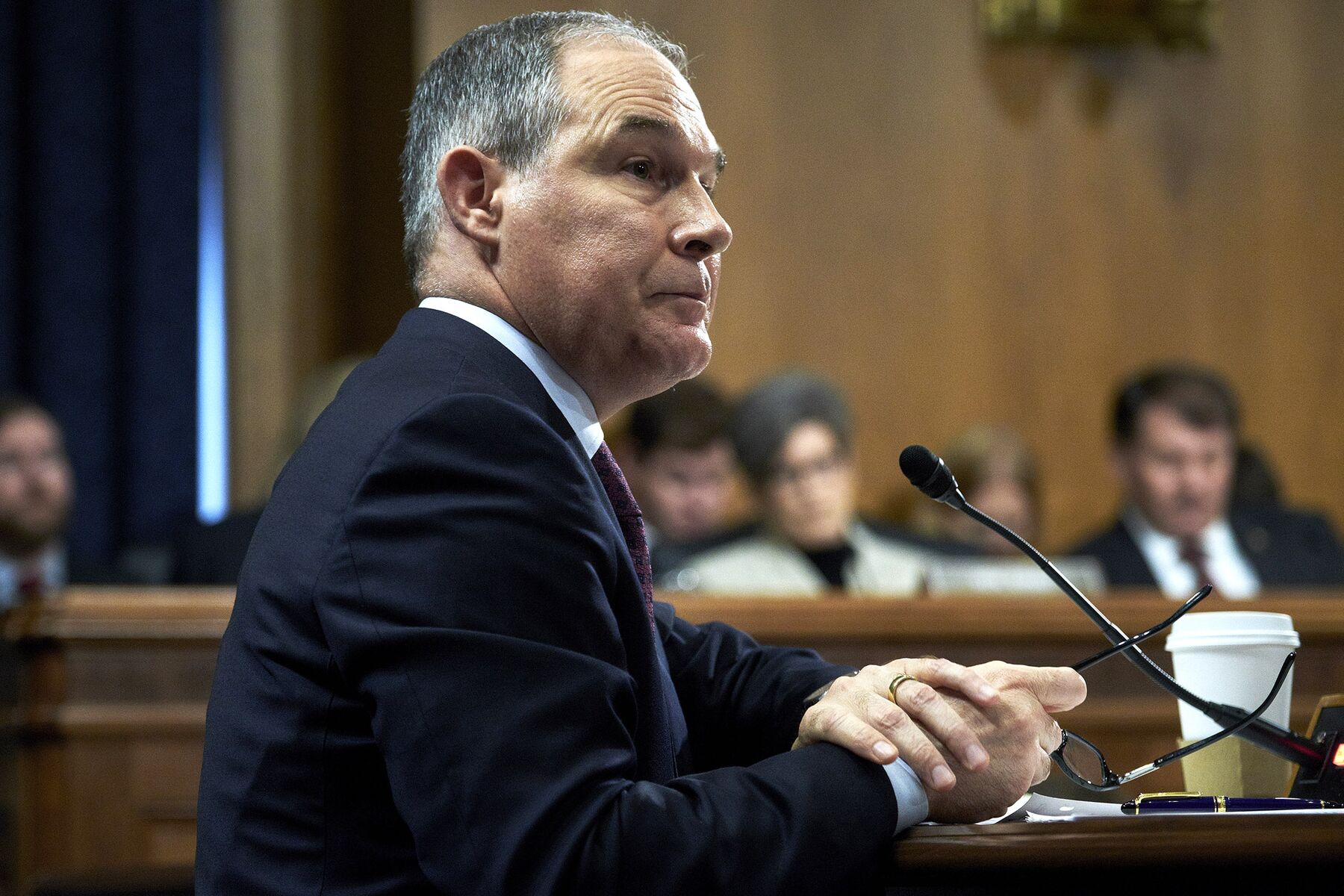 Scott Pruitt listens during a Senate Environment and Public Works Committee confirmation hearing in Washington, D.C., on Jan. 18, 2017. Photographer: T.J. Kirkpatrick/Bloomberg
Newly installed EPA Administrator Scott Pruitt closely coordinated with major oil and gas companies, refiners and groups linked to the billionaire Koch brothers to combat environmental regulations during his time as Oklahoma attorney general, according to thousands of pages of e-mails released Wednesday.
The documents, released under court order to the Center for Media and Democracy, a nonprofit watchdog, follow a pitched battle over whether Pruitt should lead the Environmental Protection Agency, culminating in a narrow 52-46 vote Friday to confirm him.
Overall, the 7,564 pages of e-mails the center published online reveal a chummy relationship between Pruitt and an array of companies, including oil and gas producers active in Oklahoma. Officials at Devon Energy Corp., Koch Industries Inc., the American Fuel and Petrochemical Manufacturers and others at times counseled Pruitt on the best strategies for combating environmental regulations meant to protect the air and water — rules he is now tasked with overseeing as the EPA administrator.
Correspondence discussing talking points and arranging meetings on those policy matters are sprinkled with personal touches. For instance, Devon Energy representatives gave staff members in Pruitt's office tips on the best Oklahoma City restaurants; one staff member asked for help taking her children to the top of Devon Tower. Other e-mails invited Pruitt staff to happy hours with an employee of the Oklahoma-based natural gas transporters Access Midstream Partners LP, which was later acquired by pipeline operator Williams Cos.
EPA Chief Woos Staff Skeptical of Tilt to Pro-Energy Mission
Released e-mails show Pruitt collaborated with the top U.S. refining trade group to mount an attack on annual biofuel quotas in 2013. According to an analysis by the Center for Media and Democracy, the American Fuel and Petrochemical Manufacturers group provided Pruitt with drafted sample language for an Oklahoma petition.
In a July 13, 2013 e-mail, an AFPM official asks Pruitt to file a petition with the EPA challenging biofuel quotas. "We think it would be most effective for Oklahoma to file a separate waiver petition that emphasizes 'severe environmental harm,' as this argument is more credible coming from a state," an AFPM representative told Pruitt.
Spokesmen for the EPA and the refiners group did not immediately respond to requests for comment.
Pruitt Address
But Pruitt has maintained that environmental regulation and energy development can go hand in hand — most recently in an address to employees at the EPA's Washington headquarters.
"We as an agency and we as a nation can be both pro-energy and jobs and we can be pro-environment, and we don't have to choose between the two," Pruitt said Tuesday.
The e-mails shed new details on a close relationship between Pruitt and Oklahoma City-based oil and gas producer Devon Energy. In 2013, Devon's executive vice president for public affairs, William Whitsitt, wrote to propose a letter to federal officials about tighter rules for hydraulic fracturing. Whitsitt wrote that his proposal was a "follow-up on my conversations with Attorney General Pruitt." He got a reply 18 minutes later.
"Thanks Bill — we will take a look and start working on a draft," wrote Pruitt's chief of staff, Melissa McLawhorn Houston.
Fracking Rules
In a 2013 e-mail to Patrick Wyrick, solicitor general under Pruitt, Whitsitt claimed an interim victory at the Bureau of Land Management. "I just let General Pruitt know that BLM is going to propose a different version of its federal lands hydraulic fracturing rule thanks to input received -– thanks for the help on this!" Whitsitt wrote. "We'll be back in touch on
potential next steps."
Whitsitt didn't immediately reply to messages left at his office seeking comment on the exchanges.
In another exchange, Whitsitt supplied Pruitt's office with Devon's initial comments to the White House Office of Management and Budget to the draft rules, which he called "sweeping and unnecessary."
Later that day, Devon's director of public policy and government affairs, Brent Rockwood said in an e-mail to Pruitt staffers Houston and Clayton Eubanks that Devon's legal team had taken "another review" of Pruitt's letter and had suggested including footnotes to source the quotes and legal arguments. "Thanks for putting the AG letter into action, and I think that this letter will make a strong statement and a real difference," Devon's Rockwood said in the e-mail to Pruitt's office. "Do you think that we will get any Democrats to sign the letter? Also, when you finalize the document and send it out, can I please get a copy for my records?"
Koch, OCPA
In a February 2014 e-mail, Stuart Solomon, president and chief operating officer of American Electric Power's Oklahoma subsidiary, wrote to personally thank Pruitt after the EPA withdrew a then-proposed regional haze rule designed to protect the air around national parks.
"Your lawsuit against the EPA and your encouragement of our efforts to settle this issue in a way that benefits the state were instrumental in giving us the time and the opportunity to develop a revised state plan," Solomon wrote.
Other documents reveal Pruitt's office maintained communications with the conservative, free-market think tank Oklahoma Council of Public Affairs, frequently asking the organization to promote the attorney general's op-eds. Pruitt's staff also invited the council's then-president, Michael Carnuccio, to meet with him on January 7, 2014.
Pruitt's office also connected with Koch Industries senior counsel Dean Kuckelman, scheduling a conference call between Kuckelman and Houston, First Assistant Attorney General Tom Bates and and Solicitor General Patrick Wyrick on Dec. 13, 2013.
Judge's Order
An Oklahoma judge ordered the release of the e-mails on Feb. 16 to the Center for Media and Democracy, which had been seeking the documents since January 2015.
"Despite repeated attempts by Pruitt and the Oklahoma AG's office to stonewall CMD and the public, we've won a major breakthrough in obtaining access to public records that shine a light on Pruitt's emails with polluters and their proxies," said Nick Surgey, research director for the Center.
The Oklahoma Attorney General's office said its disclosures go beyond the requirements of the Open Records Act.
"This broad disclosure should provide affirmation that, despite politically motivated allegations, the Office of the Attorney General remains fully committed to the letter and spirit of the Open Records Act," the office said in a statement.