Drivers May Bear the Brunt of U.S. Biofuel Quotas
Source: By Laura Blewitt, Bloomberg • Posted: Tuesday, November 28, 2017
The Texas Republican took up arms for fuel makers after President Donald Trump upheld the Renewable Fuel Standard, the 12-year-old rule that forces refiners to either mix biofuels in with their gasoline and diesel or buy credits. Despite the petroleum lobby's efforts, the Environmental Protection Agency last week rejected a petition from independent refiners including Valero Energy Corp. and CVR Refining LP to alter the rule and put the burden on companies that blend the finished fuel that goes into cars and trucks.
Cruz says the credits, known as Renewable Identification Numbers, or RINs, place an unfair burden on independent refiners. The problem with Cruz's argument is that the cost of RINs may not actually be hurting refiners. Some refining CEOs and analysts agree that since Trump's election, refining margins increased along with the price of the credits. Ultimately, it's U.S. drivers that are footing the higher costs of the credits, according to Roger Read, senior analyst at Wells Fargo.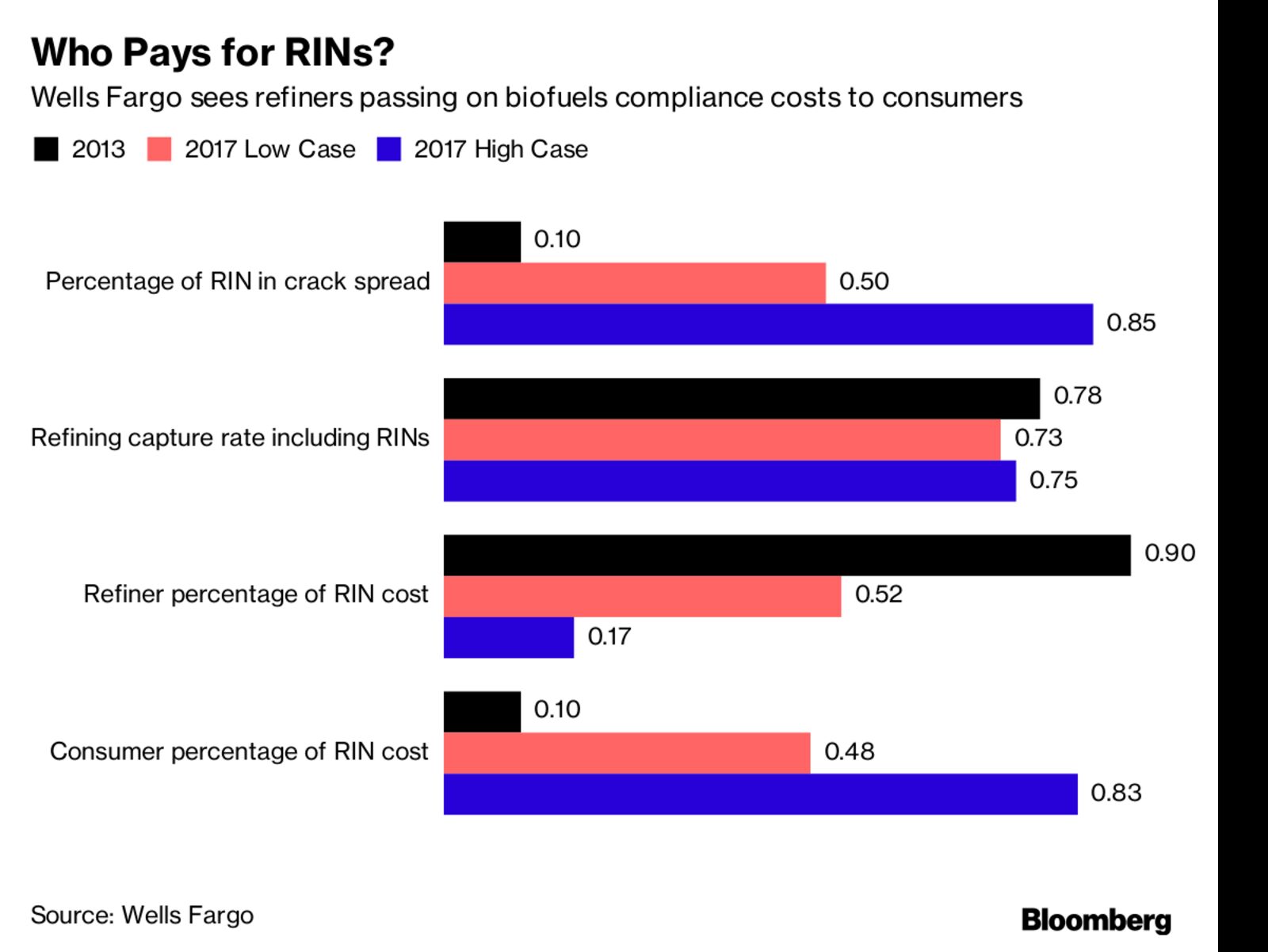 American drivers are paying between 48 to 83 percent of refiners' blending credit costs this year versus 10 percent in 2013, he said by phone from Houston. Prior to 2013, when RINs spiked ten-fold from less than 10 cents to more than 70 cents in about two months, the value of a RIN wasn't yet built in to profit-margin models, Read said.
"By 2017, a much different environment had unfolded," Read said. "Significant changes in RINs prices were directionally matched to a meaningful portion of the changes in Gulf Coast gasoline prices."
The idea that margins reflect RIN costs was floated back on Feb. 1 by Marathon Petroleum Corp, an independent refiner that can more easily generate credits through blending ethanol with gasoline than merchant counterparts like CVR Refining LP that sell unfinished gasoline. "It's our belief that RINs are in the crack spread," said Gary Heminger, Marathon Petroleum chief executive, on the company's 2016 fourth quarter earnings call.
Sid Barth, a spokeswoman for Marathon, and Brandee Stephens, a spokeswoman for CVR, declined to comment. Valero Energy Corp. didn't immediately respond to an email seeking comment.
RINs expenses are likely reflected in the price of unfinished gasoline, according to Geoff Cooper, the Renewable Fuels Association's executive vice president. But the final product Americans pump into their tanks is finished with about 10 percent ethanol, he said.
"The ethanol, of course, comes with a RIN credit attached," he said by email. "Thus, there is no 'tax' or 'cost' passed on to retail consumers."
"RIN prices — an artificial government-created construct — continue to skyrocket and the result is hurting refiners and the men and women they employ," Cruz said in a letter to Iowa Governor Kim Reynolds Nov. 14.
Click here for more on the biofuel-refiner battle in Washington
"I find this troubling because the RIN system is contrived and manipulated," CVR Refining's Chief Executive Jack Lipinski said on the company's third-quarter earnings call, after the EPA backed off plans to ease renewable fuel obligations. "I'm also surprised that the Trump Administration caved and failed to drain the swamp as promised."
In their petition to the EPA requesting a shift in the point of obligation, the merchant refiners said that distributors have an unfair advantage because they have infrastructure to blend ethanol into their fuels. The EPA countered, saying that the change "would be very disruptive to the program, and likely the fuels marketplace as well."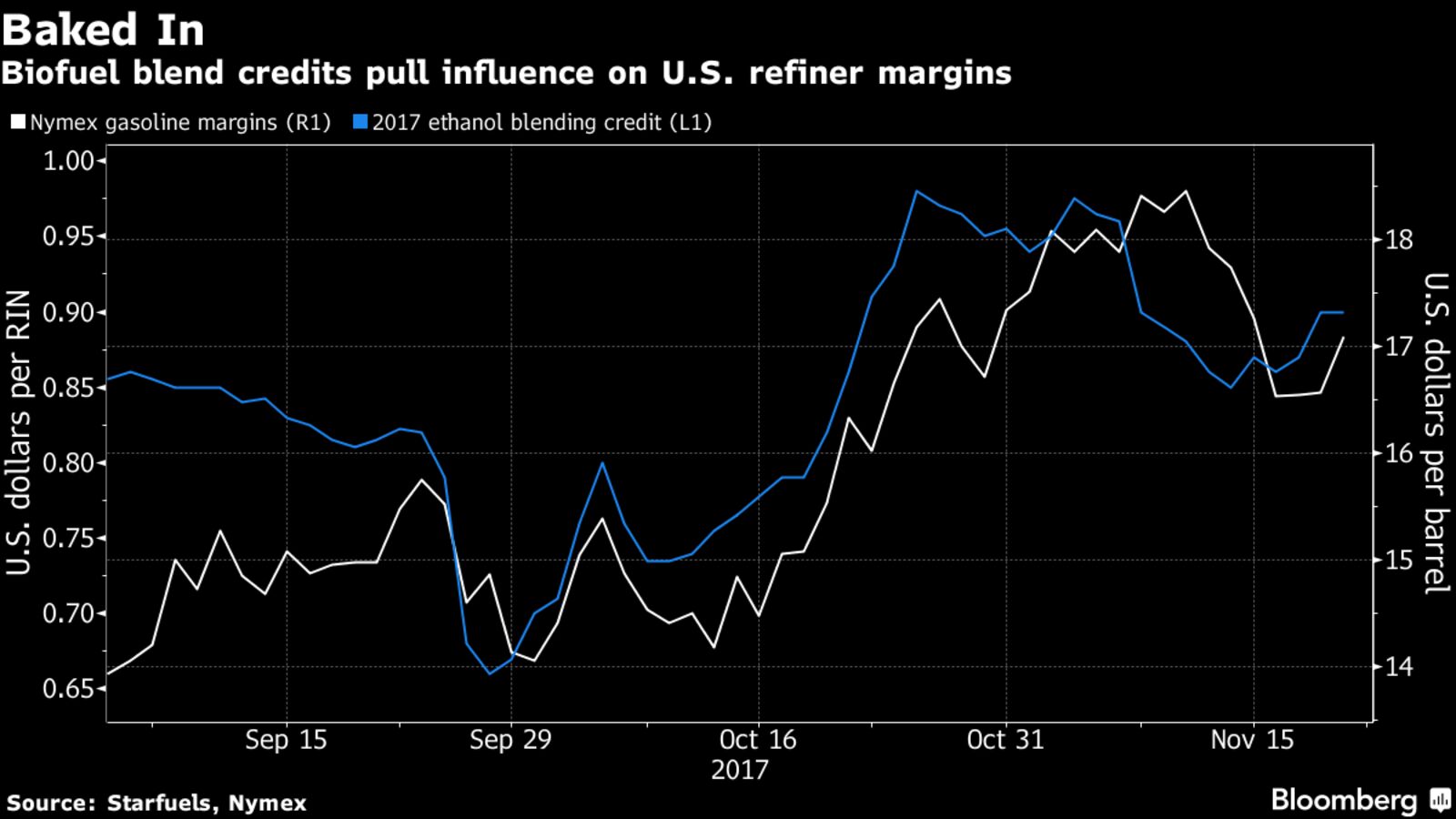 "Like any other component in the price of refined products, the cost is ultimately borne by the consumer," said Robert Campbell, head of oil products research at Energy Aspects. "So, crude oil, natural gas for the processing units, labor, electricity, distribution, storage costs, finance costs and yes, RINs, are all in the price."
In 2013, Light Louisiana Sweet crude accounted for 87 percent of gasoline-price change versus 16 percent in 2017, and the correlation between crude and gasoline declined, according to Wells Fargo.
There is no clear evidence showing that 100 percent of the RIN cost is passed through to consumers, according to Barclays analyst Paul Cheng. That's because no refiner is forced to purchase its total obligation in the open market.
"On the other hand, it seems a far stretch to suggest none of the RIN cost is included in the gasoline or diesel today," he said.
One other option would be to scrap the whole thing, said Wells Fargo's Read.
"Wouldn't we be better off if we were to scrap the RINs part?" Read said. "It's not even really like the corn producers get any benefit off the RIN. They don't create the RIN."