Could Two Recent Court Decisions Put Ethanol Demand's Healthy Recovery on a Detour?
Source: By TYNE MORGAN, Farm Journal Report • Posted: Monday, July 12, 2021
"We are experiencing significant recovery," says Geoff Cooper, CEO of Renewable Fuels Association (RFA).
"Ultimately, we need drivers to return to the road, and you see that with fuel demand, you see that with ethanol demand, that's a big part of it as the economics have returned," says Emily Skor, CEO of Growth Energy.
But as gasoline demand makes history, two court decisions put ethanol's optimism on a detour in the short-term.
"It really was unexpected, both decisions were unexpected," says Cooper.
"Unfortunately, in both of these cases, the courts came down with opinions that we wholeheartedly disagree with," adds Skor.
Two Courts; Two Rulings Against Ethanol
The two court rulings released exactly one week apart. The first, from the Supreme Court.
"The Supreme Court overturned a lower court ruling a 10th circuit court ruling that had thrown out some small refinery exemptions that were issued by the Trump Administration," says Cooper.
The ruling hinged on a single word : "extension."
"We still fail to understand how six judges could side with the refineries and interpret the word extension in the way they did, says Cooper. "It just seems crazy to us to think that a refiner can seek an extension of something that doesn't exist. How can you seek an extension of an exemption that you no longer have? But unfortunately, the supreme court sided with the refiners, that was a big surprise to us."
Despite the Supreme Court's decision, Skor doesn't think it will open the door for more small refinery exemptions.
"EPA still must hold by the standard that any exemption they grant has to ensure that the severe economic hardship claimed by that refinery is directly tied to the RFS," she says. "That is a high bar to clear. And so I don't believe that the supreme court opinion is going to open the floodgates on small refinery exemptions moving forward."
The Fight for E15 Year-Round
But the ruling that came a week later from the D.C. District court, overturned the Trump Administration's decision to allow the sale of E15 year-round, a ruling that could have a bigger impact on ethanol demand.
"For this summer driving season, because of the way the legal proceedings will move forward, I think we should be able to protect the summer driving season. But we will need as an industry to find a fix in order to allow drivers to use E15 next summer," adds Skor.
The hurdle to clear sales of E15 during the summer driving season was a priority of biofuels industry for nearly a decade.
"That was something our industry had been working on for a decade, we finally got some traction with the Trump administration got that regulatory fix approved, the oil refiners sued EPA over that regulatory fix, and the DC Circuit Court, unfortunately, sided with the refiners and overturned that EPA rule that allowed year round E15," says Cooper.
As renewable fuels groups work to repair a victory that took a decade to achieve, they know there's no easy fix.
"We're going to have to work that much harder and put that much more blood, sweat and tears into expanding the market for E15," Cooper adds. "We had seen tremendous progress in the E15 market expansion over the past few years. And that really occurred after we secured that that approval to sell the fuel year-round.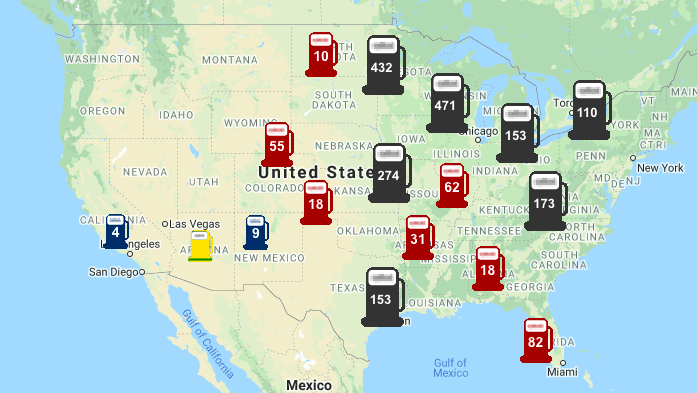 The Renewable Fuels Association says this is the third summer that E15 sales had the green light.  Last summer, more than 21 hundred stations offered E15. A decade ago, that number was zero.
"We had more than 100 more stations in the hopper ready to go and had some big retail chains in 'wait and see mode' on the sidelines," says Cooper. " And yes, we're concerned that this court decision is going to keep some of those potential players on the sidelines until there's more clarity around where we go from here with E15."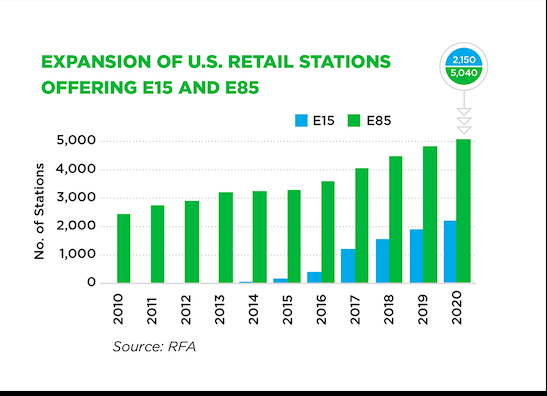 As biofuels groups fight the recent rulings, they say the ball head back to the political court.
"And so that is where we're going to be focused on in terms of engaging the administration, Congress, the agencies, and of course, we will exhaust what kind of appeals process we may have with the courts, as well," says Skor.
Renewable Fuels' Low Carbon Appeal
As the Biden administration's focus on electric vehicles isn't stopping renewable energy from making its case.
"We have a very strong future because we are the solution," adds Skor. "If you're talking about energy jobs in rural America, if you are talking about clean energy, we are we are the solution. Now, we still have work to convince some policymakers of that."
Ethanol is a solution that renewable fuels groups says isn't just available, but a low carbon fuel option that's also practical.
"Once you get me on all the bluster and all the announcements and commercials, when you sit down and look at the math, there seems to be a growing recognition that oh, there's no way we're going to be able to electrify 270 million cars, and vans and pickups and SUVs overnight in this country," says Cooper. "That's just not going to happen, and the infrastructure isn't there to support it."
Finding support for ethanol is a continued effort, while wading through the setbacks dealt by the courts.
"We're viewing them as temporary setbacks," says Cooper. "These are these are bumps in the road and the ethanol industry is going to pick itself up and dust itself off."