Corn Tumbles Most in a Year, Pacing Slump in Crop Commodities
Source: By Kim Chipman, Bloomberg • Posted: Thursday, October 29, 2020
The S&P 500 Index fell 3.5%, the biggest drop since June, amid a surge in Covid-19 hospitalizations, especially in the Midwest. German Chancellor Angela Merkel reached a deal for a one-month partial lockdown to curb the spread of the virus, and France imposed new nationwide measures.
"Today's Covid-related sell-off pulled the rug out from beneath all of these markets today, leaving little ability for corn prices to hold," said Arlan Suderman, chief commodities economist at StoneX. "Momentum-trading algos then amplified the move to the downside."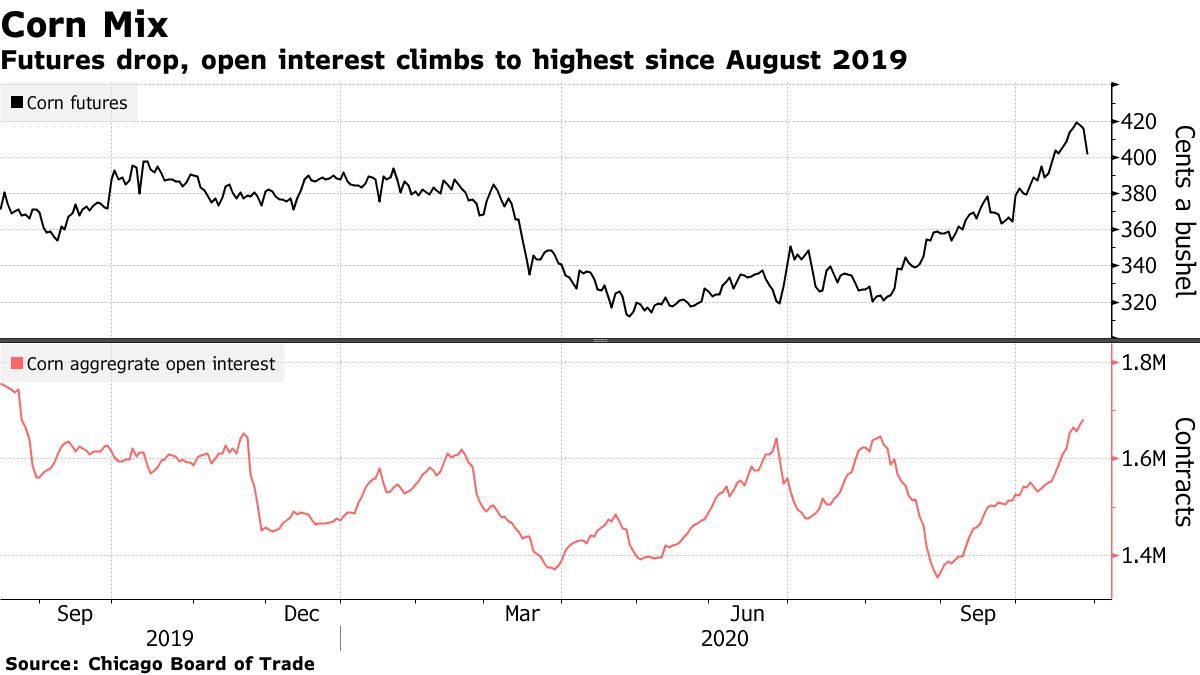 On Tuesday, corn reached the highest since August 2018, and hedge funds last week boosted bullish bets to a two-year high. On Wednesday, a Bloomberg gauge of grain and soybeans fell 2.3%, the most in five weeks.
"Everything on the screen is red," Rich Nelson, chief strategist at Allendale Inc. said in a phone interview.
Corn futures for December delivery slumped 3.5% to close at $4.015 a bushel on the Chicago Board of Trade, the biggest drop a most-active contract since Oct. 10, 2019.
Soybean futures for January delivery fell 2% to $10.5475 a bushel, the biggest decline since Oct. 12.
Wheat futures for December delivery shed 1.1% to $6.0875 a bushel. The grain eased for the third straight day, the longest slump since Sept. 9.
On ICE Futures U.S. in New York, cotton for December delivery tumbled 2.6% to 70.17 cents a pound, the biggest decline since Aug. 7. Earlier, the price reached 72.6 cents, the highest since May 2019.