Corn Rally Gets Lift With U.S. Road Trips Stoking Biofuel Demand
Source: By Kim Chipman, Bloomberg • Posted: Wednesday, April 28, 2021
Corn's stunning price rally is getting an extra boost as more U.S. drivers return to the open road.
Gasoline demand is on the rise, which means corn-based ethanol consumption is up too after a tough year in which the beleaguered industry was forced to shut down plants as pandemic restrictions slashed automobile travel.
"As driving recovers, as the economy recovers, we're going to use more ethanol, and so that's been bullish," Scott Irwin, chair of agricultural marketing at the University of Illinois at Urbana-Champaign, told Bloomberg Television on Monday.
Total vehicle interstate miles traveled in the week ended April 18 jumped 85% from the same period a year ago, according to the U.S. Transportation Department. Along with more car trips, Biden administration plans to fight climate change could boost usage of biofuels. It's all good news for American corn farmers, who have seen crop prices more than double in the last 12 months.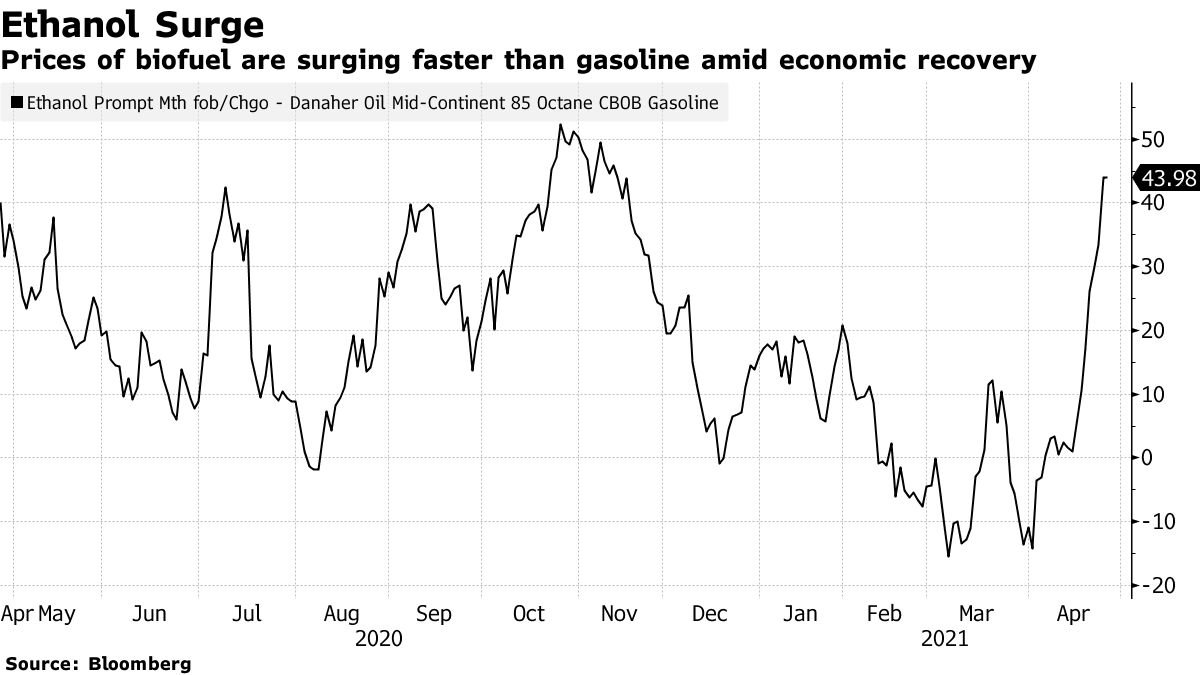 Spot ethanol prices in the U.S. are at the highest level since 2014 and are surging faster than the gasoline it's blended with. In Chicago yesterday, regular spot gasoline was $1.96 a gallon, compared with $2.39 for ethanol, according to data compiled by Bloomberg.
Ethanol is being blended into gasoline at the highest level since last March, the early days of the Covid-19 pandemic, according to Energy Department data.
— With assistance by Jeffrey Bair, James Poole, Megan Durisin, and Breanna T Bradham